Have you ever played Charades?
It's a game that tests your visual communication skills and is a great way to remember how tough it can be to share ideas without words.
Visual elements in content such as icons have a similar responsibility.
They must communicate information effectively to a diverse group of people so that everybody has equal access to information.
In this article, I'll go over what accessible icons are, why they matter, and how you can make icons accessible to everyone.
Most design tools today make accessibility hard but Venngage's Accessibility Design Tool comes with accessibility features baked in, including accessible-friendly and inclusive icons.
You can also use our accessible templates that feature accessible icons. Some of our templates are free and some require a small monthly fee. Sign-up is always free as is access to Venngage's drag-and-drop editor.
Click to jump ahead:
What are accessible icons?
Accessible icons are graphics that convey information, concepts, or actions to all types of people regardless of impairments, disabilities, or limitations.
Accessible icons are a key component of accessible design and ensure everyone can understand the content being presented.
Here's an example of an accessible presentation with accessible icons:
Our diverse icons collection features icons covering different ages, genders, ethnicities, disabilities, hair textures, facial features and accessories. They are 100% free to download (PNG, SVG and EPS).

These icons, along with many others, come pre-loaded in our accessibility-friendly editor. Simply search in the icon widget to add them to your design.
Why accessible icons are important
Accessible icons are important because they ensure visual information in a design can be understood by everyone.
For example, consider a design with a magnifying glass to indicate the search function but without any accompanying text or image alt text.
Sure, someone with 20/20 vision will understand it but what about people with vision impairments like color blindness or those using assistive technology like a screen reader?
Will the icon still convey the same meaning? Also, what will a screen reader read out: the icon file name or text that describes the icon?
These small mistakes cost you big as your content will be inaccessible and deemed non-WCAG compliant.
So to stay on the right side of WCAG 2.2 guidelines, you need to make icons accessible.
Related: ADA Standards for Accessible Design: How to Be Compliant
4 steps to make accessible icons
Make your icons large
This may sound obvious, but many people overlook icon size.
If people can't even see an icon in a design, it'll never be accessible no matter what else you do. One easy way to ensure your icons are large enough is to make them at least 44 x 44 pixels.
And although making icons larger is good practice, it doesn't automatically make them accessible.
If you have an interactive icon, such as a social media profile link, people using screen readers might miss it completely, even if it's large, unless you set alt text (more on this later).
So be sure to differentiate between icons that serve a purpose in your design and those that don't. The former requires you to follow some extra steps to guarantee accessibility.
Here's an example of a design with large icons that stand out:
Use sufficient color contrast
Colors play an important role in determining icon accessibility.
When choosing an accessible color scheme, it's normal to pick combinations that look good together to create visual interest.
Icons should also have distinct shapes or other visual cues to ensure they are understandable to users with visual impairments.
But also pay attention to how a color combination can affect the visibility of icons in your design.
Does your color palette allow people with visual impairments or disabilities to see and understand your icons?

Don't know? Use Venngage's Color Blind Simulator to test how your design appears to an audience with color blindness and other visual impairments. Pay close attention to the visibility of your icons.
Besides color combinations, you also need to pay attention to how color contrast affects icon accessibility.
If the contrast of an icon is too low compared to the background, people with limited vision might not see it.
Consider this example. Which version do you find easier to read?
I'm sure it's not the low-contrast yellow text on a white background.
Similarly, low-contrast icons are that much harder for people to see especially those with low vision or other disabilities.
WCAG recommends a color contrast ratio of 4.5:1 to ensure icon accessibility.
Did you know you can check the color contrast of icons in your designs in a few clicks using Venngage's Accessibility Design Tool and Color Contrast Checker?
Provide accompanying text
I know this sounds counterintuitive but consider adding text next to icons.
But wait…isn't the point of icons to be more visual and replace text?
Well yes, but providing text-based alternatives is important for accessibility for several reasons.
First, not everyone will interpret an icon in the same way. For example, some people might think a calendar icon represents a schedule while others may think it refers to time.
And when you add different cultures and languages to the mix, one person's interpretation of a symbol or icon may differ drastically from someone else's.
You need to remove such ambiguity by stating the function or concept of your icons.
Second, icons accompanied with text provide people with disabilities an alternative to visual content.
Here's an example:
Write alt text
Image alt text or alt text is another foundation of accessibility. Remember how I earlier said icons need not only be large but also have alt text?
Alt text is a piece of descriptive text you add to non-text content like icons so that you don't exclude people using assistive technology or those who've simply turned off image loading while browsing.
Alt text should be concise, descriptive and convey the icon's purpose or function.
Again, think of a social media icon that you want people to click on in your design.
If you just add the icon and nothing else, only some people will see it. But with alt text, all types of people accessing your design will understand the icon.
Do you need to do this with every icon in your design?
No. If your icon is purely decorative and doesn't add any information or convey a function, you can mark it as decorative so screen readers avoid it.
Venngage's Accessible Design Tool lets you mark images such as icons with alt text or decorative in a few clicks.
Before I reveal some accessible icons best practices, let's understand what types of icons require special attention in terms of accessibility.
Understanding functional vs decorative icons
Now that I've shown you some ways to make icons accessible, let's look at what types of icons require work to be made accessible.
Icons be broken down into two types: functional or decorative icons.
Functional icons present information or communicate functionality and require you to take extra steps to make it accessible.
Meanwhile, decorative (presentational) icons don't add anything apart from an aesthetic touch and don't have to fulfil accessibility requirements.
Here's a breakdown:
Functional icons
Stand-alone interactive icons
Icons combined with a label (A button or in a form field)
Icons used instead of labels (Social media links in your profile settings)
Decorative icons
Icons that are visual and not part of the content
Icons indicating the type of content that follows
Icons next to an interactive label but not themselves interactive
Venngage's Accessible Design Tool lets you review your design and mark icons as alt text or decorative using a simple drag-and-drop interface.
Best practices for icon accessibility
Avoid using emojis and icon fonts
Sometimes designers still use icon fonts or icons as fonts with symbols and icons.
This is bad accessibility practice since icon fonts may not work consistently across all devices, browsers, and/or assistive technologies.
Instead, Scalable Vector Graphics icons with proper accessibility features are an accessible alternative to icon fonts.
Ethical considerations
As part of inclusive design, accessible icons should not perpetuate stereotypes or offensive imagery, so avoid icons that could be considered discriminatory or exclusionary.
Here's an example:
Visual coherence (consistency)
Keep icon design consistent so that icons are easy to recognize from other types of content. This creates a unified and user-friendly visual language.
Test icons in your designs with Venngage
Instead of creating designs in tools like Canva that aren't WCAG compliant, use Venngage's Accessible Design Tool.
It comes with accessibility features baked in so you'll never have to remediate your designs.
Pick a template and start customizing and testing your designs in our editor which features a built-in Accessibility Checker.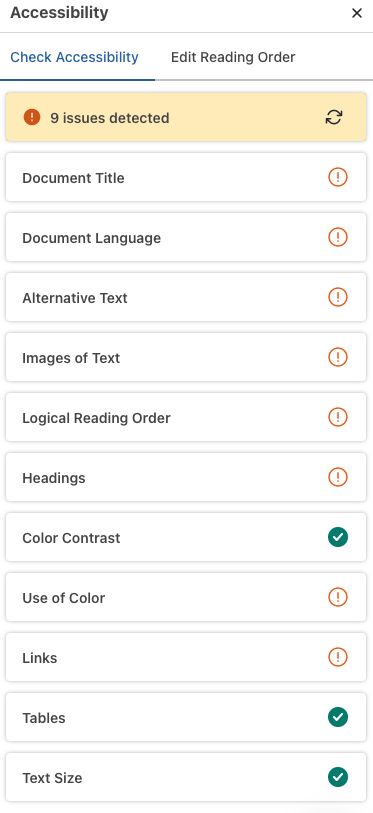 Frequently Asked Questions
How do I make my icons more accessible?
To make your icons more accessible, consider the following: 1) Make icons clearly visible, 2) Provide accompanying text to reduce ambiguity, 3) Use sufficient color contrast and 4) Provide alt text. You can make icons accessible easily with Venngage's Accessible Design Tool which comes with accessibility features fully baked in.
Does WCAG apply to icons?
WCAG or web content accessibility guidelines do apply to icons as they are considered digital content that must be made accessible to create an inclusive experience. WCAG contains several criteria that apply to icons such as SC 1.1.1 (alt text), SC 1.4.3 (color contrast), and SC 2.1.1 (keyboard accessible), and more.
Do icons need alt text accessibility?
Yes, functional icons or those that convey information or functionality to a person require alt text to be considered accessible. Decorative icons are exempt from alt text requirements.
Final words: Accessible icons are key to inclusive communication and require a special focus
By following these tips and strategies in this article, you can ensure icons are accessible and don't make your designs difficult to understand.
Remember, accessible design isn't a checkbox for you to cross off but a commitment to creating a more inclusive digital world.
Use Venngage's Accessible Design Tool to prioritize accessibility one icon at a time.