Venngage Spider Diagram Maker
Generate and organize ideas with Venngage's Spider Diagram Maker. Use our templates and online tools to brainstorm and visually present concepts. No design skills required!


Present embracing overviews of all your ideas. Organize your brainstorming sessions and help people understand your thoughts at a glance with our spider diagram creator. 40,000+ businesses already use Venngage to create professional diagrams!

Free spider diagram templates to make things easy

Explore our professionally-designed customizable templates to create stunning visuals and achieve effective collaborative brainstorming sessions.
Venngage's smart diagramming feature makes it easier to customize the design to fit your organization's voice and needs.
Make brainstorming sessions engaging and effective by unlocking new insights and thinking visually with our spider diagram creator.
Quickly generate and share ideas with your team by just using this visual brainstorming technique and our spider diagram templates.
How to use a Spider Diagram Software?
1
Sign up for Venngage using your email, Gmail or Facebook account.
2
Select one of our professionally-designed templates and try it for free.
3
Start with a core idea at the center of your diagram and branch out into subtopics.
4
Customize shapes, colors, fonts, lines and text with a click.
5
Download or share your spider diagram as a high-quality image.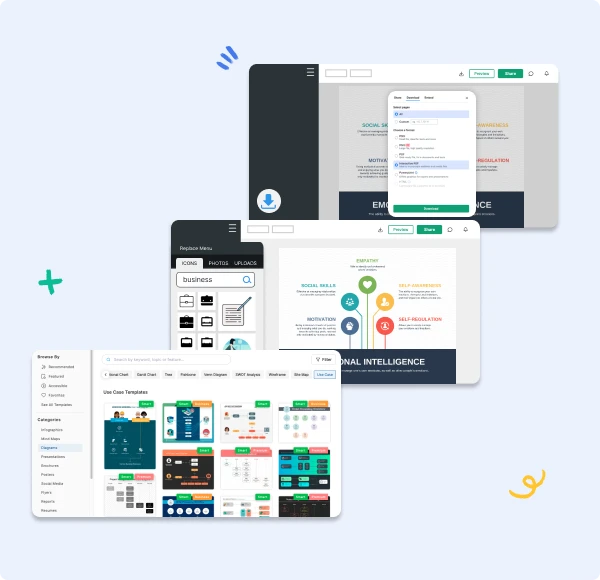 Visualize and present complex ideas with the Best Spider Diagram Software

Spider Diagram Templates
Don't start from scratch. Leverage an entire library of templates to create enlightening spider diagrams and impress your teams.
Friendly Editor
Our beginner-friendly software is easy to edit: customize icons, shapes, colors and add new assets to relate concepts and organize your ideas.
Add and Customize
Add images easily into spider diagrams to visually represent information. Save time with 40,000+ icons and illustrations.
Team Collaboration
Create dynamic brainstorming sessions and share your ideas in a meaningful, engaging way. Work on the same diagram in real-time collaboration with your team.
Make your Ideas Shine
Visually present your ideas in an engaging way with just a few clicks. Our design platform helps you quickly edit a spider diagram, saving you hours of time.
24/7 Priority Support
Have any questions? We got your back! Our support team is available whenever you need it.
FAQs
What is a spider diagram?
A spider diagram is a visual tool and a brainstorming technique that helps you to organize concepts and develop ideas. By using a spider diagram and design assets such as shapes, lines and colors, you get an overview of your ideas and find new ways to solve problems.
Why use a spider diagram creator?
Using templates helps you to improve focus and creativity. By making it needless to start from scratch, a spider diagram creator sets your imagination free and helps you to present your thoughts visually. Generate and refine ideas with a spider diagram maker.
How do I make a spider diagram online for free?
Start with a free template and edit text, icons, shapes, colors and lines to fit your goals. With Venngage's online tools, stunning spider diagrams are within your reach, even if you are not a designer.
Get started with one of our top spider diagram templates: