The Simple Design Platform for Real Estate Professionals
Attract more customers with Venngage's professional, easy-to-edit infographic templates, real estate marketing materials and flyers.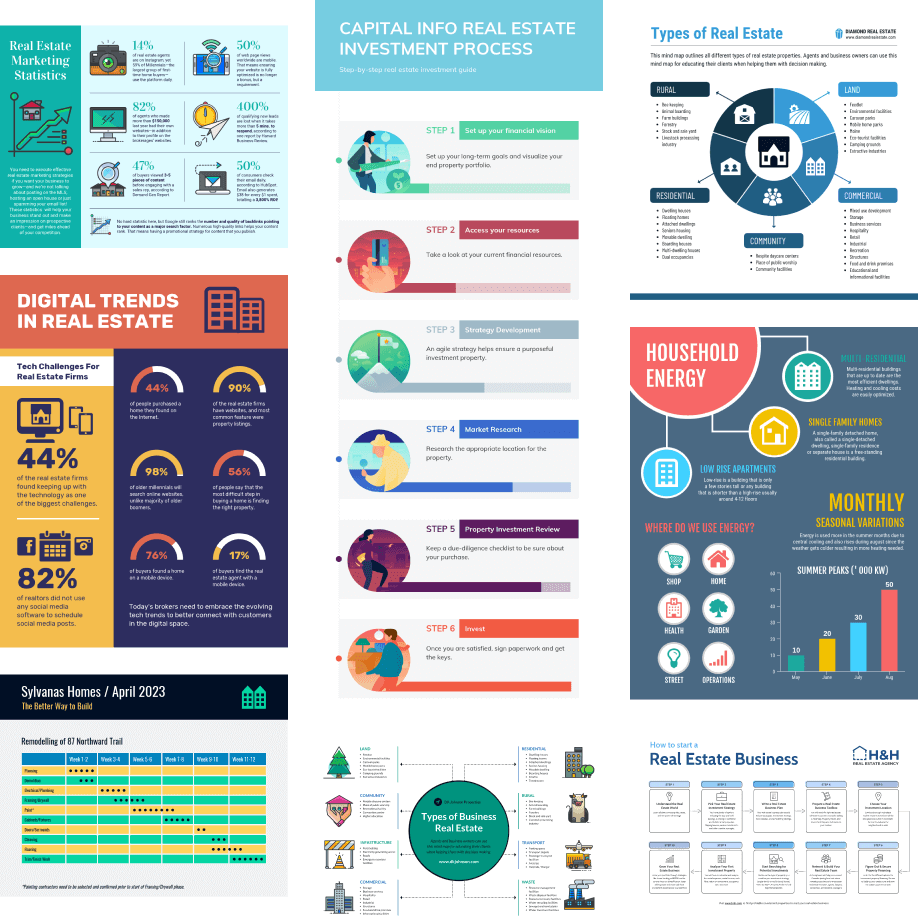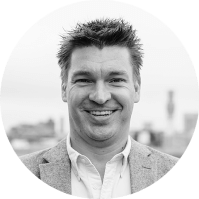 "This is an industry that's conservative and old-fashioned. We used Venngage to create materials that looked clean, modern and fresh, and that really attracted attention. It made us stand out from our competitors."
Pete Dziedzic General Counsel and Chief Operating Officer at Life Insurance Strategies Group

Bring technical information to life
The home buying journey is complicated enough already without relying on dense technical documents. Bring your information to life with engaging infographics, charts, diagrams, and more.
Create consistently branded communications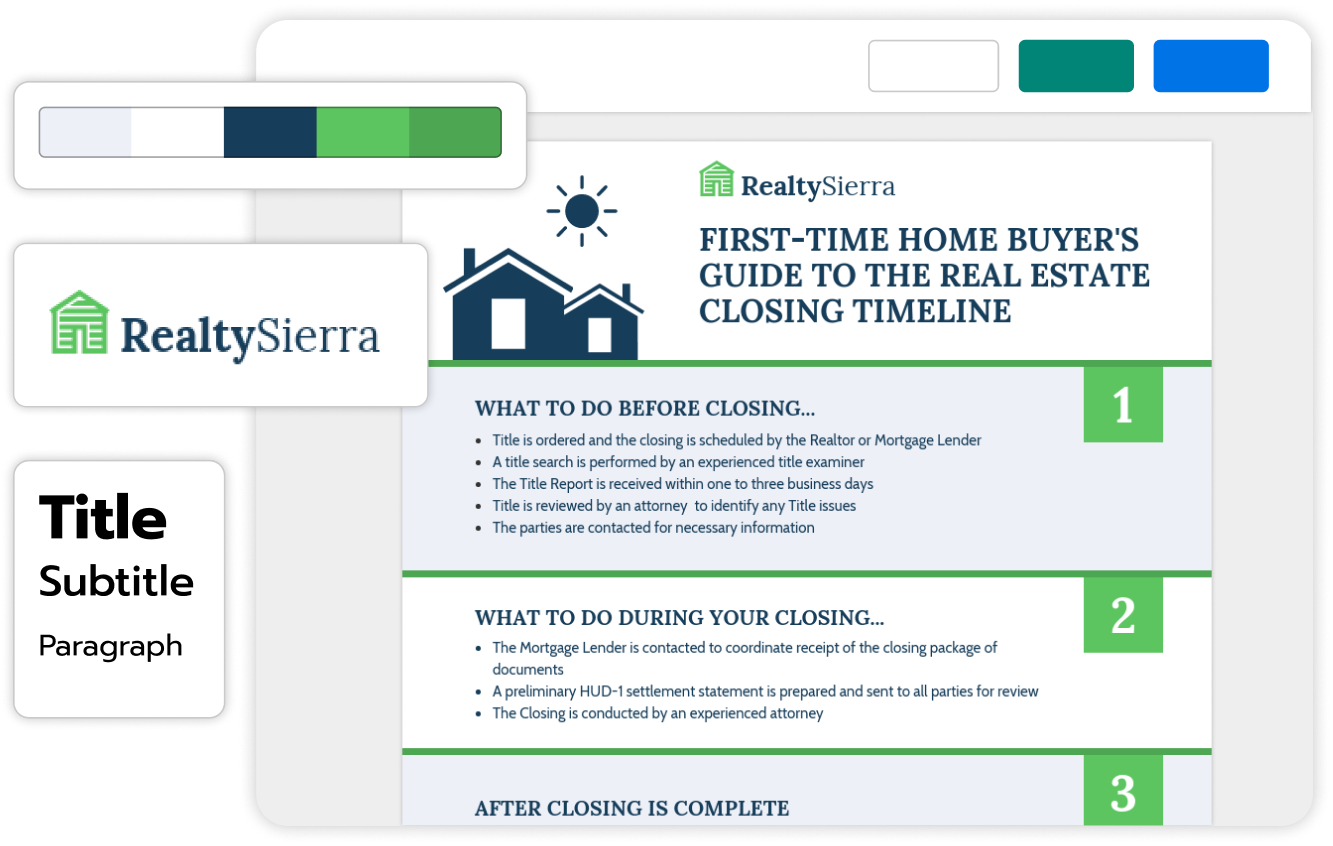 Create a memorable brand style that captures your audience's attention. With features like My Brand Kit you can easily brand your designs. Design newsletters, social media posts, infographics and other visuals that are instantly recognizable to your audience.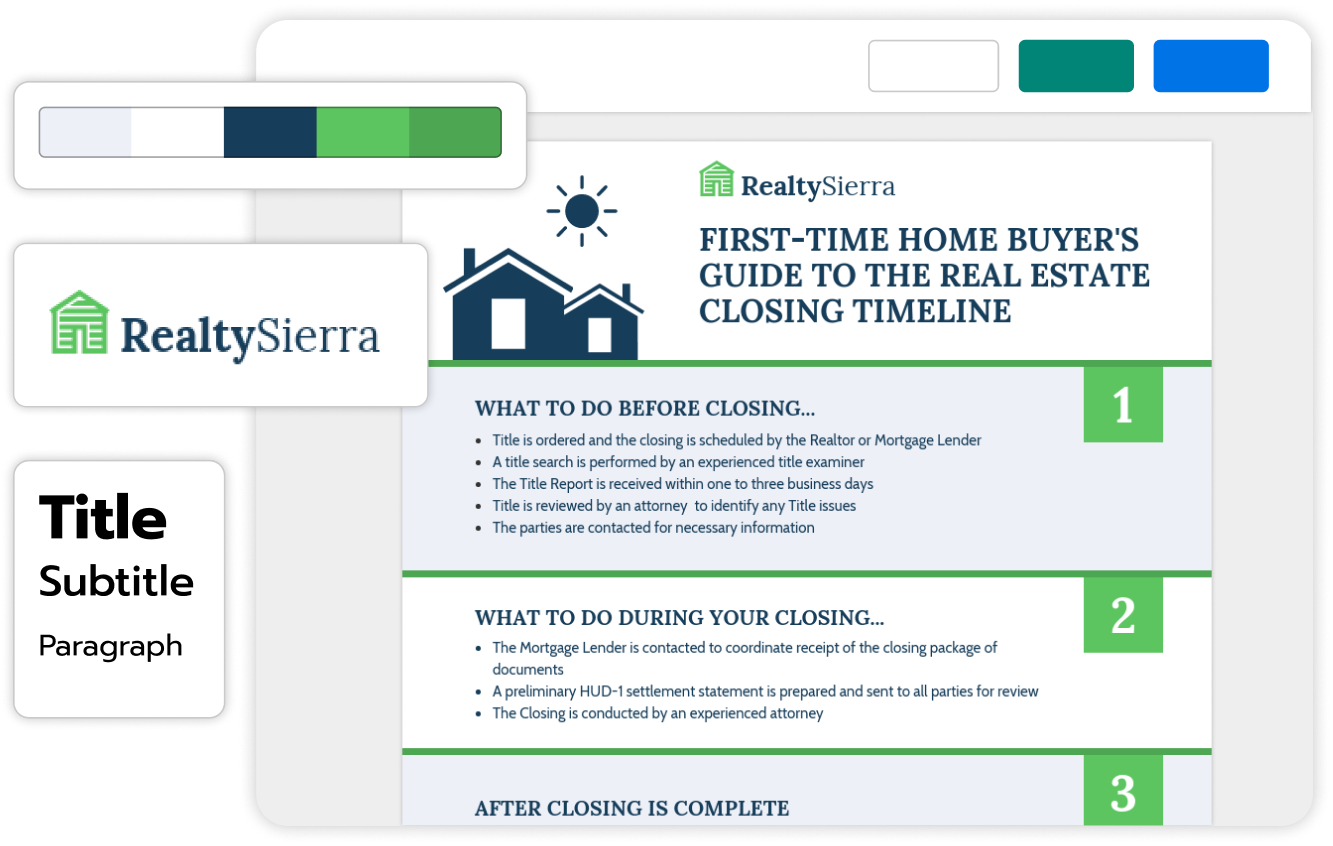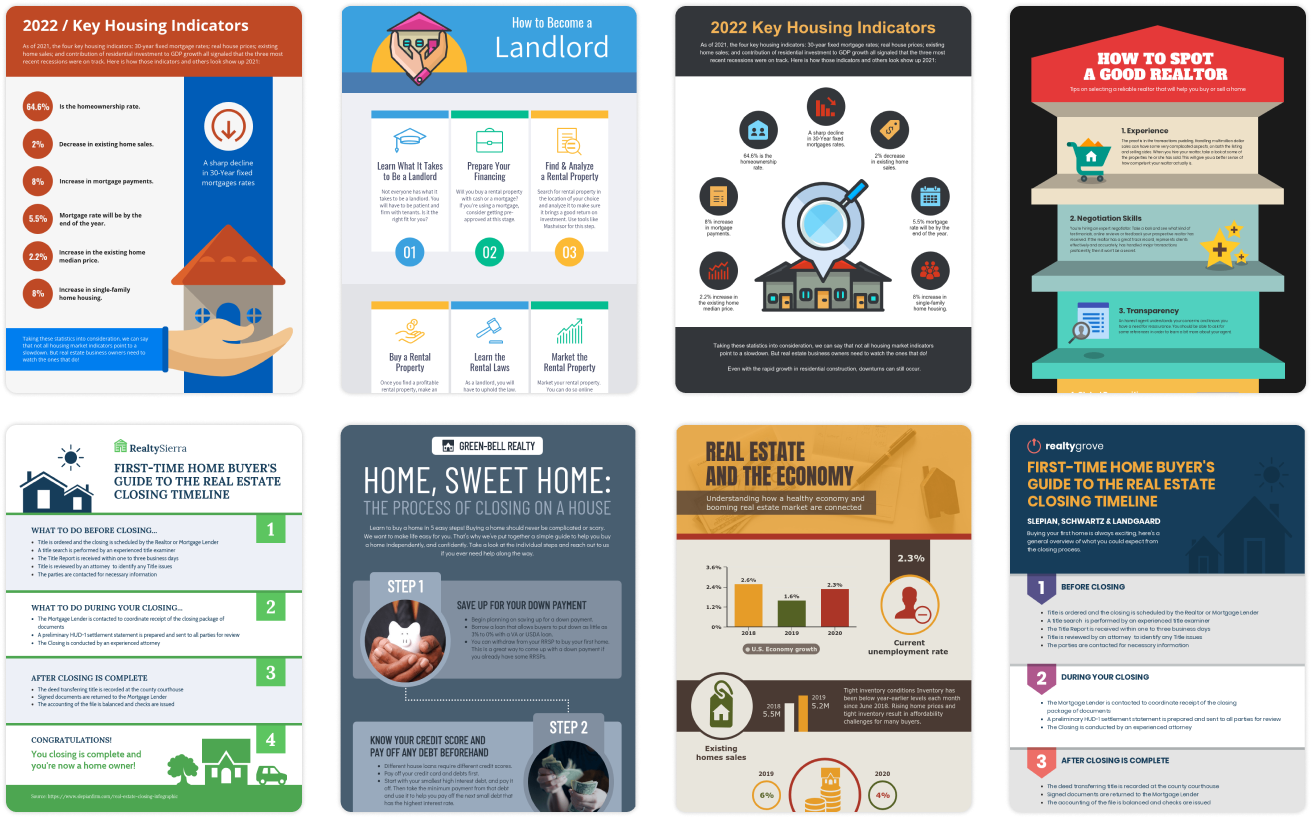 Stand out from your competitors with visuals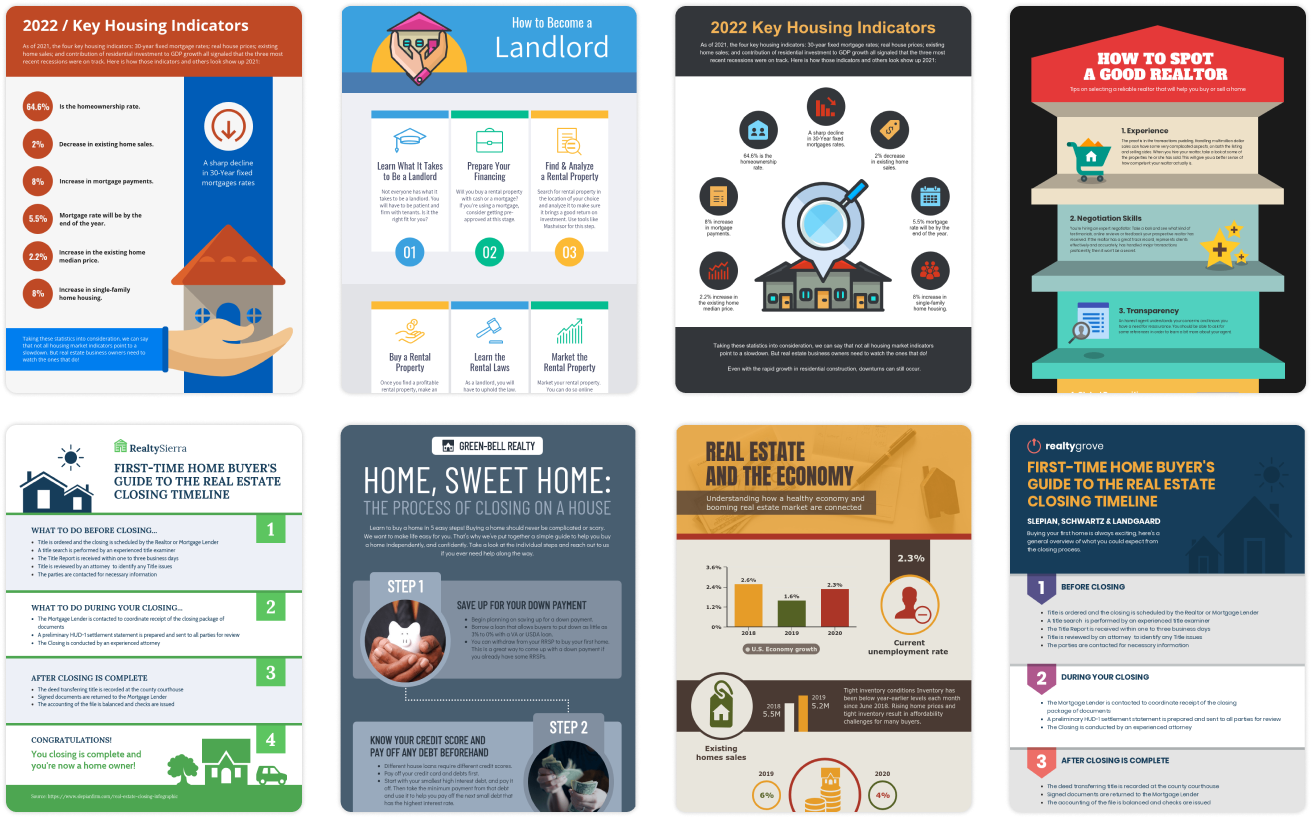 Make a name for yourself in a crowded market with professional visuals, without needing a designer. Pick from 1000s of engaging templates created by our expert in-house designers and use Venngage's drag-and-drop editor to quickly customize your content.
Visualize the process
start to finish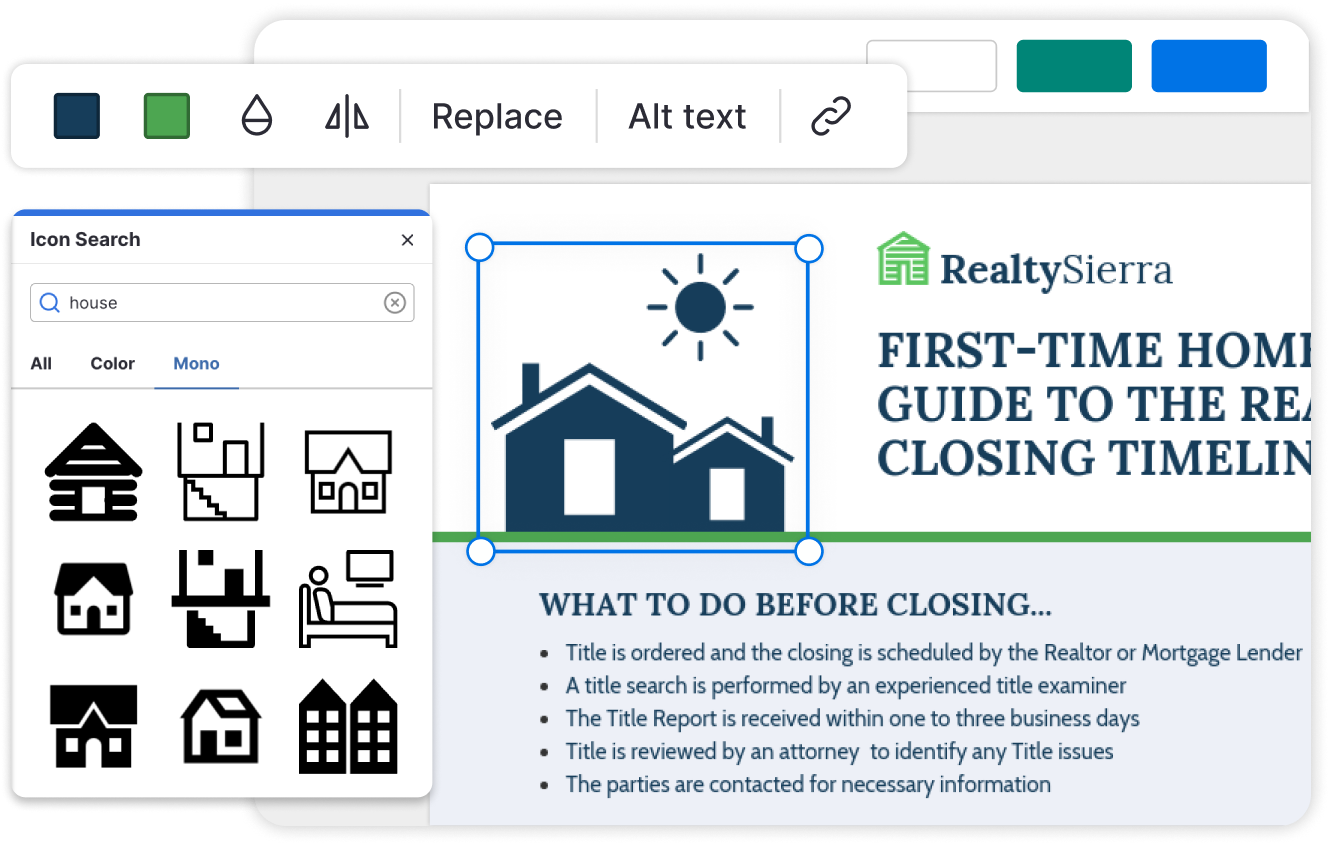 Create compelling process infographics and roadmaps to ensure that everybody knows what to expect and when. Use icons, colors, and connectors to guide your buyers and your teams through complex processes.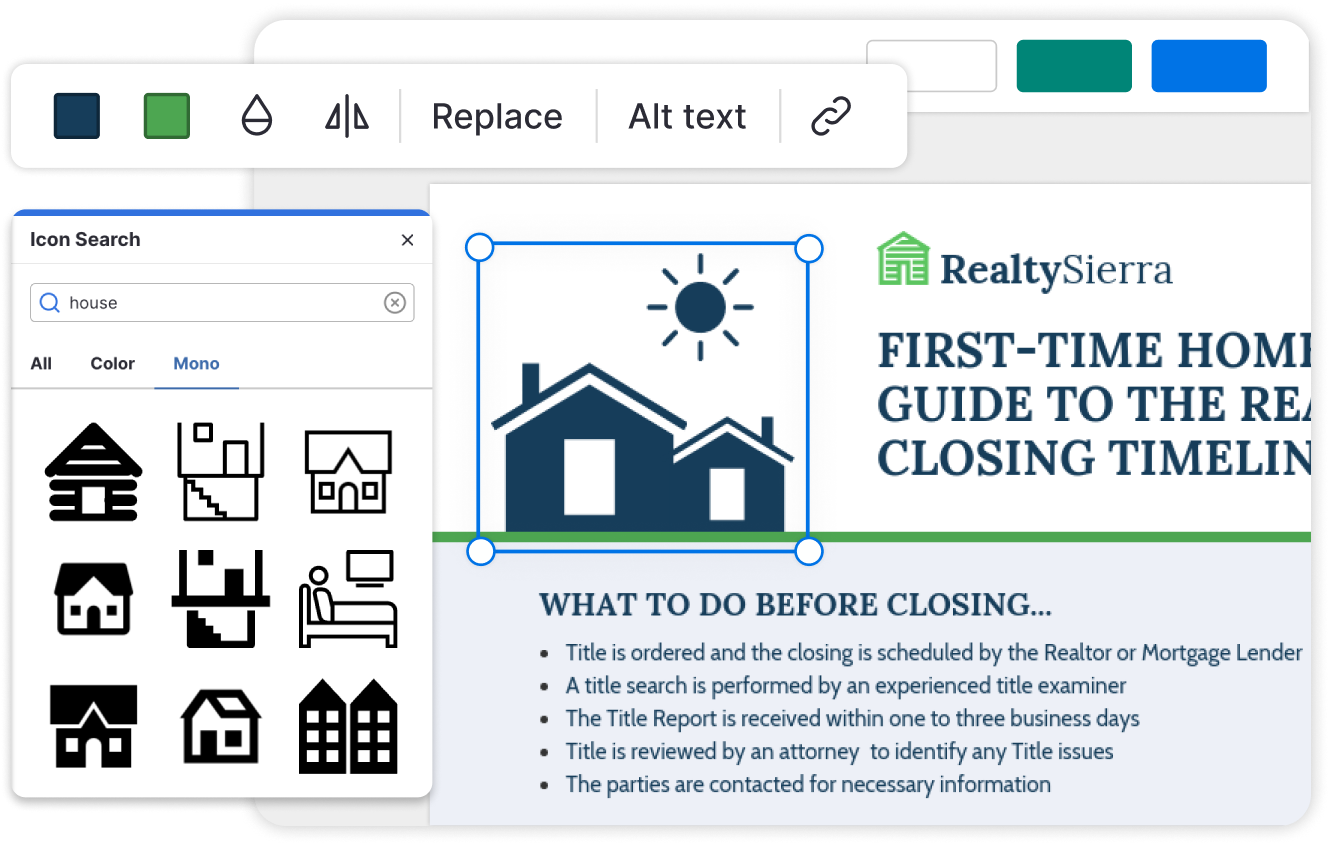 Click to get started with one of our easy-to-use templates

FAQ
How can you promote your real estate business using marketing materials?
There are numerous types of materials that real estate agents can use to attract customers to their business. These include realtor marketing flyers, social media posts, paid advertising, business cards, and company newsletters. All these materials and more can be created using Venngage's templates for realtors.
What tools can you use to create real estate promotional materials?
A visual communication solution is the ideal tool for marketing a real estate business. There is a large amount of content online and the best way to get noticed is by creating powerful visuals.
Venngage for business offers a variety of commercial real estate marketing materials and makes graphic design easy with customizable templates. Collaborate with team members to design impactful visuals that successfully generate leads and grow your customer base. The Venngage My Brand Kit feature allows real estate businesses to add their company's logo, brand fonts and colors with the click of a button so their marketing materials can stand out from the crowd.
How can you design realtor marketing materials with Venngage?
Venngage offers free real estate marketing materials for every occasion. Customize templates by uploading brand photos, or use the gallery of stock images, icons, and charts available in the Venngage Editor.
Create infographics, flyers, posters, newsletters and business cards with the simple drag-and-drop features and design visuals that would rival Keller Williams marketing materials. See why Venngage is the ultimate real estate marketing solution by signing up today.

Find out what other professionals think about Venngage


"It takes minutes to create pages and documents that it would normally take hours to do or that I would need to outsource to a graphic designer. For the most part, I have found it simple and easy to use and pretty powerful. This ease of use combined with high quality output makes this a great tool for people like me who are not designers, but need something that create high-level output without enormous amounts of effort."

"High quality products for small price. I like styles and designs. The finished products look like a real GD has produced them rather than me! I like I can add my own photos and images. I like chatting to the live operators, they're really friendly, quick to respond and helpful."

Venngage for Real
Estate Businesses

Venngage's Real Estate Marketing Materials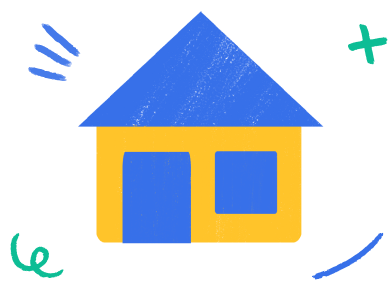 Set your real estate business up for success with Venngage's professional templates and design dynamic visuals, infographics, flyers, brochures and newsletters that keep your audience engaged.
Get started with some of our most useful real estate promotional materials: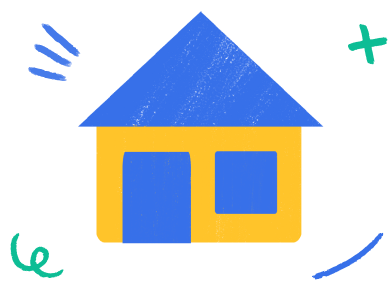 Check out our top resources for
real estate agents:
See All Posts
Trusted by