The Visual Communications Solution for Product Development Teams
Communicate better with Venngage's professionally designed and easy-to-edit templates to ensure team alignment, adoption, and success.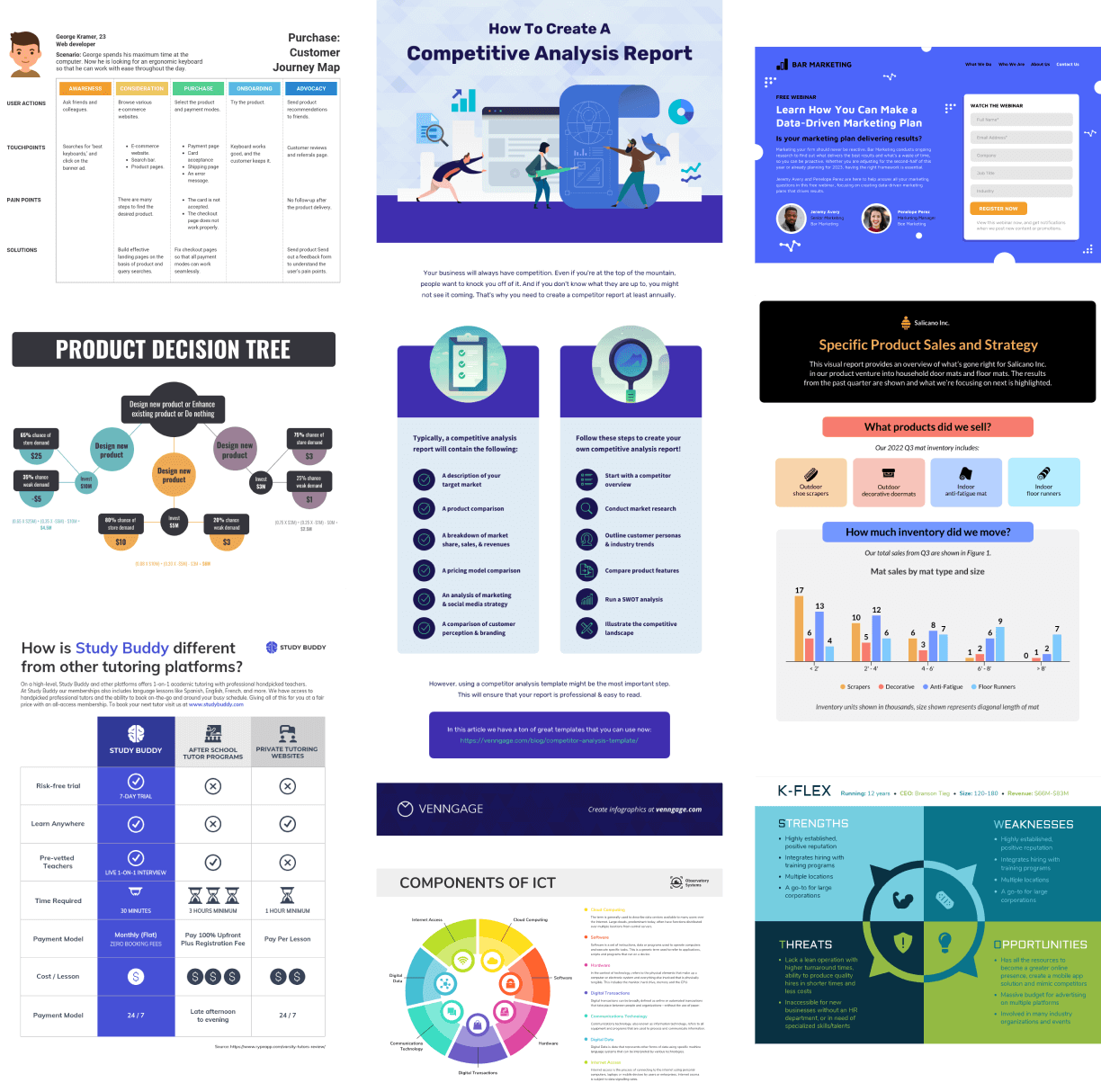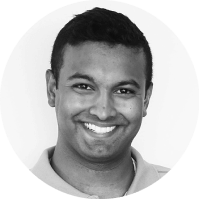 "I can't imagine not using Venngage. It's like asking how would you type up a document without a word processor? Venngage is unique in that it's more capable than similar applications, but very easy to use compared to more sophisticated solutions. It's in its own category."
Arun Raman, Change and Learning Consultant at BaptistCare

Communicate your product better
Engage and communicate with your customers like never before! Enhance your product manager skills by creating visual content that effectively puts your product or service in the limelight. Create head-turning flyers, brochures, Facebook posts, Instagram stories, posters, and so much more product ad examples! Our wide array of design tools and templates is sure to wow even the most skeptical customer.
Set your product team up for success
Unleash your team's true potential and maximize your meetings through effective visual communication. Effortlessly relay mountains of data using our graph maker with easy-to-use tools and templates to your teams. Be an effective trainer using our keynote presentation templates to help employees understand better their strengths and what needs to be improved.
Get buy-in from senior stakeholders
Product management requires you to convince the top brasses from time to time. That is why our design templates and tools will help you drive your points and ideas with clarity and efficiency in your next stakeholders or executive meeting. Make great use of our infographics to get your ideas across efficiently.
Success from conception to launch with visuals
Visual communication is the ultimate solution to weak product management. Win your team over by using custom charts and infographics to make your message easier to understand. Properly start a product communication plan and kick-off any product launch the right way by using our project planning mind map or product launch roadmap template for unmatched organization and productivity boost.

Click to get started with one of our easy-to-use product templates

FAQ
What are product manager skills?
A product manager will have to touch upon various roles and responsibilities. They are primarily in charge of the product's initial planning through the execution in marketing. To properly and effectively do this, product managers need to define the vision of the product, work closely with the product's development team, and strategize in-depth with the sales and marketing to make sure that the product meets the customer's expectations.
A product manager is typically involved with the entire life cycle of the product. A good product manager should be able to have the knowledge and skills in the following:
Pricing strategies
Training and presentation savvy
Sales and marketing strategies
Customer care and incentives
Knowledge of the general market
Good grasp of advertising design
How to promote products?
Effectively promoting a product takes a lot of work and research. Before a product launch, there must be clear and extensive planning behind it to give it the best shot of success. This is because product promotion is highly dependent on several factors like your target market, pricing, economic climate, etc.
However, some strategies are generally favored when it comes to promoting products. Check them out below, and see which one works with your product's condition.
Create a product launch promo-

This could be in the form of discounts, bundles, reward points, buy one get one deals, or a free gift.

Do a contest-

One of the best ways to get people interested in your product is through a contest. This way, you get valuable insight into how much buzz your product is garnering and getting valuable info to use in future promos.

Post in social media-

Online marketing is effective, relatively cheap, and full of important performance data. Create an excellent social media campaign for your Facebook, Instagram, Twitter, etc. Mix up your posts from product ads to infographics to animated slideshows.

Create coupon codes-

Adding customer value is a product manager's responsibility. Creating coupons that give discounts or freebies is a good way to do that.

Do flyers-

Flyers are still one of the most effective marketing tools around. These can fit almost anywhere and can be distributed easier than others. From sidewalks to mailboxes to doorstops, flyers are crucial tools for product managers.

Create announcement emails-

Announcement emails are a great and cheap marketing tool that can effectively hype a product.

Make a product brochure-

Brochures are great options for products that need more layout space. Product Managers catering to B2B and selling more technical products might find good use of brochures.
What are the rules of creating effective product ads?
Creating effective ads is the lifeblood of any serious product manager. This is the reason why the product manager should work closely with the marketing and design teams. Here are some tips to help you create effective product ads.
Create a powerful headline-

An ad typically lives and dies with its headline. An attention-grabbing headline that is clear and concise is a good indicator of how successful the ad is going to be.

Use hi-res and popping images-

People are visual creatures. Meaning we like to learn by seeing. Putting hi-res images will give viewers of your ad some pause to see and understand your message better. Lack of images or blurry photos will do the opposite.

Make sure you are clear about your USP-

USP or Unique Selling Proposition is a term that most product managers are familiar with. It tells the market what is unique about your product compared to competitors and why they should buy them. USPs are usually determined through the early stages of product development or before launch. When making product ads, always ask yourself if you have effectively relayed your USP message in the layout.
How do I design a product flyer?
With Venngage you can start by choosing the appropriate size for your project. We have hundreds of fantastic and professional-looking pre-designed flyer templates that will satisfy any type of ad you need. You can also create a blank canvas and choose your own custom size. Choose the appropriate images you need for your flyer from our own extensive collection of photos, icons, etc. You can also upload your own.
Fonts are fundamental when it comes to flyer making. That is why Venngage has a great selection of fonts to choose from to make sure that your message is clear and on-brand.

Find out what other professionals think about Venngage


"I discovered Venngage when I was in need of custom infographics. The editor is simple and very user friendly. Definitely the enormous amount of templates available to build on is helpful. My team has already used over 150+ designs in a short period of time."

"For a non-designer that needs easy design solutions, this is the top product! It helps with easy customization options, branding toolkits, and great options for sharing designs. Easy interface, pretty intuitive design and user experience. Love features available and responsiveness of customer service."

Venngage for Product Teams

Venngage Product Development Resources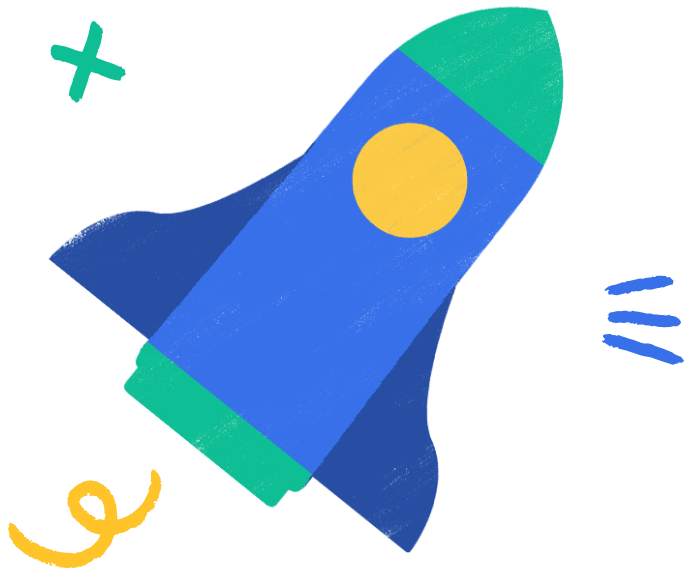 Set yourself up for product development success with Venngage's in depth guides, resources, and webinars to create engaging, professional, and beautiful visuals. Why not get started with some of our most useful communications resources: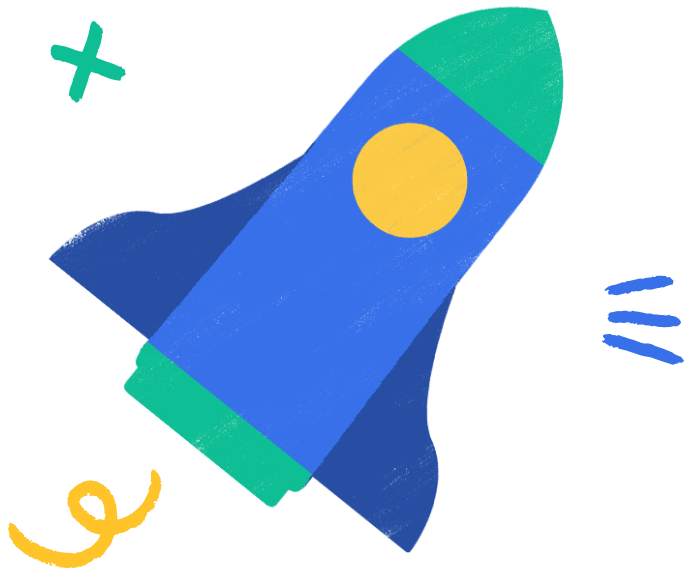 Check out our top resources for
product development teams:
See All Posts
Trusted by