Venngage Online Brochure Maker
From product, events, medical, and even real estate brochures, our professional templates can help you create engaging custom brochures in minutes — no design skills needed!


Not a designer? No problem. With our library of simple and easy-to-edit brochure templates, anyone can start creating stunning brochures for free. Over 40,000 businesses trust Venngage's free brochure maker tool to enhance their visual communications!

Venngage's platform offers intuitive tools for crafting accessible content effortlessly

Inclusive Design and Compliance Enhanced by AI-Powered Solutions
Effortlessly choose accessible colors with AI. Our built-in contrast checker, compliant with WCAG, ensures design accessibility without compromising aesthetics.

Guarantee inclusivity with AI-driven alt text generation. Our system efficiently crafts precise descriptions for images, illustrations, and complex visuals such as charts, enhancing the experience for screen reader users.

Comprehensive Accessibility Testing Made Easy. Automatically identify compliance issues, from contrast and document language to text tags and beyond. Access invaluable insights and actionable tips to resolve issues before finalizing your design.
Explore a rich repository of accessible design resources and beyond. Our library features ADA and WCAG-compliant templates, augmented by AI-generated chart summaries, ensuring both design and data comprehension are accessible and streamlined.
How to make a brochure online with Venngage
1
Sign up for Venngage with your email, Gmail, or Facebook account — you can get access to a free plan!
2
Choose a brochure template from hundreds of pre-made designs, upgrade to edit premium brochures, or start from a blank canvas with Venngage's free online brochure maker.
3
Get access to our stock image library and further stunning design elements. Add your logo, brand colors and images of your existing products/services to customize your template.
4
Fully customize Venngage's beautiful brochure templates by changing or adding text, icons, stock photos, and color coding with our easy-to-use editor.
5
Print, download or share online with the world! After your own brochure is complete, make sure to give it a final review with the Preview option.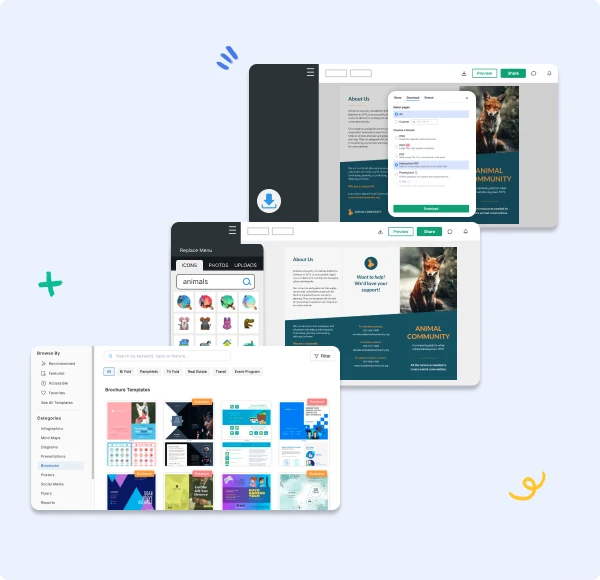 Feel like a graphic designer with our brochure maker tool

Free Brochure Templates
All of our professionally designed brochure templates are completely customizable. Just pick the brochure sample that fits your vision and become a brochure creator.
User-Friendly Editor
Venngage drag-and-drop editor is easy to use. You can swap out text, images and icons, and add data with just one click. You can even adjust your brochure size!
Download in Multiple Formats
Easily share your digital brochure design with a link or create high-quality prints by downloading your finished brochure as a PNG, PPT or PDF.
Fonts and Visuals
Stand out from the crowd with a bold font from our collection. Use icons and stock photography, or create an infographic brochure to grab your audience's attention.
24-Hour Priority Support
Got a question? We're here to help! Our support team is available around the clock, so your team can keep working like clockwork.
Team Collaboration
Create your ideal brochure with the support of your team! With real-time collaboration, everyone can edit, add comments and provide feedback.
FAQs
What is the best free brochure maker?
Venngage's brochure generator is the best option for non-designers that wish to create beautiful brochures easily by starting out with a professional brochure template.
What is a brochure format?
A brochure, also called a pamphlet, is an informative document with a standard size of an A4 piece of paper. Brochures can come in various fold types: single-fold, bi-fold or tri-fold.
Can I download or print my brochure design?
Yes! Brochure printing has never been easier, you just have to download your design as a PNG or PDF. You can also share and publish your brochure with a few clicks on our smart editor.
Try Venngage's free brochure maker tool today — we add new templates every week!
Book A Demo

Start with one of our top free brochure templates: