Venngage Pamphlet Maker
Highlight important information about your projects with Venngage's customizable pamphlet designs!


Pamphlets are an essential tool in your business communications playbook. With Venngage's pamphlet maker, creating a pamphlet design yourself has never been easier. Over 40,000 businesses use Venngage's pamphlet templates to improve their communications.

Take control of the whole pamphlet design process

Visuals will make your pamphlet engaging and effective at delivering information. Access and add over 40,000 icons, millions of stock photos, and hundreds of chart templates.
Get your team involved when creating pamphlet designs. Collaborate in real-time with your peers and create the best word cloud design in minutes.
Got your own images you want to include? No problem. You can upload images and incorporate them into your design or save them for later. All of this in an easy-to-use image library.
Cohesive design across all of your business communications is important. My Brand Kit feature lets you upload your company logos, fonts, and colors. Perfect to stand out!
How to create a pamphlet in 5 easy steps:
1
Sign up for a free Venngage account with your email, Gmail or Facebook address.
2
Choose one of our professionally designed pamphlet templates that fits your requirements.
3
Insert your text, images or charts into the template.
4
Customize your pamphlet using Venngage's library of stock photos, icons, and illustrations.
5
Download your pamphlet design or share it online with your team with a click.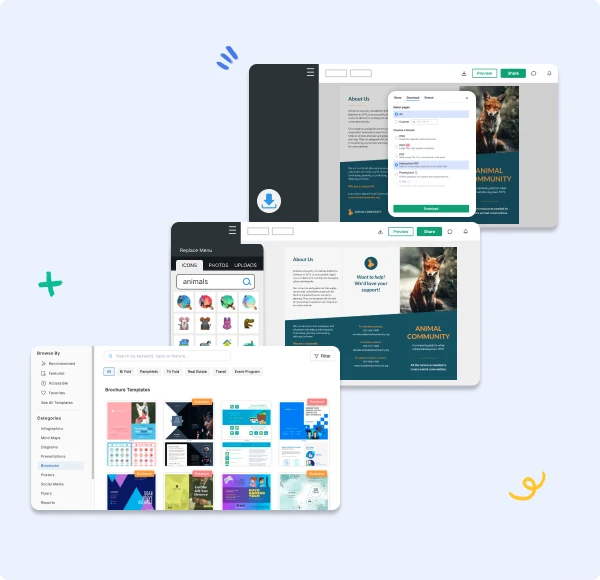 Professional pamphlets made easy for non-designers

Pamphlet Templates
Venngage's library of beginner-friendly templates makes it easy for anyone to create a pamphlet in a pinch –no design experience required.
User-Friendly Editor
Edit and add content with ease. Venngage's editor tool includes a smart drag-and-drop interface that makes it simple to create a pamphlet in just a few clicks.
Download and Share
With Venngage you can download your pamphlet in print-quality PNG or PDF formats. Or share it on social media directly with a private link.
Arrows and Icons
Create memorable, easy-to-understand pamphlets with our library of thousands of icons and illustrations. Resize and change colors easily to fit your branding.
Brand Identity
Use your brand color palettes to make your pamphlet stand out with My Brand Kit. Click on any section in the template and change to your brand colors.
Team Collaboration
Make your teamwork seamless by having multiple people within the same design, leave helpful comments and feedback.
FAQs
How do I sign up for Venngage?
To start using Venngage, all you have to do is sign up with your email, Facebook or Gmail account.
Can I edit my pamphlet design after it's saved?
Yes! You can go back and edit your pamphlet at any time.
What makes Venngage better than other design tools out there?
We asked our users just that, and here's what they told us: "Venngage offers the best variety of professional and beginner-friendly pamphlet templates, the most flexible design features, and attentive live chat customer service."
Pamphlet templates for you to choose: