Venngage's eBook Maker Online
Establish your thought leadership or generate leads with an engaging online book. Make an eBook for your business with our professional eBook templates and simple online eBook creator.


Create a downloadable lead magnet, demonstrate thought leadership, and design sales materials with a professional ebook online — with just several clicks. Free ebook templates available. Join over 40,000 businesses that use Venngage to make an eBook.

Create stunning ebooks using Venngage's free ebook creator

Professional eBook templates to showcase your thought leadership, generate leads, attract potential customers, or present your business or nonprofit program offerings.
Don't have design experience, or low on resources? Venngage offers free ebook templates anyone can create easily.
Create an eye-catching eBook using our customizable eBook templates and online drag-and-drop ebook creation software.
Our simple eBook creator lets you make an eBook without any design knowledge. Click, adjust and share your finished ebook, or upgrade to download it in multiple formats.
How to make an eBook with Venngage in 5 steps:
1
Sign up for a free Venngage account using your Facebook, Gmail or email.
2
Write your eBook content and then pick an ebook format template that fits your manuscript.
3
Customize your eBook cover, add or remove pages and edit page layouts.
4
Customize your eBook template's fonts, colors, images, and charts. Align your design with your brand guideline in one click.
5
Share your electronic book with a free plan or upgrade to download.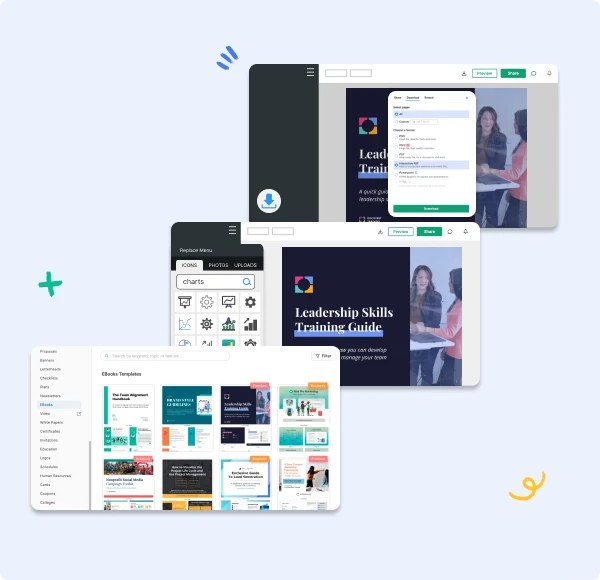 Creating ebooks your e-readers will sink their teeth into using Venngage's free ebook maker

Customizable eBooks
Browse our library of eBook templates for an ebook format that fits your manuscript. Whether it's a brand style guide, a content marketing lead magnet or an internal team handbook, we've got the right templates for you.
User-Friendly eBook Creation Software
The simple drag-and-drop Venngage editor is easy to use. You can swap out text, images, icons, and add data to your ebook with just a click of a button.
Multiple File Format Download Options
Upgrade to Business and download your eBook as a high-quality PDF or as an Interactive PDF for your interactive ebooks. You can also export it as a PPT file if you want to use it for a presentation.
Data Visualizations, Icons & Images
Present your data in an eBook engagingly and effectively with charts, graphs and our 40,000+ icons and illustrations. Access our library of 3+ million stock photos or upload your own images.
24-Hour Priority Support
Got a question? We're here to help. Our support team is available around the clock, so your team can keep working like clockwork.
Real-Time Team Collaboration
Invite your team and create your own ebook online with Venngage Business. Save time and hassle with in-editor collaboration.
Venngage eBook Creator FAQ
What is the best eBook creator?
Venngage is among the best online eBook creators that let you design and export a professional, on-brand eBook with stunning visuals — even if you're not a professional designer. We offer eBook templates for any business communications needs.
How do I make my own eBook?
Got your manuscript? Once you have all the content, simply upload it all into one of our eBook templates and start customizing your eBook cover, adding charts, icons, illustrations, or branding your eBook. It's easy to make an ebook using Venngage's ebook creator.
How do I create a PDF eBook?
Simply customize a professionally designed eBook template from our library and export it as a PDF or Interactive PDF if you want to keep all your links clickable! You can then share your eBook with everyone or print it in high quality in seconds.
Try Venngage eBook Maker today. Select a stunning, suitable eBook template to start.
CREATE MY OWN eBOOK

Create an eBook easily using our visually engaging online book templates and free eBook creator