Need to communicate complex processes, organizational structures, or make business decisions? A beautifully designed flowchart can help with that. Create one with Venngage's online flowchart maker—no design experience required.
Lead your audience through a decision making process with a well designed flowchart
Tasked with creating an impressive flowchart with little to no design experience? Or looking to communicate complicated processes simply?

With Venngage's fully customizable online flowchart maker you can create professional flowcharts with your organization's branding.

Easily break down complex processes, plot the steps of a project, or make an idea interesting and accessible. Every template is fully customizable so you can update your design with your branding, colors, and fonts - perfect for including in reports, handbooks, onboarding materials and more.
Use our flowchart maker to create a process flow in 5 steps:
Sign up for Venngage with your email, Gmail or Facebook account—it's free!
Select one of our professionally-designed flowchart templates to open the flowchart maker.
Add your start and end points, steps, decision points and any other important information to the flowchart.
Make your flowchart more visually appealing by adding one of our thousands of icons, illustrations and images.
Download your flowchart or share it directly from Venngage in a single click.
Create a memorable flowchart:
Make a slick flowchart for your business
Choose one of our 100+ infographic templates. You'll be sure to find the flowchart template that's perfect for you.
Smart flow chart editor
Use our smart flow chart features for a seamless flowchart design experience.
Brand logos, colors and fonts
Keep all your flowchart designs on brand by adding your brand logo, colors and fonts.
Collaborate with your team
Invite your team and create effective flowcharts with Venngage Business. Save time and hassle with in editor collaboration.
Create flowcharts in minutes with smart flowchart editor
Venngage's smart flowchart editor makes flowchart design a breeze.

You can easily add, edit, drag or delete text and branches in one click, and your flowchart will automatically scale accordingly.

No need to edit and resize every single text box or arrow to your content. We'll do that—and you have time to focus on creating the best flowchart for your audience.
Create branded flowcharts
Use Venngage My Brand Kit to automatically apply your company colors and fonts to your flowchart designs. Save time and money on your designs with Venngage.

Impress clients by delivering branded flowcharts as part of a strategy, or impress your boss by creating clear and crisp flowcharts without a designer.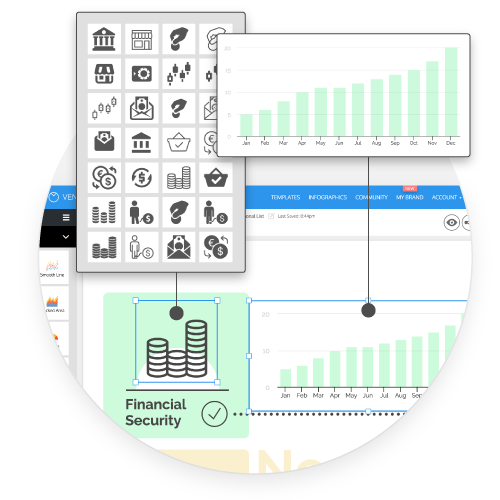 Add icons to your designs
Communicate your idea quickly and effectively by adding icons.

Pick from a wide range of icons perfect for every industry. If you're in marketing, finance, healthcare, education, nonprofit, or consulting - Venngage has icons for every occasion.
Collaborate with different teams or departments
Keep your team in the loop. Invite people to edit your flowcharts and share your designs to get feedback. Plus, it's easy to add and manage team members. Venngage's Business Plan includes shared team folders, making collaboration easy.
High-quality PDF and PNG flowchart export for print
Venngage makes it simple to export your flowchart for screen or print.

Download high-resolution PDF and PNG files and add them to posters and more for professional-quality results.

Use our PNG HD option to export at 300 dpi to get stunning print-ready images that are never pixelated.
Flowchart FAQ
What is Venngage flowchart maker?
Venngage is the online flowchart and graphic design software, trusted by over 4 million users. Our graphic design software makes it easy for non-designers to create professional flowcharts, infographics, posters, presentations and more.
How do I create a flowchart?
Simple. Sign up for Venngage with your email, Gmail or Facebook account. Then choose one of our professional flowchart templates. Edit the text, drag and drop in icons or stock photos, or upload your own visuals within the flowchart maker. Share your flow diagram online for free or download it to your hard drive (Business or Premium plan required).
Can I share and download my flowchart?
Yes! You can share and publish your flowchart with a single click on Venngage. Send your design directly to Facebook, Twitter, Pinterest and LinkedIn once you're done. Or, download your process flow diagram as a PNG or PDF (Business or Premium accounts only).
Did not find a template you liked? Sign up to be alerted about all the new templates here!
Click to create a flowchart template below: