Venngage Online Coupon Maker
Make coupons that will captivate your audience and improve engagement in your marketing campaigns – just choose one of Venngage's customizable coupon templates.


Creating eye-catching coupons has never been easier with Venngage's coupon generator. 40,000+ businesses have trusted Venngage's free coupon maker tool to improve their communications!

Use our coupon maker to attract your audience

The perfect coupon should not only be eye-catching and interesting, but it should also provide your audience with a great proposal. Make the offer stand out with a great design!
With one of our coupon templates, you can accomplish it all in just a few clicks. The best part is you don't need any design experience to create something incredible.
Need to add your unique brand? With Venngage it's easy to upload your brand colors and logos to make sure you represent your company on each piece of design.
Let our easy-to-use editor do all of the heavy-lifting for you. Plus our collection of icons, images and templates can enhance any coupon idea you have!
How to make a coupon in 5 easy steps:
1
Join Venngage for free with your email, Facebook, or Gmail address.
2
Pick a coupon template that fits your vision from our catalog of hundreds of professionally made designs.
3
Craft your own poster design by adding important text, promotion conditions, dates and key information with our free online coupon creator.
4
Enhance your design with unique icons, fonts, and photos. There are thousands of options on Venngage to create your coupon code.
5
Print, download or share your custom coupons with the world!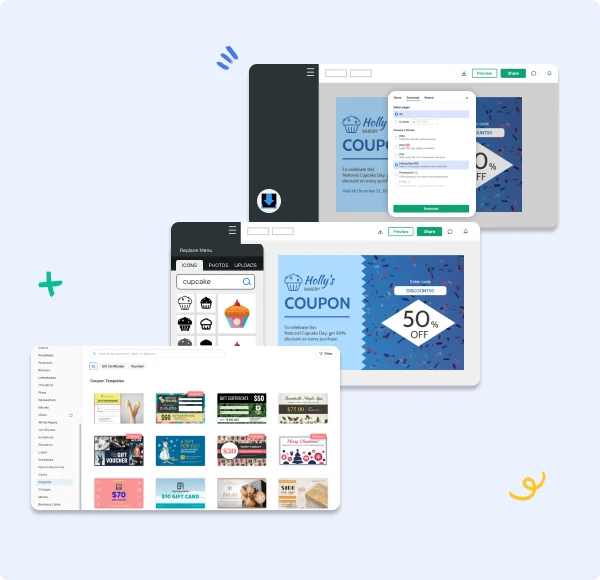 Create a coupon online with our powerful coupon generator

Customizable Coupons
Make life easier by just selecting the best template to personalize. Get access to hundreds of professional, engaging custom coupons that showcase your promotion.
Personalize your Brand
Make your coupon truly unique by uploading your own photos, logos, color scheme or graphics for maximum impact – using My Brand Kit feature.
Engaging Fonts and Visuals
Stand out from the crowd with a bold font from our collection of nearly 100 fonts. And also get access to stock photography and free or premium images and icons.
Add an Expiration Date
Every coupon code should have an expiry date to provide a sense of urgency and be able to measure your KPI after your campaign ends. Our smart templates will highlight this information.
Set your Strategy
Any good coupon deal starts with a great offer! Try to make it worthwhile, unique and unmissable – this way you'll convert a lot of leads!
Design Catalog
The design should work for you, not against you! Try to not overcomplicate it, keep it simple – choose the perfect coupon design for any occasion in our variety of professional templates.
FAQs
How do I sign up for Venngage?
To start creating on Venngage all you have to do is follow any of the buttons on this page and sign up with your email, Facebook or Gmail account.
Why should I create a coupon?
Standing out from competitors in your industry is not always an easy task. Coupons help by bringing in customers that otherwise might have been hesitant to try out your product or service. Plus, you can share your coupons made on Venngage in an email, a blog post or in print. We can help you create a coupon, but how you use it is completely up to you!
Can I share or print out my coupon?
Yes! With our free account, you can share your coupon online or on social media directly from Venngage with a few clicks. To download and print your coupon design as a PNG or PDF, upgrade to our Premium or Business plan.
Didn't find a template you liked? Sign up to receive all the new templates!
CREATE COUPONS

Get started with one of our top coupon templates: