Venngage's Proposal Maker
Make a compelling proposal online and convince potential clients and partners to fund your business and projects.


Create a proposal that makes a winning case with Venngage, the online proposal maker. Join over 40,000 businesses today in using Venngage's Proposal Maker.

Make a proposal that seals the deal

Hook your audience and show them the value of your proposal with a keen proposal design.
Whether you're writing a proposal for project funding, business partnerships, or new clients, design and functionality are important elements of a professional proposal.
You're often working under tight time constraints and within a tight budget. You shouldn't have to compromise the quality of your proposal and potentially lose out on opportunities. That's where Venngage can help.
Venngage offers a library of fully customizable templates. Our web-based graphic design software can be accessed anywhere, so you can create proposals on the go. The best part? Signing up is free.
Design a professional proposal in 5 steps:
1
Sign up for Venngage - it's free.
2
Pick a proposal template that fits your goals.
3
Add and remove pages, and arrange your page layout.
4
Customize the color scheme, fonts, and images to fit your brand.
5
Download your resume in high quality, for both digital and print distribution.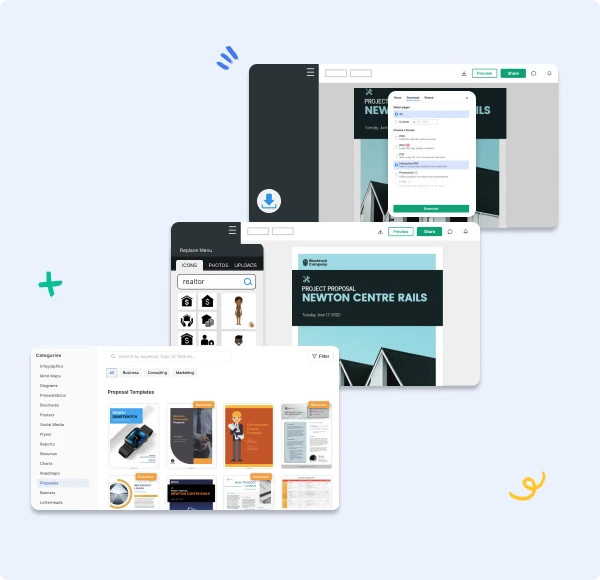 Create a proposal that makes an impression:

Proposal Templates
What are the requirements of your proposal? Pick a proposal template that will appeal to your audience and emphasize your most important information.
Page Layouts
Create page layouts that fit your information. Venngage's freeform canvas makes it easy to move around text, images and headers. Start with a template and customize the layout as much or as little as you want.
Beautiful Visuals
Add visuals to back up your argument. As the saying goes, "show, don't tell". Add visuals like charts, infographics, photos, screenshots, and icons to reinforce your text. Pick from our library of visuals, or upload your own images.
Brand Identity
Add your branding to your proposal design. Cohesive branding helps reinforce your business or organization's credibility. Save your brand logo and colors for easy branding now and in future designs.
24-Hour Priority Support
Who are you sending your proposal to? What is the issue you want to draw attention to? Need a helping hand? Our 24/7 support team will guide you so you can create an effective proposal.
Download Proposals
With Venngage, you can download your proposal in high-quality PDF or PNG format. You also have the option of downloading your proposal as an interactive PDF. Optimize your proposal for both digital or print distribution, to fit your specific needs.
FAQs
How do I sign up for Venngage?
To start designing with Venngage, simply create an account using your email, Gmail or Facebook account.
Can I edit my proposal after it's saved?
Yes! You can go back and edit your proposal at any time. Simply open the draft in your "My Designs" library and continue editing your proposal.
Can I add or remove pages in my proposal?
Yes, you can add, remove and rearrange pages using the page menu on the right side of the screen.