Venngage Mind Map Maker
Create memorable mind maps for your business strategies, projects, presentations, brainstorms, and more!


Not a designer? Not a problem. With Venngage's free library of easy-to-edit mind map templates, anyone can create engaging mind maps in minutes. 40,000+ businesses have trusted Venngage's free mind mapping tool to improve their communications!

Customize your mind map template by following these tips:

Simply drag-and-drop to create professionally designed concept maps, customer journey mind maps, or business mind maps to plan projects and improve your sales and marketing.
Get your team involved when brainstorming your central idea by using real-time collaboration. This allows you to provide feedback and apply changes to your mind map design in minutes.
Venngage has hundreds of mind map templates to help you create and simplify complex ideas. Explore our library to capture your creative ideas.
Customize your creation in a snap. Add new text boxes and elements, change the layout, or even start from scratch with our easy drag-and-drop editor.
Master the mind mapping process in 5 easy steps:
1
Sign up for Venngage with your email, Gmail, or Facebook account – it's free
2
Save time and pick a mind map example that fits your main idea from our catalog of professionally designed mind map templates.
3
Let your creative thinking flow by personalizing your central concept with our free online mind mapping software.
4
Design mind maps by editing infinite canvas possibilities. Change or add text, icons, stock photos, and color coding using our easy-to-use editor.
5
Download your completed mind map online design as a PDF, PNG or PPT; or share it using a private shareable link.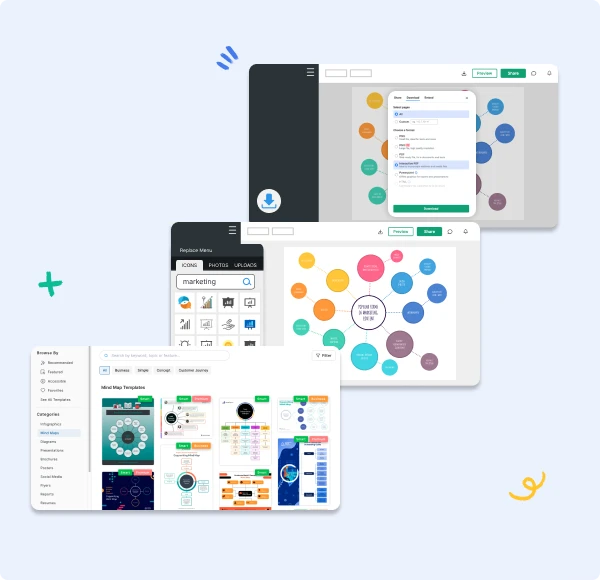 Create a unique mind map with our simple but powerful mind map maker tool

Customizable Mind Maps
Get access to hundreds of professional, engaging custom mind maps that allow you to showcase exactly what your audience needs to know about your business or project. No design experience needed!
User-Friendly Editor
Collaborative mind mapping has never been easier. Our simple drag-and-drop editor allows you to upload texts, icons, data, or images for maximum impact. It also allows you to collaborate with team members and add comments to your design!
Export to PNG, PDF or PowerPoint
Download your design in different formats. Expand your data visualization resources by adding your mind maps to documents, presentations and slides. Or share the image you created with a private link.
DesignAI
Create engaging and powerful presentations by incorporating your mind maps with just one click. DesignAI automates the process for you – saving you hours of time.
24-Hour Priority Support
Got questions about mind mapping? We're here to help. Our support team is available around the clock, so your team can keep working like clockwork.
Royalty-Free Stock Photography
Our mind mapping software is integrated with Pixabay and Pexels to elevate your design. Access stunning, professional photography with just one click.
FAQs
How do I make a mind map for free?
You can start by using Venngage's online mind map generator. Sign up for an account for free, start editing with our mind map creator, add any icons, illustrations or images you want and share your design with a single click. No design experience or mind map software downloads required.
What is a mind map and why are they useful?
A mind map is a simple diagram that allows you to visually represent information. Mind maps are useful for helping you organize information, such as when planning a project or brainstorming ideas.
Can you make mind maps on Microsoft Word?
Yes, with some effort and patience you can create mind maps on Microsoft Word using the SmartArt feature. The easiest way to create a mind map is to customize a smart mind map template and export your design as a PNG file to use in a Microsoft Word document. This is a convenient solution that lets you use Microsoft Word, without being restricted by it.
Try Venngage's mind map creator today. Select any of our smart templates to start!
CREATE MIND MAPS

Get started with one of our top mind map templates: