Venngage Timeline Maker
Create engaging timeline infographics and highlight the evolution of projects, company milestones, events, products and more — no design experience required!


Create timeline infographics that communicate your brand story with Venngage's timeline maker. 40,000+ businesses already use Venngage's free timeline infographics templates!

How does Venngage's free timeline maker work?

Venngage has hundreds of timeline templates for projects, presentations, company milestones, important events, employee onboarding and more.
With our online timeline creator, you can style templates by changing icons, backgrounds, fonts and colors in a few clicks.
Invite team members and let multiple people edit a timeline online or leave comments on a design. Save private branded timeline templates and create folders to organize them, too.
Share a private link with your team or download your timeline infographic as an image, PDF or PowerPoint. Enjoy the flexibility of our online timeline maker.
How to make a timeline online in 5 easy steps:
1
Create a Venngage account for free to access our online timeline maker.
2
Choose from hundreds of project timelines, company timelines, onboarding timelines, business timelines and more.
3
Use Venngage's drag-and-drop timeline creator to add, select and remove sections with ease.
4
Choose from over 40,000 stunning icons, stock photos and fonts to bring your own timeline to life.
5
Download your timeline as an image, PDF or PowerPoint or share a private link.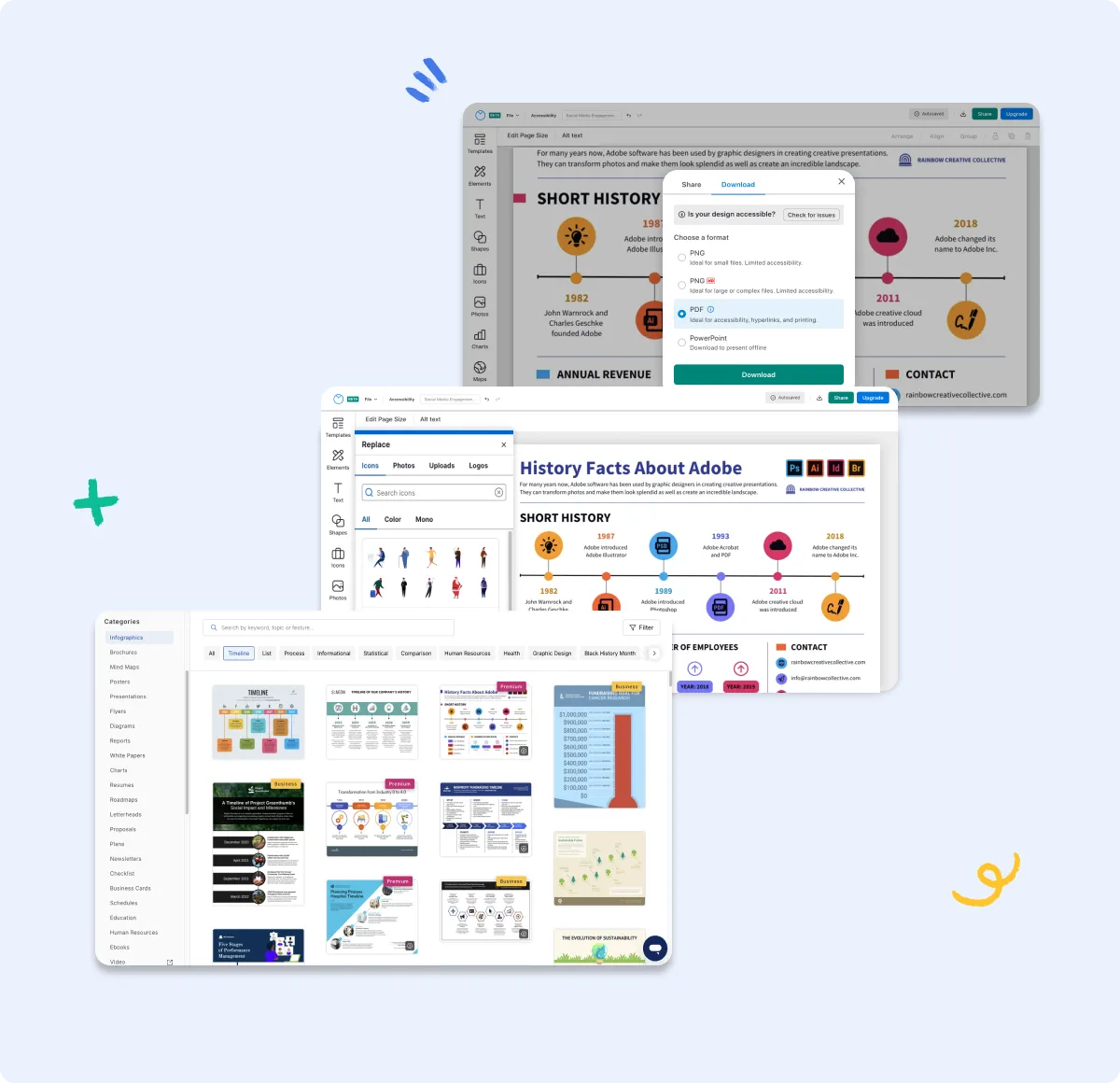 Create a powerful timeline with Venngage's simple timeline creator tool

Customizable Timeline Templates
Not a designer? No problem. Our professionally designed templates allow complete customization. Just choose the timeline design that fits your vision and create eye-catching timeline infographics in minutes.
User-Friendly Editor
Use Venngage's simple drag-and-drop editor to make a timeline your own. Upload your photos, logos, and graphics. Swap out text, images, icons and add data with just one click. You can even adjust your timeline size!
Download in Multiple Formats
Everyone can understand complex information in any format. Easily share your timelines online or with a link or download them as a PNG, PPT or PDF to add them to documents or slides.
Custom Fonts and Visuals
Stand out from the crowd with a wide selection of bold fonts and visuals. Use icons and stock photography and arrange your points in chronological order to grab your audience's attention.
24-Hour Priority Support
Have a question? We're here to help! Our support team is available around the clock, so your team can keep working like clockwork. Follow our advice, and create designs faster.
Royalty-Free Stock Photography
Whether you're showcasing a project or historical event, elevate your timelines with beautiful imagery. Our integrations with Pixabay and Pexels get you access to professional photography with just one click.
FAQs
How do I sign up for Venngage?
To start using our timeline creator, sign up for Venngage with your email, Facebook or Gmail account. Creating an account is free and it provides limited access to create, some of our infographic templates require a small monthly fee (these designs are labeled as premium or business).
Why is Venngage the best tool to create my timeline?
Our users say: "Venngage offers the best variety of professional templates, the most flexible design features and unbeatable customer service." If you're looking to create a truly professional timeline, with our user-friendly timeline maker and our great templates selection, you'll be able to jump right in and start customizing. With 24/7 customer support if needed!
What else can I make with Venngage?
Venngage is your one-stop shop for visual design. Once you sign up for a free Venngage account, you can create timelines, roadmaps, reports, project management plans, white papers, data visualizations, brochures, gantt charts, line charts, history presentations, print materials, social media posts and more.
Try Venngage's timeline creator tool today – we add new templates every week!
Book A Demo

Get started with our customizable timeline infographics