Venngage Genogram Maker
Map family relationships quickly and easily with Venngage's online genogram maker and free templates.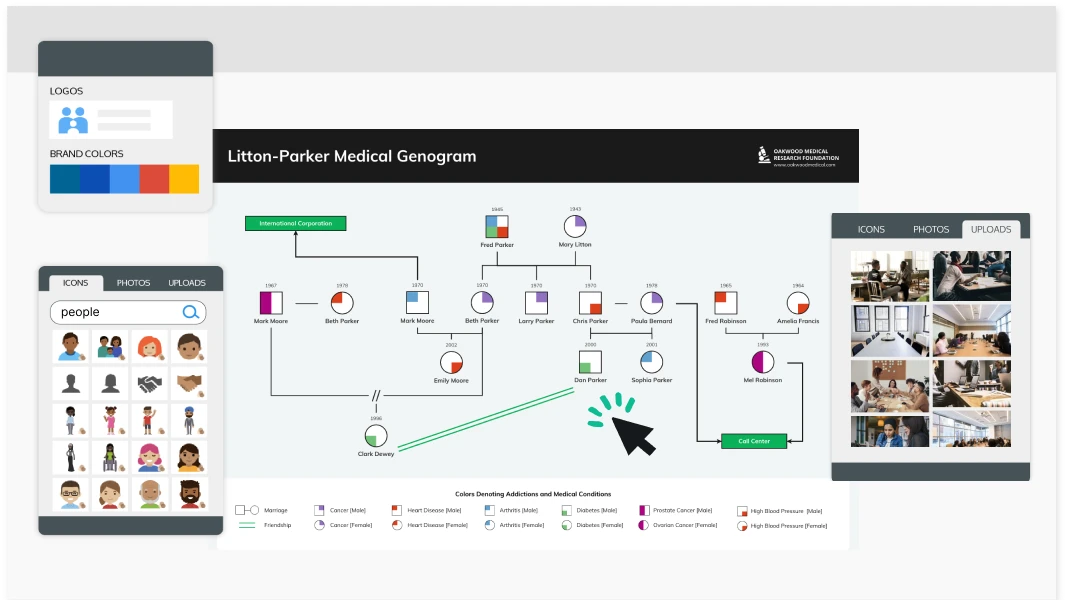 Design your family tree even without design or coding experience, using Venngage's genogram maker. Over 40,000 families already use Venngage's free genogram templates!

Document your family's medical history with our genogram creator:

You don't need a complicated online tool to create a family genogram. Venngage has a library of genogram templates that are easy to customize.
Our professional genograms have been made by experts. Visualize family relationships and add standard symbols in a detailed genogram in just a few clicks, without prior design experience.
The Venngage genogram creator includes a smart editor, unlike anything in other genogram tools, so you can better capture hereditary patterns and medical conditions from the oldest generation to the youngest.
Export genograms in a variety of file formats with the Venngage genogram maker. You can download diagrams as PNG, PNG HD, PDF, Interactive PDF, and PowerPoint presentations.
Create genograms in just 5 steps with Venngage's free genogram maker:
1
Sign up for a free account with your email, Facebook, or Gmail address.
2
Choose a genogram template from the library to start building your family tree.
3
In the intuitive smart editor, add genogram symbols, family information, and medical history.
4
Invite other family members to collaborate on the diagram so you don't miss any part of your family history.
5
Share your genogram online for free, or export the design in multiple formats, including PNG, PDF, or presentation (paid plans only).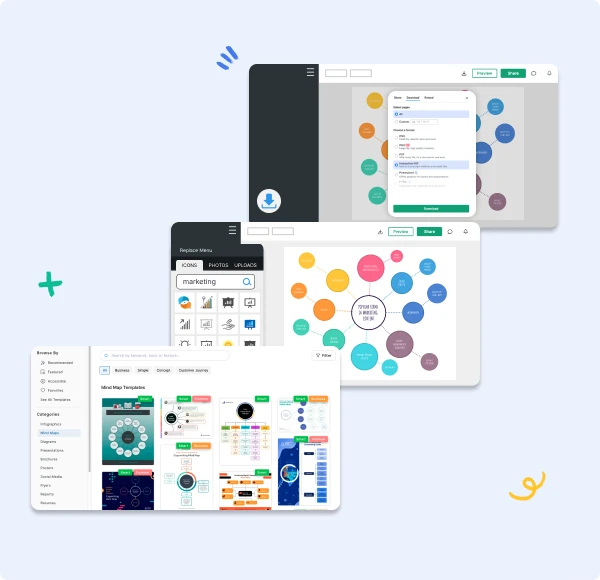 Why Venngage's Genogram Maker is the preferred online tool

Genogram Templates
Visualize your family history with Venngage's professionally-designed genogram templates, designed for users without design experience.
User-Friendly Editor
Make a genogram in minutes with the smart diagram editor. The drag-and-drop interface makes it easy to create diagrams and add branches between each family member.
Show Family Relationships
Create a medical genogram that everyone can understand. Easily add shapes, branches, icons, and images so you can better analyze hereditary factors.
Export Genograms
Use the Venngage genogram maker to download your genogram as PNG, PDF, interactive PDF, or PowerPoint presentation.
Photos and Visuals
Make your genograms more visually appealing by adding photos. Choose images from the stock photo library or add your own in the genogram maker.
Customer Support
Need help making genograms? The Venngage genogram creator is equipped with 24/7 support so you and your family members get help when you need it.
Genogram Maker FAQs
Where can you make a genogram for free?
With the Venngage genogram maker, you can create family trees in minutes. Choose one of the expertly-made templates to start and map out your family. Add visual elements like icons, images, and branches. Change the colors or fonts using the intuitive minimalist interface and your diagram will be complete.
Does Google Docs have a genogram maker?
You can design genograms on Google Docs but you need to start with a blank canvas and design the diagram from scratch. It's better to use Venngage, one of the top genogram makers online. Offering stunning customizable templates and a smart editor that beginners can use with ease, Venngage is the best way to build a genogram online.
Does MS Word have a genogram template?
In the Microsoft Office Suite, including Word and Excel, you can design a genogram by adding shapes and lines together. You can also download a template for genograms. But the Venngage genogram maker is a much more convenient tool that includes built-in templates that are easy to use as well as numerous features to help you define relationships between families.
Use Venngage's free Genogram Maker today and access stunning templates to create powerful diagrams.
CREATE A GENOGRAM

Get started with Venngage's genogram templates: