Venngage Kinship Diagram Maker
Gain insights into social and cultural realities by visualizing biological relationships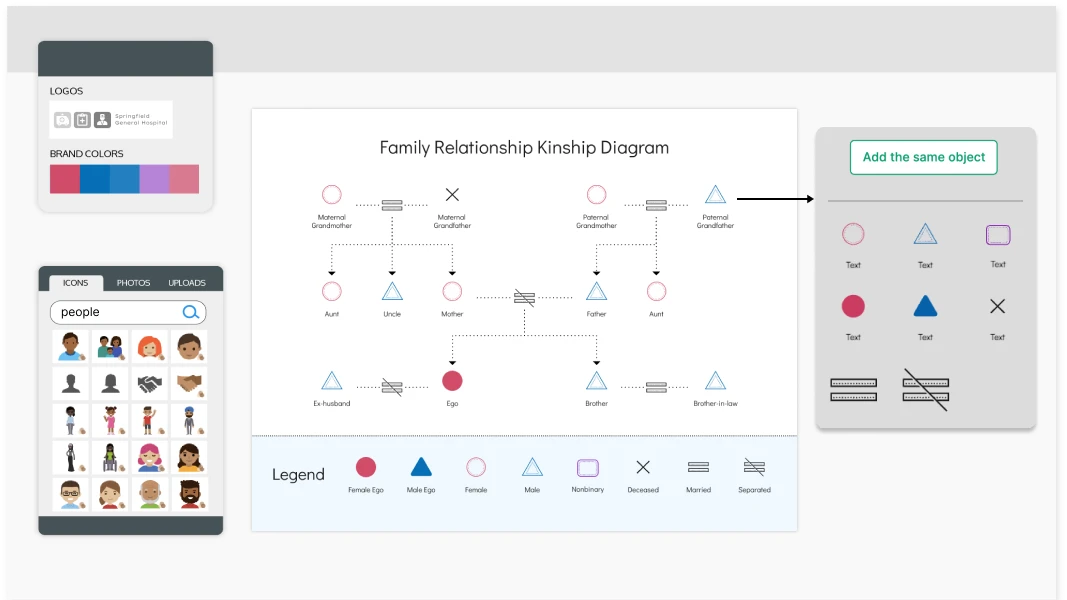 Easily comprehend complex relationships in large societal units through our intuitive kinship diagrams. Join over 40,000 businesses using Venngage's templates.

Design kinship diagrams effortlessly with our user-friendly tools

Streamline the process of designing kinship diagrams with our user-friendly tools and templates.
Diverse kinship diagram shape libraries for representing various relationship types.
Efficiently analyze cultural dynamics with customizable templates.
Share completed kinship diagrams privately or on social media. Upgrade to a Venngage business account for PNG, PDF, or PowerPoint downloads.
How to create a kinship diagram?
1
Sign up for free with your email, Facebook or Gmail address and access Venngage right away.
2
Choose a kinship diagram from our professionally-designed smart templates.
3
Use the drag-and-drop editor to add images and branches to build out your diagram.
4
Collaborate with other people to create a comprehensive kinship diagram.
5
Download the completed kinship diagram template as a PNG, PDF, or presentation (paid plans only). Or share the diagram for free with others via a private link.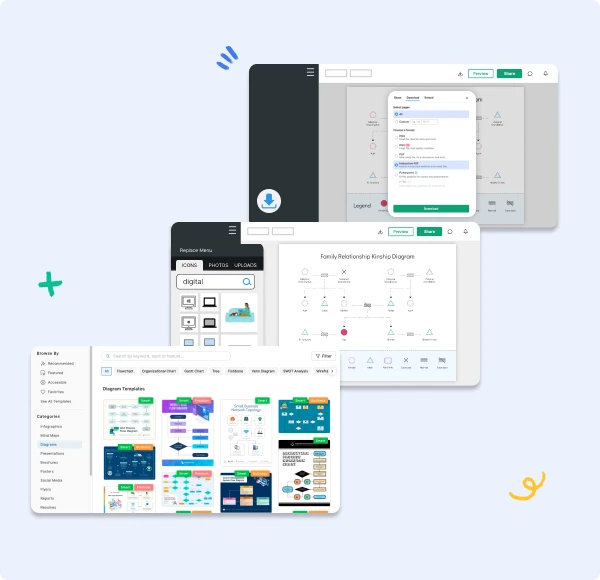 Discover and celebrate the rich tapestry of relationships with visually stunning kinship diagrams

Kinship Diagram Templates
Capture your connections effortlessly with Venngage's expertly crafted, editable kinship diagram templates. No blank canvases, just quick and stunning visual representations of your relationships.
Easy-to-Use Editor
Make kinship diagrams easily in the drag-and-drop Venngage editor. Change the text in data labels, fonts, colors, and icons in just a few clicks.
Download Your Diagram
Once you've completed your design, use the kinship diagram maker to download your diagram as a high-quality PNG, PDF, interactive PDF, or PowerPoint presentation.
Show Relationships
Easily enhance your kinship diagram with horizontal or vertical lines in just one click. Our smart templates make it simple to add and modify lines as needed.
24-Hour Priority Support
Have a question? We're here to help. Our support team is available around the clock, so your team can keep working like clockwork.
Effortless teamwork
Accelerate communication and collaboration using our real-time diagram editor. Facilitate discussions by adding comments directly to your diagrams.
FAQs
How do I sign up for Venngage?
Click any button on this page to start creating a kinship diagram. You can sign up using your email address, Gmail, or Facebook account. It's free and there's no credit card required to start designing.
Can I edit my kinship diagram after it is saved?
Certainly! With the Venngage editor, your work is automatically saved as you progress. Feel free to exit the editor and return whenever you like to make changes with ease.
Can I share or print out my diagrams?
You can email or share your diagram on social media for free. However, there is a small monthly fee if you wish to download the graph as a PDF or PNG.
Create intricate kinship diagrams effortlessly with our user-friendly Kinship Diagram Maker
CREATE KINSHIP DIAGRAMS

Get started with one of our top kinship diagram templates: