Venngage Online Network Diagram Maker
Effortlessly create and customize detailed network diagrams, tailor your network infrastructure with our user-friendly tools according to your specific needs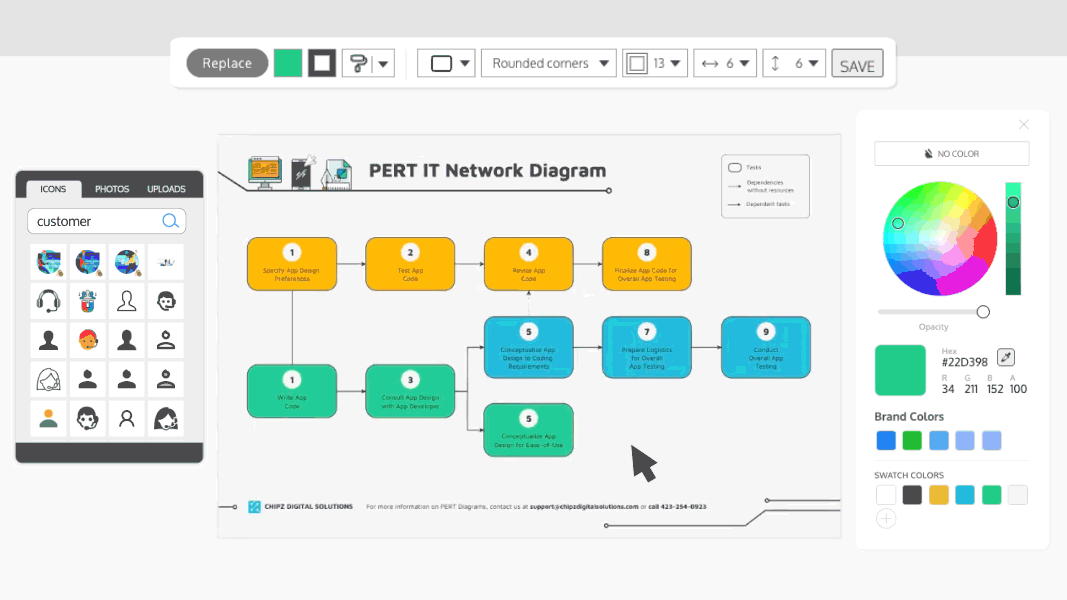 Not a designer? Not a problem. With Venngage's free library of easy-to-edit graph templates, anyone can create stunning network diagrams in minutes. 40,000+ businesses have trusted Venngage's free network diagram maker to improve their data visualizations!

What can you do with Venngage's free network diagram maker tool?

Leverage our user-friendly network diagram maker with easy-to-edit templates, and effortlessly create perfect visual representations of your website layout without the daunting task of starting from scratch.
Easily create various shapes with precision in a single interaction. Use different formats to make your design more attractive.
Gain a holistic view and determine the optimal approach to link pages, ensuring users have a seamless and exceptional website experience.
Enhance communication and collaboration capabilities. Export diagrams as various image formats (PNG, JPG, GIF) or as PDF and SVG files for seamless sharing and distribution.
How to create a network diagram?
1
Sign up for Venngage using your email, Gmail or Facebook account.
2
Select one of our network diagram templates and try it for free. Start editing your network diagram with our smart editor.
3
Use shapes according to their different purposes and the processes you want to present visually.
4
Color-code the main parts in your diagram and customize design assets with a few clicks to make it easy to read.
5
Share a public link or download your network diagram as a high-quality image.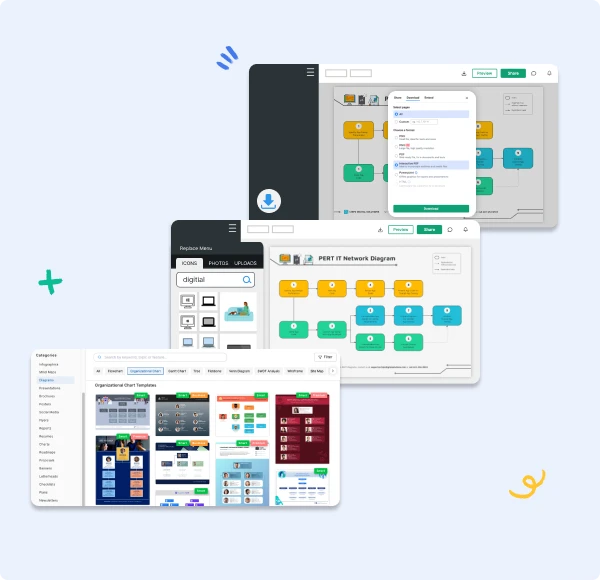 Designing network diagrams facilitates visualizing complex connections for streamlined communication and understanding

Network Diagrams Templates
Jumpstart your projects with an extensive collection of templates catering to diverse disciplines and purposes.
User-Friendly Editor
Swiftly personalize your designs within the Venngage editor. Effortlessly add new shapes with a simple click. Modify colors, icons, and fonts to craft the perfect diagram with ease.

DesignAI
Incorporate your network diagrams into presentations with just the click of a button. DesignAI automates presentation design for you - saving you hours of time.
Team Collaboration
Enable seamless collaboration among teams and clients. Incorporate comments to facilitate constructive reviews and discussions on design ideas.
Icons and Shapes
Enhance your canvas with design components like icons and shapes while seamlessly integrating data into each element to meticulously document network requirements.
24- Hour Priority Support
Have any questions? Our support team is available around the clock for you and your team!
FAQs
How do I sign up for Venngage?
Click the "Make A Network Diagram" button below. You'll sign up using your email address, Google or Facebook account. It's free and there's no credit card required.
Can I edit my diagram after it's saved?
Absolutely. Venngage's editor automatically saves your work as you go along. Exit our free network diagram generator and come back at any time to make changes if you need to.
Can I download, share or print out my diagram?
It's free to share a private link from our online network diagram maker. Nonetheless, there's a small monthly fee required to download the graph as a PDF or PNG.
To efficiently plan your network infrastructure, create a network diagram to visualize its components and connections
MAKE A NETWORK DIAGRAM

Discover network diagram templates for effortless visual representation of your network configurations