Venngage Report Maker
Design a professional report in minutes for your business, marketing campaigns, and for new clients with Venngage's Report Maker. No design experience required!


Create reports that communicate your brand story with Venngage's online report maker. 40,000+ businesses already use Venngage's free report templates!

Features of Venngage's free report maker

Easily create a report online that keeps your audience engaged. Venngage's drag-and-drop editor can be used by anyone, even without design skills, to design a stunning report that is also actionable.
Start with our engaging business report templates that look attractive and make your information stand out. Whether you're creating an annual report, sales report, survey results report, our professional templates make your job easier.
Creating reports with Venngage's online report maker saves you time and energy while delivering a great product. Add data visualizations, images, icons, and text with the click of a button.
When your report is ready, use the Venngage report maker to share it with team members or stakeholders. Print your report, share online or download it as PNG, PDF, or PowerPoint Presentation.
How to design a highly engaging report in 5 quick steps:
1
Create a FREE account on Venngage by signing up with your email, Gmail, or Facebook account.
2
Pick a custom report template and start editing. Import data into the report's charts from a Google Sheet or CSV.
3
Customize the design elements in the template. Use the My Brand Kit feature to import your logo, brand fonts, and colors. Add images, and icons to make your report visually appealing.
4
Make effective reports with your team using team collaboration. Invite members, share feedback and add comments.
5
Download your report as a PNG, PDF, or presentation to share it with your team, potential clients, or stakeholders.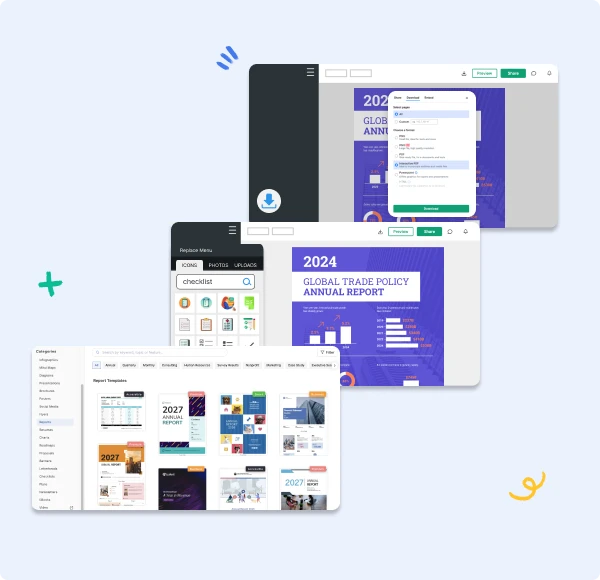 How to create reports with Venngage's online report maker:

Report Templates
Browse Venngage's library of report templates to find a business report that will showcase your company. Our professional templates have been designed by experts to save you time.
Drag-and-Drop Editor
Create your own report in minutes in the simple Venngage editor. Drag and drop design elements, change the text, font size, and chart data in just a few clicks.
Share Your Report
Share your report online with a private link. Or use the download options available with Venngage's report maker to download your report as a high-definition PDF, PNG, or presentation.
Icons and Photos
Enhance your business report with visuals. Use Venngage's library of over 40,000 icons or 4 million free stock photos to make your report more visually engaging.
Brand Identity
Brand your report design with Venngage's My Brand Kit tool. You don't have to copy-paste hex codes. Just input your website, and our editor does the rest.
Data Visualization
Data visualization is more powerful than words. With Venngage's free report maker, you can add data from a Google Sheet or CSV and the chart automatically populates the data.
Report Maker FAQs
How do I sign up for Venngage?
You can sign up for a free Venngage account with your email, Facebook or Gmail account.
Can I edit my report after it's saved?
Yes! You can go back and edit your report at any time. Open the draft in your My Designs library and continue editing your report. Your changes are saved automatically.
Can I share or print out my report?
Yes, you can, Using a free account, you can share your report online or on social media directly from Venngage. To download your report as PNG or PDF, upgrade to our Premium or Business plan.
Try Venngage's free report maker today to find more report templates in our library
CREATE A REPORT

Get started with our customizable reports