Venngage Decision Tree Maker
With Venngage's free decision tree creator, you can solve business problems and predict possible outcomes for every choice to help you make decisions faster and more effectively.


Use the Venngage decision tree maker to analyze problems and make the right decisions for your brand. 40,000+ businesses use Venngage's free decision tree templates!

How to make better business decisions using a decision tree diagram:

Are you faced with a complicated problem but you don't know how to make the right decision? Venngage is one of the top decision tree makers for you to make the right decision in no time.
Access our library of free templates and start creating decision trees using Venngage's drag-and-drop editor. No coding experience is required.
The smart editor features of the online decision tree creator make it easy to add text, branches and shapes with a single click.
Easier to use than the Google decision tree maker, Venngage offers free templates, complete control over design, and thousands of free icons and images to make your tree diagram more visually appealing.
How to create decision trees with Venngage's Decision Tree Maker:
1
Sign up for a FREE Venngage account with your email, Facebook or Gmail address.
2
Pick a decision tree diagram template from our professionally designed templates, or use a blank canvas.
3
Start customizing the template in our drag-and-drop editor.
4
Add images, icons, branches, and branding to the tree diagram with a single click.
5
Download your tree diagram as a JPG, PDF, or presentation (paid plans only), or share it with a private link (free).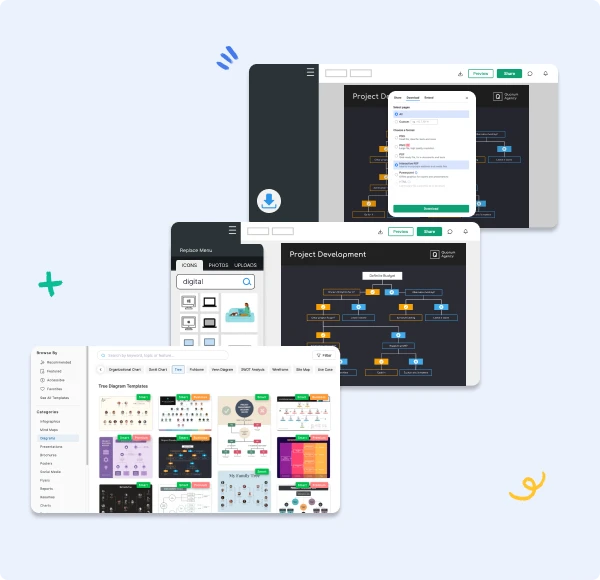 How to create powerful decision trees with Venngage

Decision Tree Templates
Finding possible outcomes for business decisions becomes easier when you use Venngage's easy-to-use decision tree templates.
Smart Editor
Easily customize complex decision trees in the Venngage editor using the Smart features. Add or remove shapes, lines, and branches with a single click.
Download Your Decision Tree
With Venngage, the best decision tree maker, you can download tree diagrams as high-quality PNGs and PDFs that maintain image quality.
Icons and Photos
Venngage offers over 4 million free stock photos and 40,000+ free icons. Make your decision tree easier to understand by adding icons, images, and text.
Brand Identity
Add branding to your decision tree with just one click. Use the Venngage My Brand Kit feature to easily add logos, colors and fonts.
Team Collaboration
Collaborate with your team when using the Venngage decision tree software. Create comprehensive decision trees and share comments and feedback in real-time.
Decision Tree Maker FAQs
What is a decision tree?
A decision tree is a diagram or flowchart that visualizes processes from the main idea and helps determine the course of action when there are multiple steps and possible outcomes involved.
What software can you use to make a decision tree?
Venngage is one of the best decision tree makers online offering numerous customizable templates. Make beautiful decision trees in the editor, which has a simple drag-and-drop interface, and save time while improving decision-making processes.
Can you make a decision tree in Google?
You can use the Google decision tree maker to create tree diagrams. But to make tough decisions, a more comprehensive solution like the Venngage decision tree software, which offers templates, visuals, and an easy-to-use editor, is the best choice.
Try Venngage's free Decision Tree Maker today and make better decisions for your company and clients.
CREATE A DECISION TREE

Get started with one of our top decision tree templates: