Venngage Catalog Maker
Venngage offers customizable catalog designs that allow you to emphasize vital information about your projects!


Present your products in a polished catalog quickly using a complimentary web-based catalog creator. Our user-friendly, drag-and-drop editor makes crafting attractive, consistent catalogs a breeze for all. Over 40,000 businesses use Venngage's catalog templates to improve their communications.

Seize full command over the entire catalog design journey

Incorporating visuals into your catalog will enhance its appeal and effectiveness in conveying information. Unlock access to a vast library of over 40,000 icons, millions of stock photos, and hundreds of chart templates to enrich your content.
Encourage your team's active participation in catalog design creation. Engage in real-time collaboration with your colleagues to craft the finest word cloud design within minutes.
No worries if you have your own images to include! You can effortlessly upload and integrate them into your design or save them for future use, all within a user-friendly image library.
Maintaining a unified design throughout your business communications holds significant value. With the "My Brand Kit" functionality, you can easily upload your company logos, fonts, and colors, ensuring a perfect way to stand out from the crowd!
How to create a catalog in 5 easy steps:
1
Sign up for a free Venngage account with your email, Gmail or Facebook address.
2
Choose one of our professionally designed catalog templates that fits your requirements.
3
Insert your text, images or charts into the template.
4
Customize your catalog using Venngage's library of stock photos, icons, and illustrations.
5
Download your catalog design or share it online with your team with a click.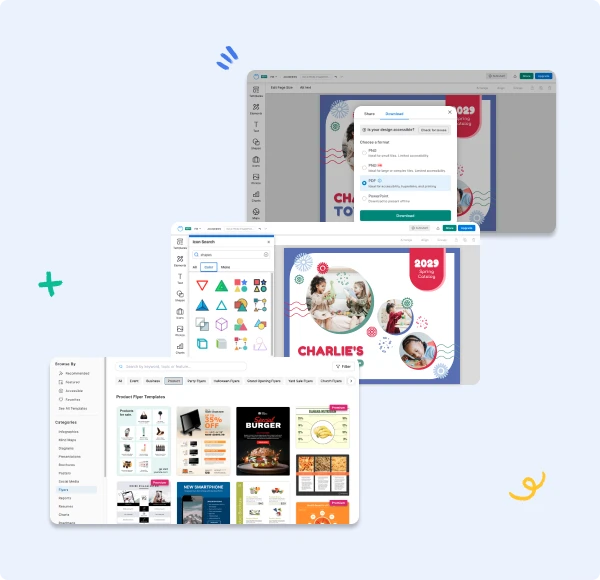 Seamless creation of professional catalogs made accessible to non-designers

Catalog Templates
With Venngage's collection of user-friendly templates, crafting a catalog is a breeze for everyone, even without any design experience.
User-Friendly Editor
Effortlessly edit and incorporate content with Venngage's intuitive editor tool, equipped with a smart drag-and-drop interface, allowing you to create a catalog with just a few clicks.
Download and Share
Venngage empowers you to download your catalog in high-quality PNG or PDF formats, perfect for printing. Alternatively, you can directly share it on social media through a private link.
Arrows and Icons
Design memorable catalogs with thousands of icons and illustrations. Easily resize and customize colors to match your branding.
Brand Identity
Elevate your catalogs with My Brand Kit, using your brand color palettes to make them stand out. Simply click on any section in the template and apply your brand colors effortlessly.
Team Collaboration
Facilitate seamless teamwork by enabling multiple collaborators to work within the same design, leaving helpful comments and feedback.
FAQs
How do I sign up for Venngage?
To start using Venngage, all you have to do is sign up with your email, Facebook or Gmail account.
Can I edit my catalog design after it's saved?
Yes! You can go back and edit your catalog at any time.
What makes Venngage better than other design tools out there?
As per feedback from our users, they stated: "Venngage provides the finest selection of professional and user-friendly catalog templates, along with highly flexible design features and responsive live chat customer service."
Discover the power of our user-friendly catalog maker to effortlessly create a stunning catalog that showcases your products and captivates your audience
CREATE CATALOGS

Catalog templates for you to choose: