Venngage Logo Maker
Create a logo that communicates your brand's personality and unique value proposition. No design experience required!


Not a designer? No problem. With our library of simple and easy to edit templates, anyone can start creating a logo in seconds. Over 40,000 businesses use and trust Venngage to make professional logos.

How to use Venngage's online logo maker:

Completely customize your logo template: Venngage's drag-and-drop makes it easy to customize your logo design. Each template can be customized as much or as little as you want - it's up to you!
Upload and save your own images: Give your logo a personal touch by incorporating your own images. When in doubt, Venngage offers a library of over 40,000 icons.
Use your brand colors and fonts: Consistent branding is important. Paste your brand color hex codes into Vennage's color picker tool. Select compatible fonts from the drop-down font menu.
Create copies of your logo for different occasions: Many brands create several versions of their logos, using different color schemes and visuals. With Venngage, you can copy, edit and save multiple versions of your logo.
Design a custom logo in 5 steps:
1
Create a Venngage account (it's free!).
2
Pick a logo template to use as the base for your own design.
3
Customize your logo's color scheme, font, and accent images.
4
Create and save multiple versions of your logo for different uses.
5
Download your logo in stunning quality.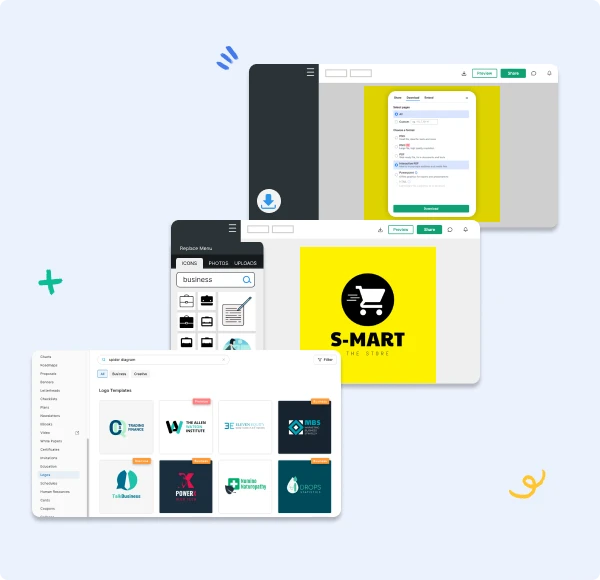 Create and customize your logo design with a few easy steps:

Customizable Logo Templates
A logo is an essential part of recognizable branding. Venngage's extensive library allows you to find a template that speaks to your brand.
Easy-to-Use Editor
Venngage's drag-and-drop editor is quick and simple to use. Swap out images seamlessly.
Brand Fonts and Icons
Select from numerous fonts, colors, and 40,000 icons to create your unique style of branding. Add your visual branding to your designs!
Download Instantly
Download your new logo with one click in high-quality PDF or PNG format. Optimize your logo for both digital or print distribution.
24-Hour Priority Support
Questions about logo designs? Our support team is available for you, so that your team has assistance at any time!
Team Collaboration
Invite multiple team members to collaborate on designs in real time. Don't forget to leave comments on each other's work!
Logo Maker FAQ
Can I share my logo with my team directly from Venngage?
Yes, you can share your designs with your team members using the Team Sharing feature.
What is the best format to export my logo in?
PNG and PDF are both standard, versatile file types to download your logo in. Venngage allows you to download in both formats.
Can I edit my logo after I've downloaded it?
Yes, you can go back and edit your logo design at any time.
Like what you see? Check out our logo template library:
CREATE A LOGO