Venngage Event Program Creator
Our event program creator offers a range of professional templates for products, events, graduation, and wedding templates. Design engaging custom event programs effortlessly in minutes!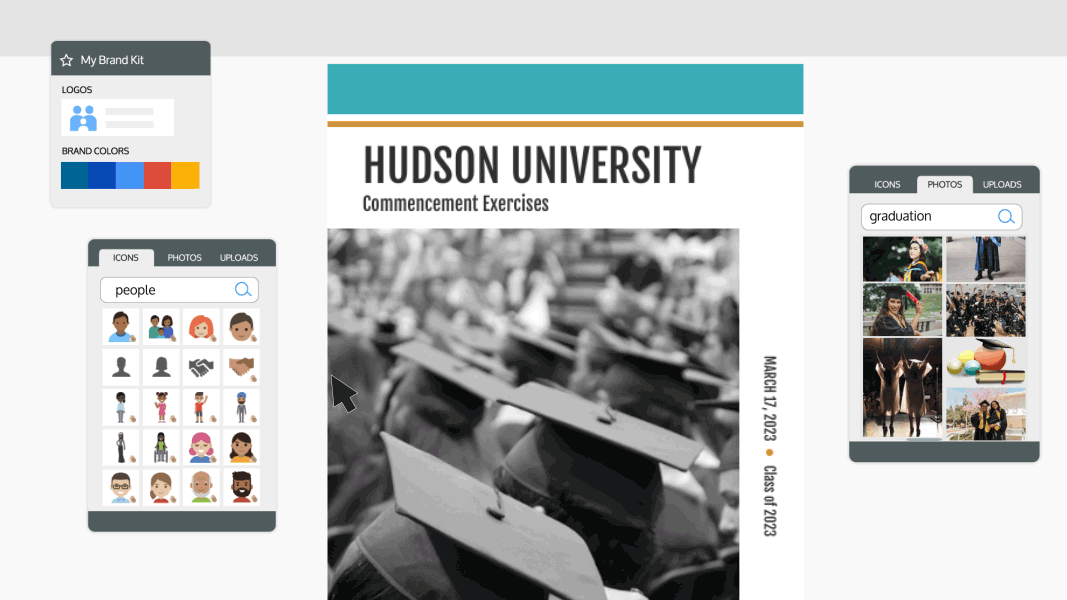 Not a designer? No problem. With our library of simple and easy-to-edit event program templates, anyone can design stunning event programs for free. Over 40,000 businesses trust Venngage's free event program creator tool to enhance their visual communications!

How does our online event program creator tool work?

Easily captivate potential customers with our stunning event program creator. Customize pre-made templates by adding design elements such as icons and illustrations. Say goodbye to the blank canvas!
Choose stylish fonts for your event programs. Highlight new features and infuse personality into your event programs by selecting from a vast collection of font examples. Let your creativity shine!
Effortlessly customize the perfect template with eye-catching color schemes, free stock images, graphics, photos, and more using our event program creator. Create your custom brochure with ease, no software downloads needed!
Showcase your project to your stakeholders. Print engaging event programs or share them online in just a few clicks. Download your design as a PNG file, PPT, or PDF file.
How to design an event program online with Venngage
1
Sign up for Venngage with your email, Gmail, or Facebook account — you can get access to a free plan!
2
Choose an event program template from hundreds of pre-made designs, upgrade to edit premium event programs, or start from a blank canvas with Venngage's free online event program creator.
3
Get access to our stock image library and further stunning design elements. Add your logo, brand colors and images of your existing products/services to customize your template.
4
Fully customize Venngage's beautiful event program templates by changing or adding text, icons, stock photos, and color coding with our easy-to-use editor.
5
Print, download or share online with the world! After your own event program is complete, make sure to give it a final review with the Preview option.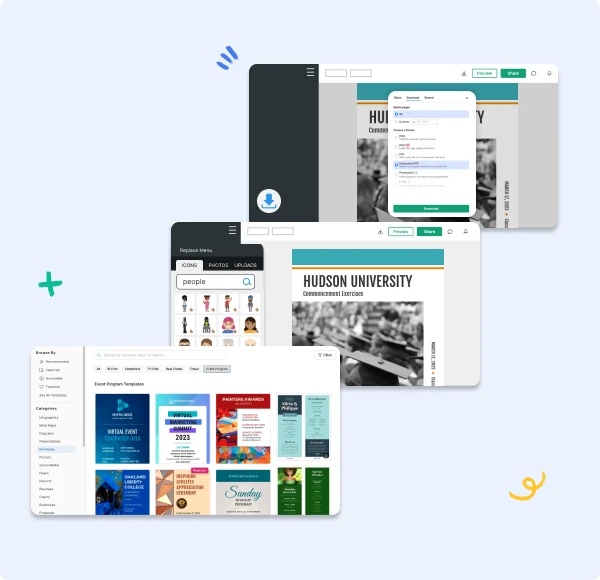 Unleash your inner graphic designer with our event program creator tool!

Free Event Program Templates
Our collection of professionally designed templates is fully customizable. Choose the program sample that best matches your vision and craft the perfect program for your event.
User-Friendly Editor
Experience the user-friendly Venngage drag-and-drop editor. With just one click, you can effortlessly swap out text, images, and icons, and even add data. Plus, you have the flexibility to adjust your event program size as needed!
Download in Multiple Formats
Easily share your digital event program designs with a link or create high-quality prints by downloading your finished brochure as a PNG, PPT or PDF.
Fonts and Visuals
Stand out from the crowd with a bold font from our collection. Use icons and stock photography, or create an infographic event program to grab your audience's attention.
24-Hour Priority Support
Need assistance? No worries, our support team is here 24/7 to help you out. With our reliable support, your team can keep working seamlessly, like clockwork.
Team Collaboration
Collaborate in real-time with your team to create ideal event programs. Edit, comment, and provide feedback seamlessly.
FAQs
What is the best free event program creator tool?
For non-designers seeking to create beautiful event programs effortlessly, Venngage's event program creator tool is the top choice. Start with a professional event program template and bring your vision to life!
What is an event program format?
An event program format is a structured layout that outlines the schedule and important details of an event, such as the title, date, time, venue, activities, and participants. It serves as a guide for attendees, organizers, and participants throughout the event.
Can I download or print my event program design?
Yes! Event program printing has never been easier, you just have to download your design as a PNG or PDF. You can also share and publish your brochure with a few clicks on our smart editor.
Try Venngage's free event program creator tool today — we add new templates weekly!
CREATE EVENT PROGRAMS

Start with one of our top free event program templates: