Create Irresistible Travel Brochures With Venngage
Whisk your clients away to their dream destination. With one of our travel brochure templates, you can make a stunning brochure that will look perfect in print and online — no design experience required.


Not a designer? No problem. With our library of simple and easy-to-edit templates, anyone can start creating a travel brochure in seconds. Over 40,000 businesses use and trust Venngage to make a travel brochure.

Customize each travel brochure template by:

Showing gorgeous photos: Photos will excite your clients and make far-away places seem just that bit closer to them. Upload your own photos, or browse our free stock photo library — we're integrated with Pexels and Pixabay!
Applying your brand colors: A travel brochure should be vibrant and inviting. Have your brand colors automatically extracted from your website using Autobrand, and apply them to our travel brochure design in one click.
Picking snazzy fonts: Fonts can pack a lot of personality into a brochure, so make sure you select the right font that conveys the mood and feel of the vacation you're advertising.
Adding icons and illustrations: Simple visuals can make your brochures easier to scan. Venngage offers over 40,000 unique icons to choose from. You can also use graphs and charts to explain your persona or their traits in greater detail.
How to create an eye-catching travel brochure in just 5 steps:
1
Create an account on Venngage — signing up is free!
2
Pick a travel brochure template that fits your vision.
3
Customize your brochure design using our easy drag-and-drop canvas.
4
Apply your brand logo, color palette and fonts.
5
Export your travel brochure in stunning quality and share it with the world!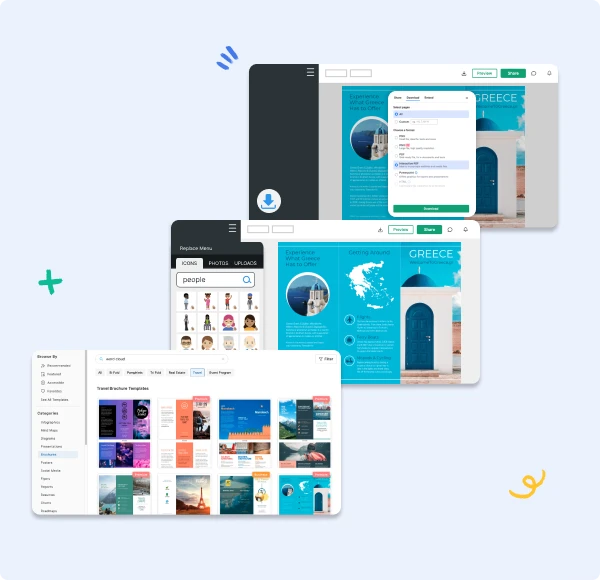 Design stunning and functional travel brochures with Venngage

Travel Brochure Templates
All of our templates are completely customizable. Just pick a travel brochure sample that fits your vision and helps people plan a vacation.
User-Friendly Editor
Easily customize your travel brochure design using our easy drag-and-drop canvas. You can swap out text, images, icons, and add data to your travel brochure!
Download In Multiple Formats
Download your travel brochure in print-quality PNG or PDF formats, or share your brochure directly from Venngage using a public link in just a few clicks.
Free Stock Photos & Icons
Make your travel brochure truly unique with our collection of 3+ stock photos and 40,000+ icons and illustrations, a lot of which are diverse icons.
24-Hour Priority Support
Have some questions for us? We're here to assist! Our support team is available at any time for help.
Team Collaboration
Create the ideal travel brochure with your team by collaborating with them on the same design dashboard, all in real time.
FAQs
How do I sign up for Venngage?
To start using Venngage, all you have to do is sign up with your email, Facebook or Gmail account. Once you're done, you can go ahead and choose from our collection of captivating travel brochure designs that you can fully customize in just minutes.
Can I edit my brochure design after it's saved?
Yes! You can go back and edit your travel brochure at any time.
What makes Venngage better than other design tools out there?
We asked our users just that, and here's what they told us: Venngage offers the best variety of professional brochure templates, the most flexible design features, and amazing customer service. Just start by creating a free account and experience all that for yourself!
Create a Venngage account to get more brochure templates — we add new templates every week!
Create Travel Brochures

Pick a Travel Brochure Template to Get Started: