Venngage Bubble Map Maker
Craft visually appealing bubble maps in minutes using Venngage's free and user-friendly bubble map maker and templates. Elevate the impact of your reports and presentations with stunning visuals.


Effortlessly visualize complex data using Venngage's free online bubble map maker—no design skills needed. Join a community of over 40,000 businesses using Venngage to create captivating bubble maps.

Craft the ideal visual representation for your data using our online bubble map maker

Convert data into impactful bubble maps for your business metrics and top-selling products, elevating your reports and presentations with clarity and insight.
With Venngage's bubble map maker, you can easily create your own bubble maps and share them online or add them to your business documents. It's a powerful tool designed to make bubble mapping a breeze!
Choose your preferred bubble map template, and effortlessly upload your data values from spreadsheets. Alternatively, customize the numbers and categories directly in our data table to match your requirements.
Unleash powerful data stories and captivate stakeholders by creating custom bubble maps effortlessly with Venngage's online bubble map maker.
How to build a custom bubble map with these easy steps:
1
Sign up for Venngage with your email, Gmail or Facebook account — it's free!
2
Select one of our professionally designed bubble map templates to open the bubble map maker.
3
Effortlessly integrate your bubble map into presentations, reports, and other materials with absolute ease from our editor.
4
Conveniently email or share your graph directly from Venngage's bubble map maker tool. Upgrade to access the option of downloading it in multiple formats for added versatility.
5
Conveniently email or share your graph directly from Venngage's bubble map maker tool. Upgrade to access the option of downloading it in multiple formats for added versatility.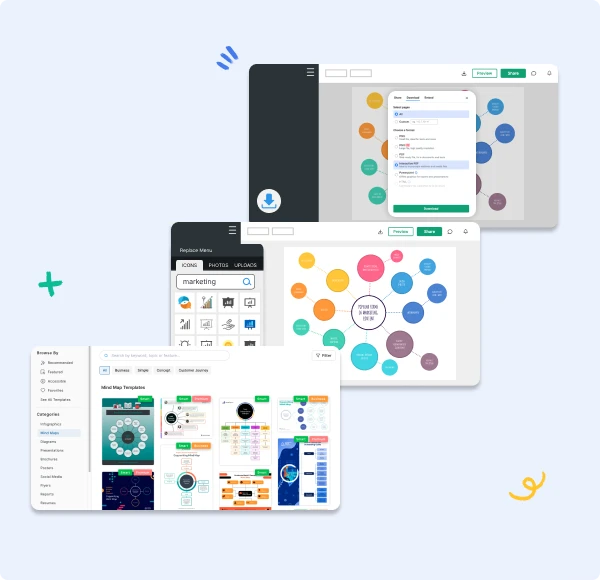 Effortlessly craft custom bubble maps with Venngage's free bubble map maker

Bubble Map Templates
Bubble map charts are perfect for visualizing and comparing data in a visually engaging way.
User-Friendly Editor
Easily create captivating bubble maps with Venngage's user-friendly editor. Upload data in a click, select from diverse map styles, and effortlessly drag-and-drop design elements for visually engaging results.
Export to Various Formats
Export or download your bubble maps as an image file (PNG), PDF or PowerPoint slide with a Venngage business account. Or easily share your bubble maps online completely for free.
24-Hour Priority Support
Have a question? We're here to help. Our support team is available around the clock, so your team can keep working like clockwork.
Brand Identity
With Venngage's My Brand Kit, imbue your bubble maps with brand colors and logos effortlessly. Simply enter your website address to automatically upload your brand elements to your account, enabling one-click customization.
Real-Time Team Collaboration
Empower your team to craft impactful custom bubble maps together. Leverage the Team Sharing option, enabling real-time collaboration and seamless cooperation with team members.
FAQs
Can I format the text on my bubble map?
Diversify your text customization options to align with your design preferences. Utilizing the text tools, you have the flexibility to modify font type, size, color, emphasis, alignment, spacing, and transparency. Additionally, you can transform your text into a bulleted list for enhanced visual appeal. All adjustments made apply uniformly across all text within a text box. To implement any of these alterations, simply select the desired text box and access the format options located on the toolbar.
Where can I create a bubble map for free?
Create free bubble maps online with Venngage's easy-to-use bubble map maker. Choose templates or explore related categories like infographics, reports, and presentations. Customize your map using the drag-and-drop editor, and add chart titles, data labels, and beautiful design elements with ease.
Can I edit my bubble map after it's saved?
Certainly! With Venngage's editor, your work is automatically saved as you progress. Feel free to exit the editor and return whenever you like to make changes to your project.
Unlock the potential of your data visualization with our intuitive bubble map maker — easily create bubble maps that captivate and inform.
CREATE BUBBLE MAPS

Get started with one of our top bubble map templates: