Venngage Concept Map Maker
Simplify complex ideas with our perfect concept map templates.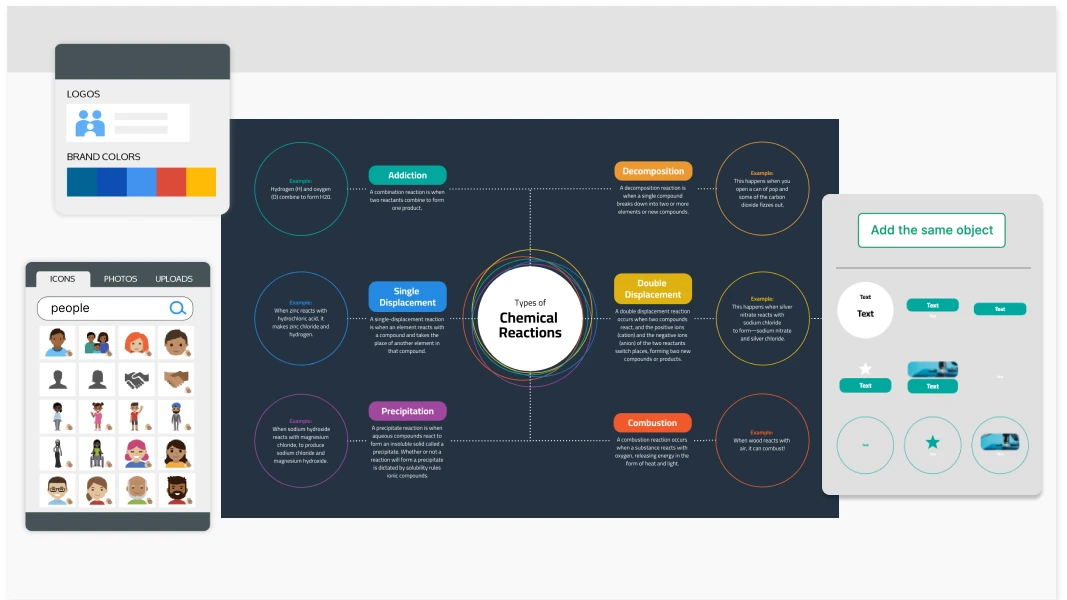 Not a designer? No problem. With our easy-to-edit templates and free concept map maker, anyone can create an easy-to-understand concept map. Join over 40,000 businesses who trust Venngage for their designs.

Create an engaging concept map!

Pick from our library of easy-to-edit concept map templates for both individuals and businesses.
Keep all your concept map designs on brand by adding your brand logo, colors and fonts.
Use our smart diagram features for a seamless concept map design experience.
Collaborate with your whole team and create your best concept map design in minutes.
How do you create a concept map with Venngage?
1
Sign up for Venngage with your email, Gmail or Facebook account—it's FREE!
2
Select one of our professionally designed concept map templates to open the concept map maker.
3
Add all of your important ideas, points or nodes to the concept map.
4
Level up your visual concept map with our collection of 40,000+ icons and illustrations.
5
Download your concept map as a PNG, PDF or PowerPoint file (paid plans only), or share the public link for free.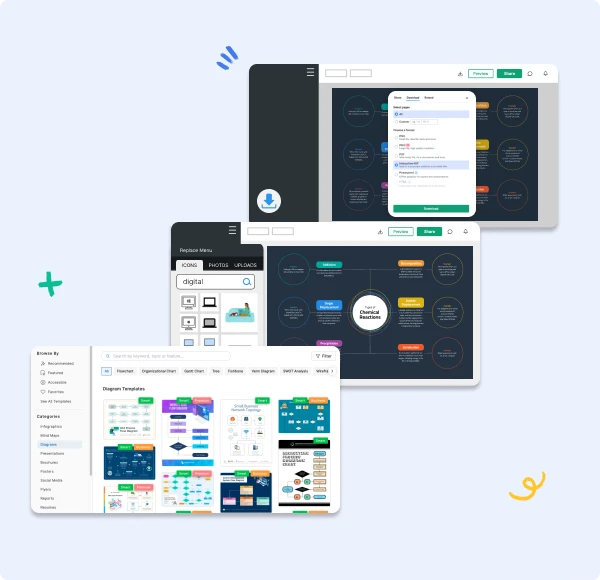 Visualize and simplify complex concepts with smart diagrams

Customizable Maps
Not a designer? Not an issue. Our map templates are intentionally designed for effortless customization, enabling anyone to create eye-catching designs quickly and easily.
Data visualizations
Enhance your data storytelling by leveraging our map creator tool, seamlessly combining your map template with other graph or chart templates for a comprehensive narrative.
Contextualizing information
Add depth to your map templates by incorporating supplementary text that outlines data collection methodologies or highlights intriguing discoveries.
24-Hour Priority Support
24/7 support available. Work hassle-free with our dedicated team.

DesignAI
Seamlessly incorporate maps into presentations. DesignAI automates presentation design, saving you valuable hours.
Informative symbols
Highlight significant data points or locations effortlessly using our online map generator's extensive collection of 40,000+ free icons and illustrations.
FAQs
Where can I create a concept map?
You can make a concept map online for free with Venngage's easy concept map maker. Just sign up for a free account, choose from our professionally designed, fully customizable concept map templates and start visualizing your ideas! No design experience required.
What can I use to make a concept map?
It's easy to make a memorable concept map with Venngage's concept map creator. We offer seamless branding, smart diagrams, real-time collaboration and lots of visual illustrations to help you design a professional, on-brand and engaging concept map with minimal effort.
Can I edit after downloading my concept maps?
Yes! You can definitely go back and edit your concept map on Venngage design canvas. You can make changes to your concept map with PowerPoint or Google Slides too, if you download your design as a PowerPoint file.
Popular concept map templates: