Venngage Brainstorming Tool
Enhance your brainstorming sessions for business strategies, projects, presentations, and beyond with unforgettable mind maps crafted effortlessly!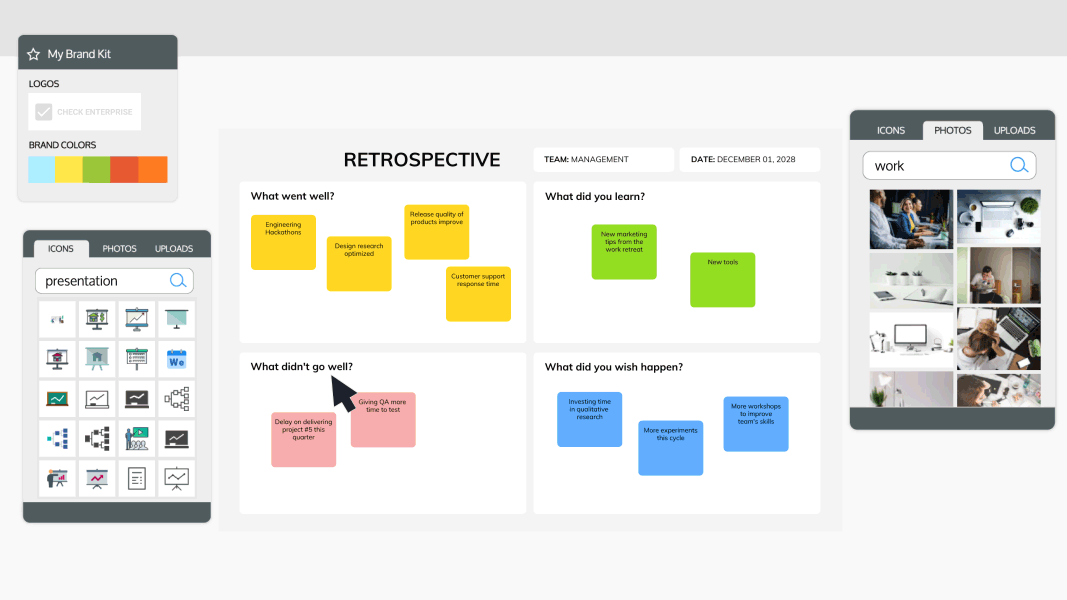 No design background? No worries! Venngage offers a free library of user-friendly brainstorm mind map templates, enabling anyone to create captivating mind maps in minutes. Join over 40,000 businesses who have relied on Venngage's free brainstorming tool to enhance their communications!

Personalize your brainstorm mind map template with these helpful tips:

Effortlessly create professionally designed brainstorm mind maps of various types, such as customer journey mind maps or business mind maps, for project planning and enhancing your sales and marketing strategies. Just drag and drop to get started!
Engage your team in brainstorming the central idea with real-time collaboration, facilitating instant feedback and swift adjustments to your mind map design. Work together seamlessly to create the perfect mind map in minutes.

Unlock Venngage's extensive collection of brainstorm mind map templates, offering hundreds of options to help you create and simplify complex ideas. Delve into our library and capture all your creative thoughts.
Customize your creation in a snap. Add new text boxes and elements, change the layout, or even start from scratch with our easy drag-and-drop editor.
How to use Venngage's Brainstorming tool in 5 steps?
1
Sign up for Venngage with your email, Gmail, or Facebook account – it's free
2
Save valuable time by selecting a brainstorm mind map example that aligns perfectly with your main idea from our catalog of expertly crafted mind map templates.
3
Let your creative thinking flow by personalizing your central concept with our free online brainstorming tool.
4
Design brainstorm mind maps by editing infinite canvas possibilities. Change or add text, icons, stock photos, and color coding using our easy-to-use editor.
5
Download your completed mind map online design as a PDF, PNG or PPT; or share it using a private shareable link.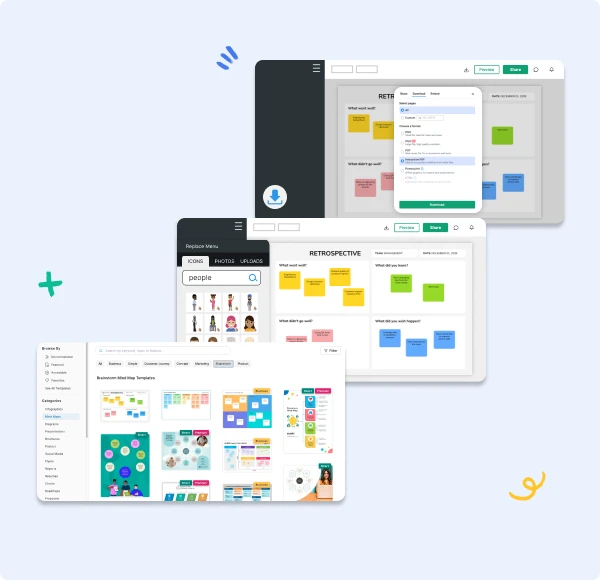 Craft a unique brainstorm mind map with our powerful tool


Customizable Brainstorm Mind Maps
Access hundreds of engaging and professional custom brainstorm mind maps, showcasing precisely what your audience needs to know about your business or project. No design experience required!
User-Friendly Editor
Experience effortless collaborative mind mapping with our user-friendly drag-and-drop editor. Easily upload texts, icons, data, or images for maximum impact, and collaborate with team members by adding comments to your design!
Export to PNG, PDF or PowerPoint
Download your design in different formats. Expand your data visualization resources by adding your mind maps to documents, presentations and slides. Or share the image you created with a private link.

DesignAI
Effortlessly create engaging and impactful presentations by seamlessly incorporating your brainstorm mind maps with a single click. DesignAI automates the process, saving you valuable hours of time.
24-Hour Priority Support
Need assistance with mind mapping? We've got you covered! Our support team is available 24/7, ensuring your team can keep working seamlessly.
Royalty-Free Stock Photography
Elevate your design with ease using our integrated brainstorming tool with Pixabay and Pexels. Access stunning, professional photography with just one click.
FAQs
How do I make a brainstorm mind map for free?
You can start by using Venngage's online brainstorming tool. Sign up for an account for free, start editing with our brainstorming tool, add any icons, illustrations or images you want and share your design with a single click. No design experience or mind map software downloads required.
Can I share or print out my brainstorm mind maps?
Yes! Sharing your mind map via email or on social media is completely free. However, a small monthly fee is required to download the graph as a PDF or PNG.
Can I edit my brainstorm mind map after it is saved?
Absolutely! With the Venngage editor, your work is automatically saved as you go. Feel free to exit the editor at any time and return whenever you like to effortlessly make changes.
Unleash your creativity and effortlessly create a brainstorm mind map with our powerful brainstorming tool
MAKE BRAINSTORM MIND MAPS

Choose from our top brainstorm mind map templates to get started: