Venngage Customer Journey Mind Maps
Learn the value of your user's pain points and needs, and improve the experience of your customers with Venngage's customer journey mind map templates.


Not a designer? Not a problem. With Venngage's beginner-friendly user journey map tool, making a journey map has never been easier. 40,000+ businesses trust Venngage to improve their marketing strategies!

Design an effective customer journey mind map on Venngage by following these steps:

Add different target customer profiles by accessing our library of illustrations and stock photos to represent different types of users.
Browse our library of 40,000+ icons and illustrations. Select the ones that emphasize key steps in your customer's journey.
Use a consistent theme. All of our user journey maps were designed with a central theme in mind, making it easy to create a professional-looking design.
Customize our customer journey mind map templates in a snap. Drag and drop new elements and share engaging visuals with your team using Venngage's smart editor.
How to create customer journey mind maps in 5 steps:
1
Create a Venngage account using your email, Gmail or Facebook account.
2
Browse our professional customer journey mind map examples. Choose a template that has the right look and feel for your needs.
3
Edit the text and add in your own images into the template.
4
Customize your customer journey mind map template by adding new steps or swapping in icons from our library.
5
Share the link to your customer journey mapping process with your team or client. Or download it as a PNG or PDF file (Business or Premium plans only).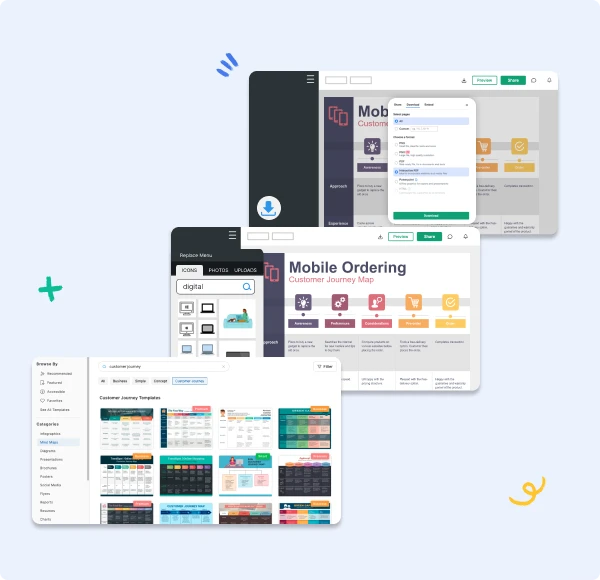 Understand how your clients interact with your brand

User Customer Journey Mind Map Templates
Plot this journey using Venngage's customer journey map tool. Our professional designs will help you create a resource that you and your team can refer to.
User-Friendly Editor
Venngage is an online drag-and-drop graphic design tool for people with little to no design experience. Swap out text, images, icons, and add data to your user experience map!
Share Your Customer Journey Mind Map
Download your user journey design in high-quality PNG or PDF formats, or share it on social media directly from Venngage with just a few clicks.
Customer Support 24/7
Running into any issues? Have questions about using a feature or need advice? Our support team is available around the clock.
Brand Identity
Build your brand through consistency. My Brand Kit lets you incorporate your branding into every asset you design in Venngage.
Team Collaboration
Working with a team? Make your teamwork seamless by having multiple people within the same design. Write comments and helpful feedback.
FAQs
How do I create a customer journey mind map on Venngage?
Click the green button below and sign up for Venngage using your email, Gmail or Facebook account. Then, click "Templates" to find the best design for you.
Can I add hyperlinks to my customer journey mind map?
Click any element (text, icon, images) in our templates to add a link. Then, download your file as an Interactive PDF (Business plan only).
Can I share, download or print my customer journey map?
Sure thing! Share a link to your design with your colleagues or clients. Or download your file as a PNG or PDF file to print it (Premium and Business plans only).
Get started with our customer journey map templates