Venngage Map Maker
You can tell a pretty compelling story with a simple map, but creating one shouldn't take hours.


With Venngage's Map Maker anyone can create a map in a few minutes. Join over 40,000 businesses today in using Venngage Map Creator.

Turn your location data into an easy-to-read map graphic

If you're dealing with location based data, maps still are some of the best ways to display that data. Everyone knows how to read one and quick conclusions can be drawn from the data without much context.
Compare the average cost of living across each of the states with our full map of the United States, or using individual state maps. Both can easily be achieved in the free Map Maker.
Plot some of the most populous cities are in terms of population in the world. All you need is a map template and few of our icons from our free icon library.
Or simply highlight what country has the most snowfall each year and turn it into a geographic infographic. All of this can be done, and a whole lot more, with a simple map template on the Venngage Map Maker. Start creating now!
Create an engaging map in a few simple steps:
1
Pick one of our many professional map templates.
2
Sign up for the Venngage Map Maker with an email, Google or Facebook account.
3
Add your data directly to the map template or upload a Google Sheet or Excel file to the Map Maker.
4
Highlight important info or data on your map with by adding text or one of 40,000+ free icons or illustrations.
5
Share your map with the world using a private link or download it directly from the simple Map Maker as an image or PDF.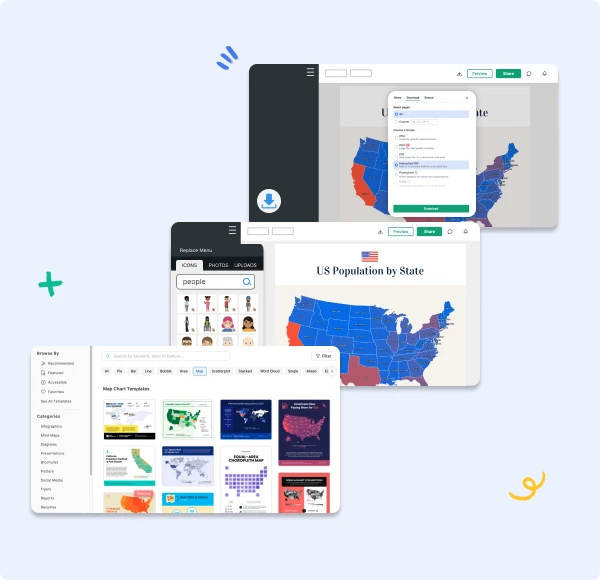 Enhance your location data or info with a map template by:

Customizable Maps
Not a designer? No problem. Our map templates are designed so that anyone can quickly and easily customize them for eye-catching designs.
Informative icons
Draw attention to important data points or locations with one of our free 40,000+ icons & illustrations in the online map generator.
Data visualizations
Tell a more complete data story by combining your map template with other graphs or chart templates using our map creator tool.
Adding context
Outline how you collected the data or explain any interesting findings by adding a little bit of extra text to each map template.
24-Hour Priority Support
Need support? We're here to help. Our support team is available around the clock, so your team can keep working without a hasle.

DesignAI
Add maps into presentations with ease. DesignAI automates presentation design for you - saving you hours.
FAQs
How do I download or share a Venngage Map?
You can download a map template from the Map Maker as a PNG, PDF or Interactive PDF with a few clicks. Or simply share from the Map Maker with a private link.
How much does Venngage Map Maker cost?
Anyone can start creating a free chart to share with the world. But there are data visualization features that are only included in our Premium and Business subscriptions.
What type of map templates does Venngage have?
If you can think of a map, we have that map template in our Map Generator. From interactive world maps, to country maps and even state maps that you can break down into individual counties! If you run into a map that you can't find, we will do our best to add it to the Map Maker as well!
Not a designer? No problem! Anyone can create a new map with our easy-to-user Map Generator
CREATE A MAP