Venngage Block Diagram Maker
Create block diagrams easily with Venngage's simple and intuitive block diagram creator so you can communicate visually with your team and build better business processes.


With Venngage's free Block Diagram Maker, you can create a high-level overview of major system components and make designing hardware and software easier. 40,000+ businesses use Venngage's block diagrams!

Features of Venngage's block diagram software:

You don't have to start designing systems from scratch. Use Venngage's block diagram templates to visualize complex systems that even non-technical team members will understand.
Block diagramming becomes easy when you use Venngage's advanced features. Add symbols and connecting lines to your components in just a few clicks.
Get the whole team involved when creating block diagrams. Venngage's online block diagram maker includes real-time collaboration so your team can work better together.
Once your block diagram is completed, you can share it online for free, or upgrade your account to download the diagram in a variety of file formats, including PNG HD and PDF.
How to easily create block diagrams in 5 steps with Venngage's block diagram maker:
1
Start by signing up completely for free with your email, Facebook, or Gmail address.
2
Pick one of the block diagram templates based on all the components, inputs, and outputs you want to visualize.
3
Build your own diagram using Venngage's drag-and-drop interface, which also offers great features so you can design professional block diagrams.
4
Invite team members to add block shapes and connectors, or to give feedback on how to best visualize complex system overviews.
5
When your block diagram is complete, share it online with your engineers (free), or download it in different formats (paid plans only), including PNG, PNG HD, PDF, and Interactive PDF.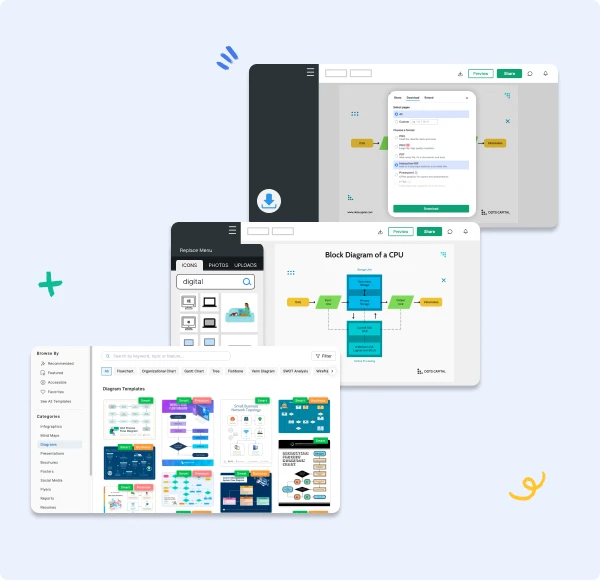 What makes Venngage the best block diagram software?

Block Diagram Templates
Choose a block diagram template from the Venngage library and start building your design. Our templates are created by experts to be used by non-designers.
Smart Diagram Editor
The Venngage block diagram tool includes a smart drag-and-drop interface that makes it easy to create block diagrams in just a few clicks.
Export Block Diagrams
Finished designing your block diagram? Use the Venngage block diagram maker to download your design as PNG, high-def PNG, PDF, and interactive PDF.
Customize Block Shapes
Access various shapes in Venngage's block diagram creator. Add or delete shapes with a single click, increase the text, or add icons, and the shapes automatically resize.
Brand Your Diagram
Adding your branding with Venngage's My Brand Kit. This feature imports all your branding from your website and lets you apply it to designs with one click.
Add Icons and Images
A block diagram can be a bit confusing but not when you use Venngage's library of 40,000+ icons and 4 million stock images.
Block Diagram Maker FAQs
How do you create a block diagram?
Create an account with the Venngage block diagram software for free. Choose one of the diagram templates and then start customizing it for your needs. Add, remove, or swap blocks, connecting lines and relevant text in the Smart Editor with just one click. Make your block diagram more visually appealing by adding icons, illustrations, or images.
What is the best block diagram software?
Venngage is an easy-to-use block diagram maker that doesn't require users to have any design experience to start creating block diagrams. With a huge collection of templates, all designed by experts, you can create diagrams in just a few minutes.
How do you make a block diagram online?
Plan out the system that you need to visualize as a block diagram. Instead of starting with a blank canvas, choose a Venngage template and customize it in our drag and drop editor. Add your information, inputs, outputs, shapes and arrows, as well as labels. Share the completed diagram online or upgrade to a paid Venngage account to download your diagram.
Try Venngage's free Block Diagram Maker today. Select one of our templates and start visualizing your systems.
CREATE A BLOCK DIAGRAM

Get started with one of our top block diagram templates: