Venngage Birthday Card Maker
Craft personalized birthday greetings for anyone effortlessly with Venngage's user-friendly drag-and-drop birthday card design tool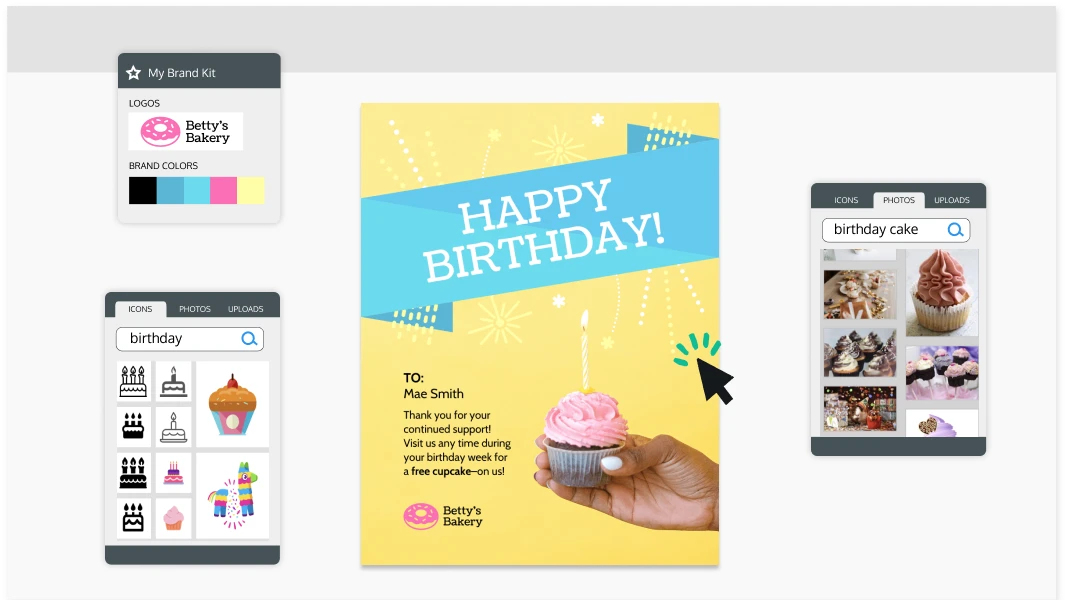 Not a designer? No worries! Our extensive library of simple, editable templates ensures that everyone can effortlessly create a stunning birthday card within seconds.Over 40,000 businesses use and trust Venngage to make professional cards.

Designing birthday cards is like painting smiles with words and colors

Select a birthday card template tailored to various personalities, featuring a diverse array of our exclusive designs.
Craft a personalized message: Heartfelt, sassy, or inspiring – the choice is yours!
Personalize your birthday card's appearance: Enhance it with icons, images, and stylish fonts for a unique touch.
Generate duplicates of your birthday card: Craft individualized copies for various recipients, spreading the joy of making them feel extraordinary.
How to make a custom birthday card in 5 steps:
1
Sign up for Venngage - it's free!
2
Pick a custom birthday card template.
3
Personalize your birthday message on your card.
4
Customize your fonts, colors, and icons.
5
Download your birthday card or share it to social media directly from Venngage!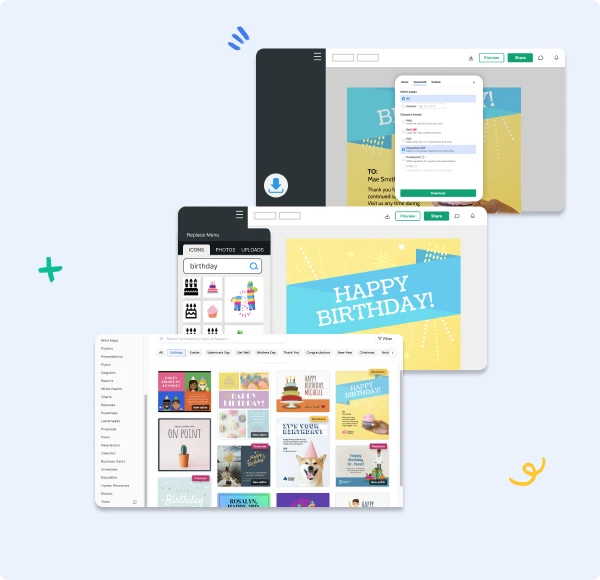 Venngage's Birthday Card Maker is fun, user-friendly and easy to use!

Customizable Birthday Cards
Countless professional, captivating birthday cards for sending anytime, to anyone.
User-Friendly Editor
Easily elevate your message with our user-friendly Venngage editor, featuring a simple drag-and-drop interface for effortless text, image, and icon customization.
Export to PNG, PDF, or PowerPoint
Share your birthday cards for free or unlock premium export options by upgrading to our Business plan, including high-quality formats like PNG, PNG HD, PDF, and more.
Fonts and Visuals
Infuse your birthday card with originality by uploading custom images and fonts, complemented by Venngage's vast stock image library and diverse font collection.
24-Hour Priority Support
Got questions? Our dedicated support team is here to provide answers and meet all your needs!
Brand Identity
Maintain brand consistency in your birthday card designs with Venngage's My Brand Kit feature, allowing you to seamlessly incorporate your logo, colors, and fonts.
FAQs
How do I sign up for Venngage?
You can sign up with your email, Facebook or Gmail account.
Can I make copies of my birthday card?
Yes, you can create copies of any of your designs. When you edit a copy, it will not make any changes to the original birthday card.
Can I share or print out my birthday card?
Yes! Using a free account, you can share your birthday card online or on social media directly from Venngage with a few clicks. To download your birthday card as PNG or PDF, upgrade to our Premium or Business plan.
With our user-friendly birthday card maker, crafting personalized greetings has never been easier
CREATE BIRTHDAY CARDS

Get started with one of our templates from Venngage Birthday Card Maker