Design An Irresistible Invitation With Venngage Invitation Maker
Make inviting and creative invites with Venngage's invitation maker.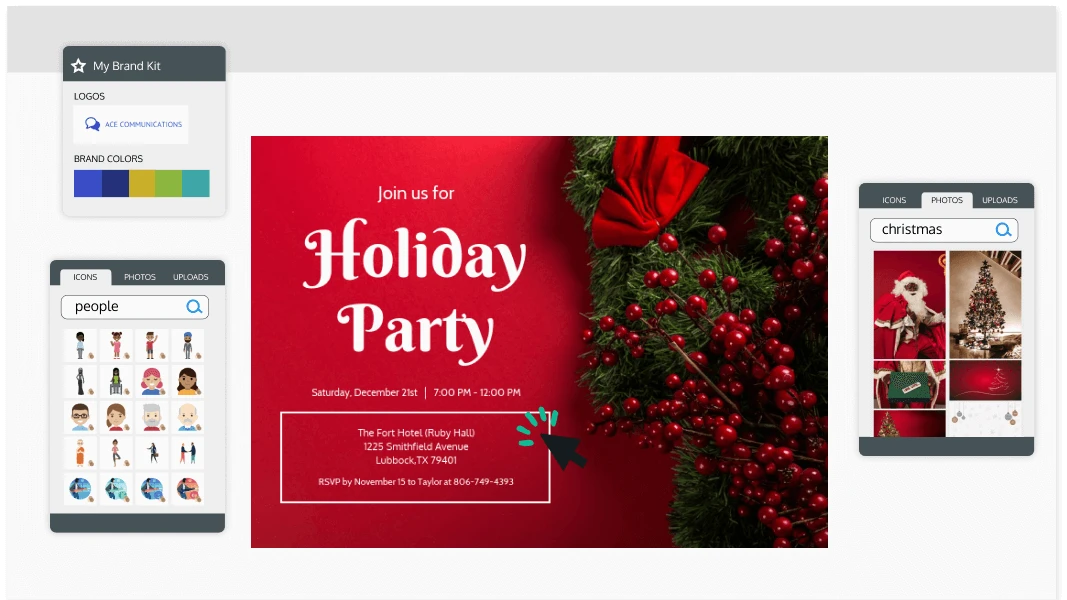 Make an invitation people will love using one of Venngage's invitation templates. Join over 40,000 businesses who trust Venngage for their designs.

Create an RSVP-worthy invitation that ignites anticipation!

Create engaging invitations online with Venngage's user-friendly drag-and-drop editor. No design skills are needed. Design stunning and actionable invitations that captivate your audience effortlessly.
Dive into our captivating invitation templates that grab attention and make your event shine. Whether it's a party, wedding, or special occasion, our professional designs elevate your invitations effortlessly. Get started and make a lasting impression with ease.
Crafting invitations using Venngage's online invitation maker saves time and effort while ensuring an impressive result. Effortlessly incorporate unique visualizations, images, icons, and text with a simple click, creating invitations that leave a lasting impression.
Once your invitation is ready, utilize Venngage's invitation maker to share it with guests or event participants. Easily print, share online, or download your invitation in various formats like PNG, PDF, or PowerPoint Presentation for seamless distribution.
Use the Invitation Maker to Design a beautiful invitation in 5 quick steps
1
Sign up for a FREE Venngage account.
2
Pick the perfect invitation template for your event.
3
Fill in the details for your event.
4
Customize your fonts, colors, images and icons.
5
Download your invitation and create buzz for your event!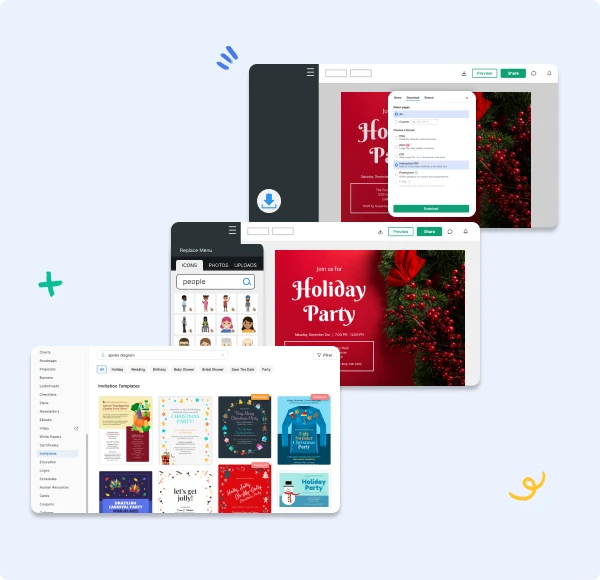 Create A Buzz-Worthy Invitation

Pick The Perfect Invitation Template
Browse Venngage's extensive templates library for a template that fits your event's theme and mood
Write In Your Event Details
Sparking event hype starts with an epic message! Invent a catchy name, add a fun description, and don't miss the when and where! Let's make it unforgettable!
Customize Your Invitation Design
Use colors that reflect the mood, season or theme of your event. Pick a bold, eye-catching font for the name of the event.
Embellish Your Invitation With Visuals
Decorate your invitation with icons and images. Browse Venngage's library of over 40,000 icons!

24-Hour Priority Support
Connect with our 24/7 support for creating impactful invitations that highlight your event and draw attention to important logistical information. We're here to help you every step of the way!
Download or Share Your Invitation
Download your invitations in high-quality PDF or PNG formats from Venngage. Choose interactive PDFs or optimize for digital/print distribution. Flexibility to suit your specific needs.
FAQ
How do I sign up for Venngage?
You can sign up for Venngage using your email, Facebook or Gmail account.
Can I edit my invitation after it's saved?
Yes! You can go back and edit your invitation at any time. Simply open the draft in your My Designs library and continue editing your report.
Can I share or print out my invitation?
Yes! Using a free account, you can share your invitation online or on social media directly from Venngage with a few clicks. To download your invitation as PNG or PDF, upgrade to our Premium or Business plan.
Are these templates not what you're looking for? Sign up here to get alerts about new templates every week!
More Invitation Templates