There are two main ways to drive traffic to your website: pay for it with dollars (advertising), or pay for it with your time (inbound marketing).
Now, I've been an inbound marketer for a long time, and a couple months ago I had to finally admit to myself that it can be frustrating to compete with a good advertiser.
I'd spend a couple days on an awesome article, optimizing it for search as much as I know how and pushing it to influencers and my social network. Our ads guy, however, would spend $40 and drive as much traffic in an hour as that article would drive in a month.
I knew then that the best marketing teams combine inbound with advertising to succeed. It's not one or the other, but both, which drive real growth. So I set out to learn everything I could about, in particular, Facebook Advertising and Facebook Quizzes, as they interested me the most.
To jump ahead and get everything I learned about Facebook Ads and how to produce the best Facebook ads, click here to download my Complete Guide to Facebook Ads.
An Introduction to Facebook Ads
Before we dive into Facebook ads, let's start at the beginning…
Facebook Ads have been around since the early days of the platform.
Originally called "flyers," they started out as sidebar notices by companies and organizations who wanted to target specific universities (back when Facebook was "The Facebook" and Mark Zuckerberg was just a curly-haired nerd from Harvard).
Now, of course, things are a little different.
In the second quarter of 2017, Facebook Ads brought in more than $9 billion revenue, 84% of which was from mobile ads.
It makes sense, given that their ad audience is over 2 billion monthly active users.
And that 1 of every 5 minutes spent on mobile is on Facebook or Instagram in the US!
But what does that mean for you?
It means that, as an online marketer, since about 2010 you've had access to an advertising platform that wasn't Google Adwords. It means that you have access to an audience of more than one and a half billion people who visit the site, on average, more than 20 minutes per day.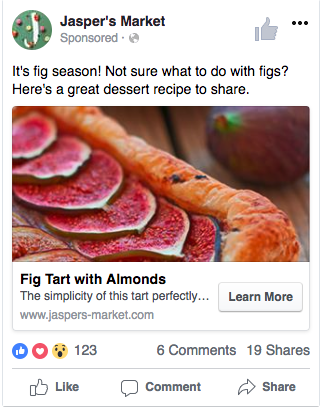 Not just that, it means you have access to a platform which costs less per click than any other advertising platform (including radio, TV, newspaper, Google and everything else). It means you also have access to a platform which allows you to target the people who see your ads more specifically than you can possibly imagine (making Facebook ads great for B2B, not just B2C!). 
And now, of course, Facebook Ads have teamed up with Instagram to deliver your campaigns to even more people, and on a platform far more focused on images and products. But, as the targeting is the same and (in many ways) Instagram is simply an extension of the Facebook Ad platform, I won't get too much into Instagram advertising here and now.
Just know that connecting your campaigns to Instagram increases your possible audience size substantially (and that's never a bad thing). And remember, you can turn off comments on Facebook ads. 
Facebook Ad Cost Structure
So, how much are Facebook Ads going to cost me, and why?
According to our friends over at Thryv, Facebook ads cost between $0.31 to $0.61 per click or more.
The first thing you need to remember, whenever messing with Facebook Ad costs, is that payment works within what they call an "auction."
Because of this, there's no simple answer to "how much will my Facebook Ad campaign cost?"
Every time you pay for an ad, you're actually "bidding" on access to your target audience. If you don't set your bid manually, Facebook will do the math for you based on budget, target market and campaign duration.
What Factors Influence the Cost of Facebook Ads?
As we mentioned above, a lot of factors directly or indirectly affect the cost of Facebook Ads.
How much your ads will actually cost—and how much you'll get for what you pay—will depend on a variety of different factors.
There are two primary factors which influence how much you'll have to bid to "win" the ad auction…
Factor #1: Your Targeted Audience
As I said above, Facebook Ads are an auction, so imagine every time you enter the bidding window that you're in a big southern auction room. You're in direct competition with every other advertiser who wants to "buy" the product up for grabs (Facebook users).
But remember, unlike in the real world where your ice-cream store is competing with other ice-cream stores, on Facebook you're competing with every other business for people who might happen to like ice-cream (but also might like yoga or hiking, or being in a relationship).
In short, the more desirable your target market, the more you'll pay to reach them. For anyone familiar with running a Google Adwords campaign, this will make complete sense to you.
How Holidays and Seasons Affect Facebook Ads Cost:

Don't think that Facebook hasn't recognized, just like TV advertisers, that there are more valuable times to advertise than others.

Your ad will cost more (as there's more competition) if you're looking to advertise your Black Friday discounts to shoppers. They'll also cost more around the holidays, the Super Bowl

and etc.

This is one of the reasons why I prompt Facebook advertisers to try off-season promotions (things like "It's Christmas in July!"). It's simply cheaper.
Factor #2: Your Ad's Relevance Score:
I'll turn it over to Facebook to describe your ad's relevance score:
"Relevance score is calculated based on the positive and negative feedback we expect an ad to receive from its target audience. The more positive interactions we expect an ad to receive, the higher the ad's relevance score will be. (Positive indicators vary depending on the ad's objective, but may include video views, conversions, etc.) The more times we expect people to hide or report an ad, the lower its score will be.
Ads receive a relevance score between 1 and 10, with 10 being the highest. The score is updated as people interact and provide feedback on the ad." (Source)
So basically, it's Facebook's attempt to (genuinely) ensure that the ads they're delivering to their users are relevant to them and not super annoying or inappropriate (keep Facebook Ad Policies in mind).
What it means for the cost of your ad? Well, it can lower it considerably…
"Put simply, the higher an ad's relevance score is, the less it will cost to be delivered. This is because our ad delivery system is designed to show the right content to the right people, and a high relevance score is seen by the system as a positive signal."
Your relevance score will likely continually change as more users interact with your ad. If they react positively (such as interact with it or click it to a landing page), the score goes up; if they react negatively by telling Facebook they don't want to see the ad, the score goes down.
To get everything I learned about Facebook Ads and you need to know, including…
Facebook Ad Design

Best Practices

Facebook Ad Targeting (Basic)

Facebook Ad Targeting (Advanced)

Facebook Ad Conversion Tracking

Facebook Ad Testing & Optimization

How to Make Facebook Boosting Ads as Affordable as Possible

How to Turn Facebook Ad Traffic into Leads and Customers
…Check out the Complete Guide to Facebook Ads