It's that time of year again when over 1 billion people celebrate Diwali or the festival of lights. 🎉
Diwali is a time for family, friends, food, and of course, lots of beautiful lights. But what's a celebration without wishes and greetings?
Diwali wishes are great way to show that colleague that you care, promote cultural understanding, spread joy, and strengthen relationships with family and friends. In this post, I'll go over 25+ Diwali wishes you can use in different situations.
Note: Diwali wishes don't have to be just words. You can also Venngage's Diwali invitation templates, Diwali banner templates and more to make Diwali cards that are visually appealing and unique.
Or you can use our easy-to-use Invitation Maker to create your own Diwali cards from scratch. No design skills needed!
Announcement: You can also now create designs with AI!
After you sign up for Venngage (it's free!), click on the DesignAI Infographic Generator banner at the top of the templates page.
And that's it! Type in a prompt of what you want and wait for the AI to work its magic.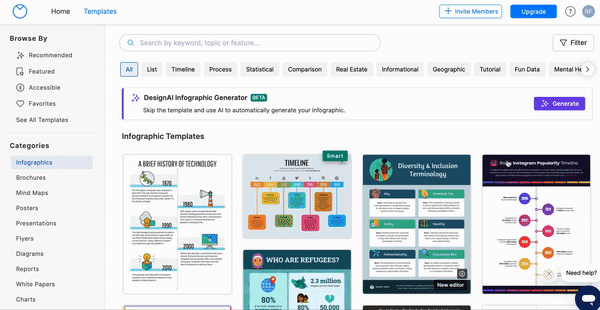 What is Diwali?
Diwali is a Indian festival known for its vibrant displays of light and color. The word "Diwali" derives from the Sanskrit term "Deepavali," which translates to "a row of lights."
The annual festival marks the victory of light over darkness, knowledge over ignorance, and good over evil.
When is Diwali celebrated?
Diwali is celebrated according to the Hindu lunar calendar and typically falls in the months of October or November.
The festival is observed on the 15th day of Kartik, which is the holiest month in the Hindu lunar calendar, so the exact date varies each year according to the Western Gregorian calendar.
In 2023, Diwali will be celebrate on Nov 12. However, the festivities begin two days prior with Dhanteras, followed by Naraka Chaturdashi on the second day, Diwali on the third day, Govardhan Puja on the fourth, and culminating with Bhai Dooj on the fifth day. Each day has its own significance and set of customs, contributing to the overall spirit of the festival.
Why Diwali wishes and greetings matter
Diwali wishes are important in a culturally diverse society as they foster inclusivity. Acknowledging and celebrating Diwali through greetings can bring people of different backgrounds closer, promoting unity.
Sharing wishes is a way of preserving and passing down traditions that have been celebrated for millennia.
Exchanging greetings enhances the festive mood, spreading the joy and spirit of Diwali among everyone.
How to write a thoughtful Diwali wish or greeting
Reflect on key themes of Diwali: the victory of light over darkness, knowledge over ignorance, and the importance of good will. This understanding will help you craft a message that is true to the festival's spirit.
Personalization is key: Personal touches make wishes more meaningful. Mention specific qualities or experiences related to the person you are writing to. For instance, you could acknowledge their accomplishments over the past year or express hope for their upcoming endeavors.
Use warm and positive language: Diwali is a time of joy and celebration, so your greeting should reflect positivity. Use words that evoke warmth, happiness, and prosperity.
Incorporate traditional greetings: Including phrases like "Happy Diwali" or "Shubh Diwali" can add a traditional touch to your message. You can also use Sanskrit blessings or popular sayings.
Wish for prosperity: Since Diwali is associated with the Goddess Lakshmi, who signifies wealth and prosperity, it is customary to wish for prosperity and success for the person.
Be Inclusive: Remember that Diwali is celebrated by various communities and cultures. Ensure that your message is inclusive and respectful of all traditions associated with the festival.
Be concise: A good wish doesn't have to be long. Express your thoughts clearly and concisely, making sure the essence of your message remains prominent.
Diwali wishes and greetings examples
Formal Diwali wishes and greetings
May the light of Diwali illuminate your home and heart with happiness and prosperity.
Wishing you a blessed, healthy, and prosperous Diwali.
May this Diwali bring you joy, peace, and good fortune.
Wishing you a bright and auspicious Diwali.
May Diwali fill your life with light, love, and laughter.
Informal Diwali wishes and greetings
Happy Diwali! May your year be filled with light, love, and laughter.
Shubh Diwali! Wishing you a bright and happy Diwali.
Wishing you a Diwali that's sparkly, fun, and light. Let's burn the old and welcome the new!
Sending you a burst of love this Diwali. Let's fill our homes with happiness and our hearts with love. Happy Diwali!
Happy Diwali! May the lights of Diwali guide you on the path to happiness and success.
Diwali wishes and greetings for family and friends
To my dearest family and friends, wishing you a Diwali that is as special as you are.
May the light of Diwali dispel the darkness in your life and bring you hope, happiness, and success.
To my dearest loved ones, wishing you a Diwali that is sparkling, blissful, and memorable.
May this Diwali bring a season full of reasons to be happy to you and your loved ones.
Wishing you all a Diwali that's rich in meaning and memories.
Diwali wishes and greetings for colleagues and clients
Wishing you and your team a very happy and prosperous Diwali.
We wish you a happy and safe Diwali. May your year be filled with joy, peace, and good fortune
In the spirit of Diwali, we extend our sincerest wishes for your health and prosperity. May your professional journey be bright and inspiring.
Here's to a Diwali filled with unparalleled success and abundant opportunities. May our association continue to grow. Happy Diwali!
May the lights of Diwali inspire endless innovation and bring forth a year of impressive achievements. Happy Diwali to you and your family.
Diwali wishes and greetings for social media
Happy Diwali to all my friends and followers! May your year be filled with light, love, and laughter.
May every spark light happiness in your life. Happy Diwali to you and yours! #Diwali2023.
To my online family, may your lives be filled with the cheer and fervor of Diwali. Shine on! #HappyDiwali.
Sending you warm wishes and bright lights this Diwali. Stay shining! #FestivalOfLights2023.
Celebrate the festival of lights with #Diwali! Wishing everyone a happy and prosperous holiday season.
How to choose the right Diwali greeting
Selecting the right Diwali greeting is important. You don't want to send a wish that seems to be just a formality.
A Diwali greeting is supposed to be a meaningful gesture. It can either leave a lasting impression or make you look insensitive.
Here are some tips to help you choose the perfect Diwali wish:
Consider the relationship: The nature of your relationship with the recipient should guide the tone and content of your wish. For close family and friends, a heartfelt or nostalgic message might be appreciated, while colleagues or acquaintances might prefer a more formal or general wish.
Reflect on shared experiences: If you share a history with the recipient, including a reference to a memorable moment or inside joke can make your greeting more personal and touching.
Select universal themes: If you're unsure about the recipient's practices, opt for inclusive messages that focus on the universal themes of Diwali, such as light, peace, and prosperity.
Incorporate visual elements: If you're sending a digital greeting or card, consider the visual elements that correspond with your message. Imagery featuring lights, diyas, or festive colors can enhance the impact of your words.
Be genuine: Authenticity is key. Ensure that your wish reflects genuine sentiments. It's better to be simple and sincere than elaborate and disingenuous.
Timing: Sending your wish just before Diwali can convey anticipation for the celebration, while a message during Diwali can share in the joy of the moment.
Create Diwali greetings and wishes Venngage templates and more
Along with the Diwali invitations templates in this post, we also have ones exclusive to Premium and Business users. If you've already got a paid plan, you're in luck!
Save yourself money, time and stress this Diwali by just customizing our ready-to-go template designs.