A blank white page may have its purpose, but nothing beats a cool background when it comes to creating layered designs, personalizing your devices or generating likes and shares on social media.
Fortunately, there's no short supply of free background makers, pattern generators and gradient tools online.
Let's share some tips and tricks we've learned from our favorite free background makers as well as clever uses for patterns, backgrounds and gradients that you can use in the designs you create on Venngage and elsewhere.
Best free background makers & generators list:
Bonus: Background Remover
1. Venngage
Using Venngage as a background generator has the added benefit of letting you see, in real time, what your background images or pattern will look like when they're applied to an actual design—whether it's a presentation, infographic or flyer.
A free Venngage account allows you to access our hundreds of free templates that are already populated with background images suitable for them.
You can make use of those already made background images, or create a new one.
Choose from Venngage's collection of 3+ million stock images or upload your own, change their opacity, scale things up or down, add patterns and gradients, change colors and more.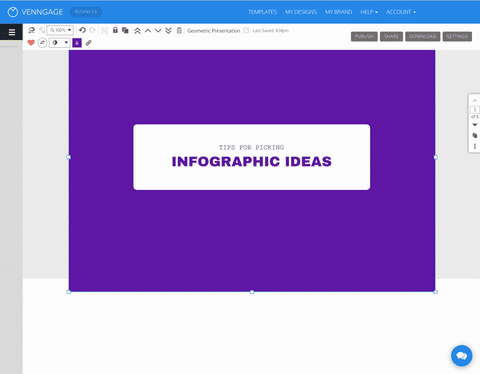 Related: 10 Ways to Incorporate Stock Photos Into Your Designs [Easy Design Tips]
Plus, you can see exactly what your design will look like, which can make your design projects more efficient.
Let's see a couple examples of background images you can use for your Venngage templates.
This simple, eye-catching wall would make a great business background for the title card in a presentation. You can use it to imply movement or moving forward. Whether it be with a product you are selling or a process you want your employees to learn, it works!
Check out how this background image is used in the example below:
Another option is to use a photograph as the entire background for an important presentation. Here's an example:
Use your own image or find one among the 3+ million stock photos available that most strongly connects with your brand story.
See how it's used in the presentation below:
A cool background image can also help set a visual theme that will resonate with your audience. Like this minimalist presentation that uses botanical imagery to serve as the background of each slide.
A free account already provides many, but if you plan to create lots of designs that need to have consistent branding, consider upgrading to a Business plan and enjoy the Brand Kit feature:
Here're some more background images and examples if you want to explore what you can create with Venngage:
Return to Best free background makers & generators list
2. Haikei
Haikei is a free web app that lets users create unique shapes, patterns and backgrounds they can use to personalize their smartphone, tablet or computer or use in concert with other design tools to add personality to their creations.
More than a dozen basic background shapes are available, but users can customize everything from the size and aspect ratio (making it perfect for creating cool device wallpapers) to the alignment of elements, colors, visual noise and more, depending on the background you start out with.
Making adjustments is simple and easy with sliders and toggles, though the preset templates may feel limiting for those accustomed to using open-world tools. Still, I managed to create and downloade six custom backgrounds in about three minutes.
Return to Best free background makers & generators list
3. Cool Backgrounds
Cool Backgrounds is another intuitive, easy-to-use tool like Haikei, though it does offer fewer options. Still, you can create beautiful, free background images, patterns or wallpapers from a total of four starting points, five if you include some pre-loaded Unsplash images.
Your options are a bit more limited compared to some of the other tools on this list. That's because while you can do some customization, Cool Backgrounds' options extend only to set color pairings, and more robust changes must be done through individual tools, which can be tougher to use.
This means if you know you want to use blue backgrounds or green backgrounds, it's easy to stay in those families.
The easiest of them is Trianglify, but your creations there are not free to download. Also, the gradient topography option generates an HTML file, which may require some manual manipulation in another graphic design program to use.
Return to Best free background makers & generators list
4. Death to Stock
While it's not technically a free tool, Death to Stock is a unique resource for stock images that have a more authentic feel than many of the other stock photo services you may have used in the past. That's because Death to Stock operates as an artist-managed co-op, and new work is added regularly.
I'm including it on this list because while it does technically cost money, the monthly cost for small- and medium-sized teams isn't that much (as low as $12), and a 14-day free trial gives you enough time to explore the options. While you can't download high-res versions of any of the images, it does give you a chance to decide whether the $145 annual cost is worth it.
If you have an especially youthful or cool brand, Death to Stock may be a worthwhile investment. A quick scroll through the images makes it immediately obvious that these stock images are anything but bland.
Return to Best free background makers & generators list
5. FlatIcon
FlatIcon is one of the biggest go-to resources for icons and vector shapes, and while many of the items on the site are only available for purchase, creative users can turn it into a custom pattern generator.
Subscriptions cost about $100 per year, and purchasing the full license means you don't have to attribute the work to its original creator. But the thousands of available, free icons and color customization means you can make nearly unlimited tweaks to get what you want.
Return to Best free background makers & generators list
6. HeroPatterns
HeroPatterns is a free resource created with web developers and designers in mind.
Because the tool was created for web developers, it's designed to be used with CSS. So, for those who want to create an image for a design, wallpaper or other asset, they'll need to convert the SVG the system generates into a jpeg, PNG or other image file.
While it does require an extra step, the fact that users can pick from almost a hundred patterns and background designs makes the added effort well worth it, and anytime designers can get their hands on free design assets, that's a win.
Return to Best free background makers & generators list
7. LowPolyArt
Low Polygon Art is exactly what it sounds like, which is a repository of free low poly images. Low-poly art has become increasingly popular over the past several years, especially in minimalist designs. The style uses simple polygon shapes, often with a gradient background.
The result is often a cool background with a futuristic feel. While the site doesn't let users create their own geometric or color combinations, there are hundreds of options available and users can download jpegs of their favorites for use wherever they choose.
Return to Best free background makers & generators list
8. MagicPattern
MagicPattern is a paid tool that offers some limited functions for free. Create a gradient or image with a background shape or add grain to an image to create a sense of texture.
Other tools include pattern generators and additional gradient tools, but downloading usable files requires a subscription, which costs $120 a year for a pro account.
Return to Best free background makers & generators list
9. PatternNinja
PatternNinja is a free tool for creating repeating patterns using a selection of pre-loaded icons, or you can upload an image or icon to create a seamless pattern. The site does have a steep learning curve, but once you get the hang of it, it's easy to create and download PNG files.
Create your own pattern with multiple icons or repeat the same one over and over. Once you have things exactly how you want them, export a PNG for use in Venngage and elsewhere. Though it's a free tool, the lack of icon and image options does limit its usefulness a bit.
Return to Best free background makers & generators list
10. PatternPad
PatternPad is another free tool made primarily for web designers and developers. It offers 21 stock patterns that users can customize by changing the colors or really make their own by altering a variety of settings.
It's tempting to make tons of tweaks, but the creators of PatternPad have already done the hard work, so the presets should be enough for the average design. Unlike other tools made for web developers, you can choose to have the system generate a JPEG or PNG file, making it a snap to upload your new pattern into Venngage.
Return to Best free background makers & generators list
11. Pixabay
Pixabay is a free stock images service that includes more than two million royalty-free images and other media.  Search for a particular topic that applies for your design or the style you're looking for, or search keywords like "background" or "abstract" to get wallpaper-worthy images.
Commercial use is free, and users can download images, illustrations and vector graphics, though because the site is sponsored by the paid stock service iStock, you'll have to resist the temptation to purchase even better images.
Return to Best free background makers & generators list
12. SubtlePattern
Technology hiring network Toptal hosts Subtle Patterns, an excellent and 100% free tool that offers more than 500 patterns you can download and use for everything from your device wallpaper to your company's annual report.
The gallery isn't all that well-organized, and with 547 available patterns, making your choices can feel overwhelming. But once you find the one you want, simply download the JPEG and upload it into Venngage to incorporate the pattern into your design.
Return to Best free background makers & generators list
13. UIGradients
Creating smooth gradients is a challenge, which is why UIGradients is such a useful tool. This free resource lets users cycle through dozens of pre-made gradients, but UIGradients goes a bit further by letting users rotate the gradients so the transition of colors occurs along a different angle.
Once you have it the way you want it, just download and load it into Venngage. Each gradient also includes the HEX color codes of the shades in the gradient so that it's easy to match one of the colors exactly.
Return to Best free background makers & generators list
14. Unsplash
If you're anything like me, Unsplash is your favorite resource for royalty-free images. But this free tool is also an excellent source for wallpapers, backgrounds and gradient images. Pick a background image that's recognizable or opt for something abstract.
Venngage integrates with Unsplash so you can choose a stock image from Unsplash while you're in the editor. It's also easy to replace an image with a new one—all can be done in just a few clicks:
Return to Best free background makers & generators list
15. WebGradients
WebGradients isn't as robust as other gradient tools we've talked about, but it's up-and-coming for a reason. The free collection of 180 gradients can be downloaded in PNG form, though it's not yet possible to customize the gradients.
Still, with dozens of options that range from timeless combinations to trendy color palettes, chances are good you'll find something that will help bring your design to life.
Return to Best free background makers & generators list
Background Remover
Background Remover
allows you to remove the background from any image online and replace it with solid-color and photo backgrounds from the gallery or any image of yours. It handles even the most tricky details, like hair, and animal fur, ensuring a seamless background swap.
You can process 3 images for free. To edit more images, you need to purchase a subscription starting from $0.20 per image or $9 monthly. All plans include priority processing, email support, and 60-day storage.
In summary: Try our recommended free background makers or pattern generators to bring a unique spark to your designs
Whether you use Venngage directly or create a cool background using one of the other recommended tools, layering textures, patterns and colors is one of the surest signs of a well-crafted design.
See how a new background generated by these tools will look like by registering a free account with Venngage, pick from our hundreds of free templates and upload your background images in just a few clicks.