Venngage Use Case Diagram Maker
Create a use case diagram online to visualize how users interact with the system, starting with a professionally-designed template and multiple user case diagram examples!


Get started with Venngage's online use case diagram and create your own in only a few minutes. 40,000+ businesses use Venngage to create professional diagrams!

Why Create a Use Case Diagram?

It allows visualizing the system structure and possible users interactions that would need to be considered for its application.
Supports visual learners to catch potential issues or conflicts within the system and how to possibly address them.
A Use Case Diagram will allow better communication and understanding between peers into how the system is being set up.
This type of diagram will also support process documentation, as various iterations of the same system is being developed and shared across the board.
How to Create a Use Case Diagram?
1
Sign up for Venngage using your email, Gmail or Facebook account.
2
Select one of our use case diagram examples to start with. We've got plenty of templates to choose from, and are frequently adding more.
4
Customize your use case diagram by switching up the fonts and colors.
5
Download your completed use case diagram in high-def PNG or PDF format.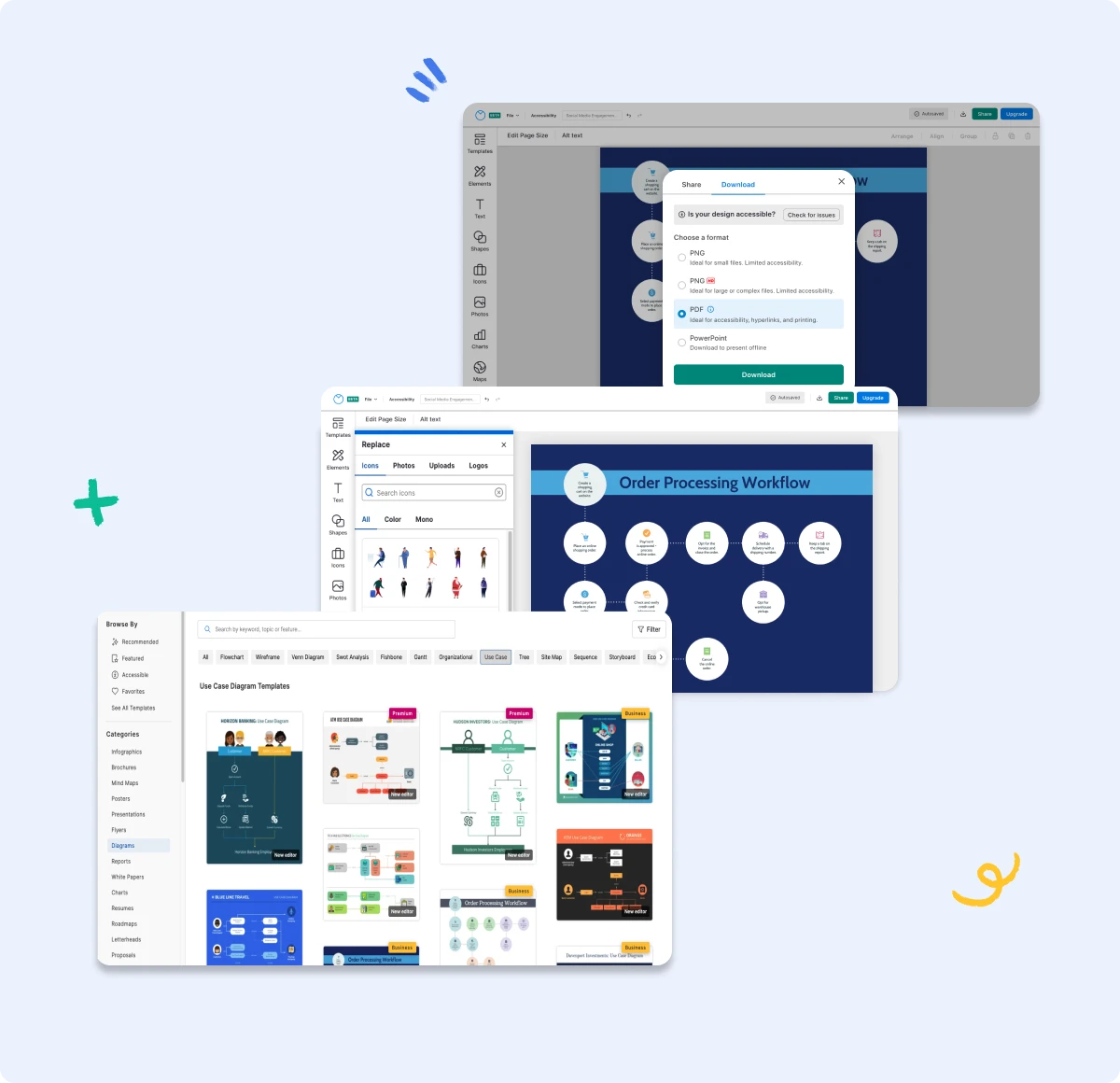 Start Building a Perfect Use Case Diagram

Use Case Diagram Templates
With an extensive background in data visualization, our graphic design experts have built an entire library of templates for you to choose from.
Add Data
Simply type, drag, and drop in your actors and use cases. Take advantage of the icons too to let your creative self go!
Customize The Design
Our no-fuss design editor makes it incredibly easy to customize your use case diagram template.
Add Icons And Photos
Venngage offers thousands of free icons. These could be perfect to represent actors and systems!
Finish and Download
You can save your use case diagram for online presentations or print, whichever you prefer.
Team Collaboration
Collaborate with your team when using Venngage. Create, share comments and feedback in real-time!
Use Case Diagram FAQs
What is a Use Case Diagram?
A use case diagram is the visualization of a system structure and the possible user interactions with it. This type of diagram can exemplify various types of use cases and different types of interactions.
When to apply Use Case Diagrams?
Applications can vary, but the main ones are: to visually represent a system goal and possible interventions by external or internal factors, to define and organize different reactions to upcoming problems, to specify the context of a system application and to model the basic flow of the system.
What are the main components of a Use Case Diagram?
A use case diagram normally contains circles or ellipses that represent the use cases and actors that are represented by icons or stick figures.
Get started with one of our top use case templates: