Venngage Table Chart Maker
Create captivating table charts effortlessly with Venngage's Table Chart Maker and free templates.


Turn your messy data into an engaging table chart with the easy-to-use Venngage Table Chart Maker. Start creating for free right now. Over 40,000 businesses use Venngage's table chart templates.

Generate stunning table charts within minutes using Venngage's Table Chart Maker

Dazzle potential clients with polished table charts from Venngage. Our vast library of exquisite table chart templates can be effortlessly customized to meet any business requirement.
Discover the ideal solution for non-designers with our professionally designed table chart templates. Browse through our array of templates and effortlessly input your data.
Effortlessly import your raw data from a CSV file or Google spreadsheet. Our editor automatically reflects all the information in the table chart for you.
With the Venngage table chart maker, you can also add your company's brand colors, collaborate with team members, and get priority support.
How to use the Venngage free table chart maker in 5 simple steps:
1
Select one of our beautiful table chart templates to sign up for Venngage. You only need your email, Gmail, or Facebook account.
2
Add your information to the table chart template manually or upload Google Sheets, a CSV file, or an Excel file.
3
Improve your table chart design by adding eye-catching icons, colors, or illustrations.
4
Invite team members to collaborate with you so you can visualize data quickly and effectively.
5
Share your table chart online or on social media for free. Or upgrade to a business account to download your table charts.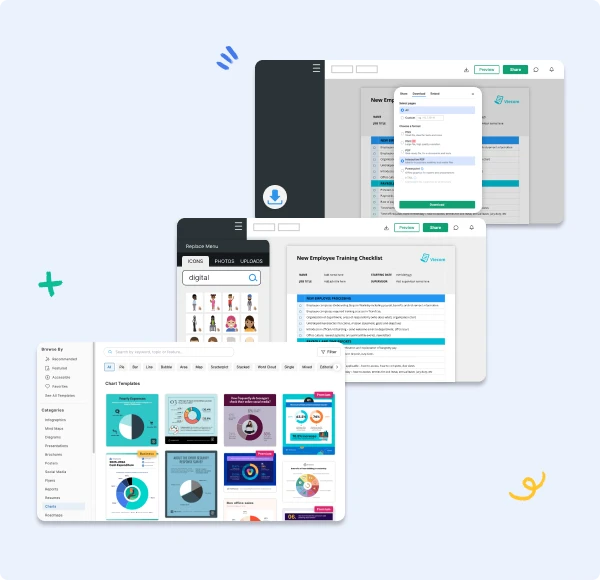 Save time and enjoy the user-friendly experience with Venngage's Table Chart Maker

Table Chart Templates
Leverage the Venngage Table Chart Maker to select from various table chart types and create stunning reports. Begin with our professionally designed templates to kickstart your project.
Drag-and-Drop Editor
Even non-designers can easily use the intuitive Venngage editor. Enhance your custom tables with design elements to create beautiful representations of your data.
Download Your Tables
Share your completed design with a private link. With an upgraded Table Chart Maker account, you can also download your table as a PNG, PDF, or interactive PDF.
Import Your Data
Adding data manually can be time-consuming. The Venngage Editor does all the work for you by importing statistics directly from a Google Sheet, CSV, or XLSX file.
Brand Identity
Use Venngage's My Brand Kit feature to add your company's brand colors, fonts, and logos to your templates with a single click.
Descriptive Icons
Make professional table charts that will impress clients and investors by adding icons and illustrations. Venngage has a library of over 40,000 icons to choose from.
FAQs
How do I download a Venngage Table Chart?
You can download your new table from the Table Chart Maker as a PNG, PDF, or Interactive PDF with a business account. Or share it online for free with a private link.
How much does Venngage cost?
Begin your table creation journey for free and share it with the world. However, for more advanced data visualization features, you can access our Premium ($19/month) and Business ($49/month) subscriptions.
Can I edit my table after it is saved?
Yes, of course! With the Venngage editor, your work is automatically saved as you progress. Feel free to exit the editor and return whenever you like to make changes with ease.
Discover the power of table charts, designed to streamline the process of creating professional and visually appealing tables
CREATE A TABLE

Discover a wide range of template options to kickstart your table chart creations