Venngage Pictogram Maker
Harness pictograms' captivating potential to simplify complex information, captivate your audience, and elevate your data storytelling with engaging graphics.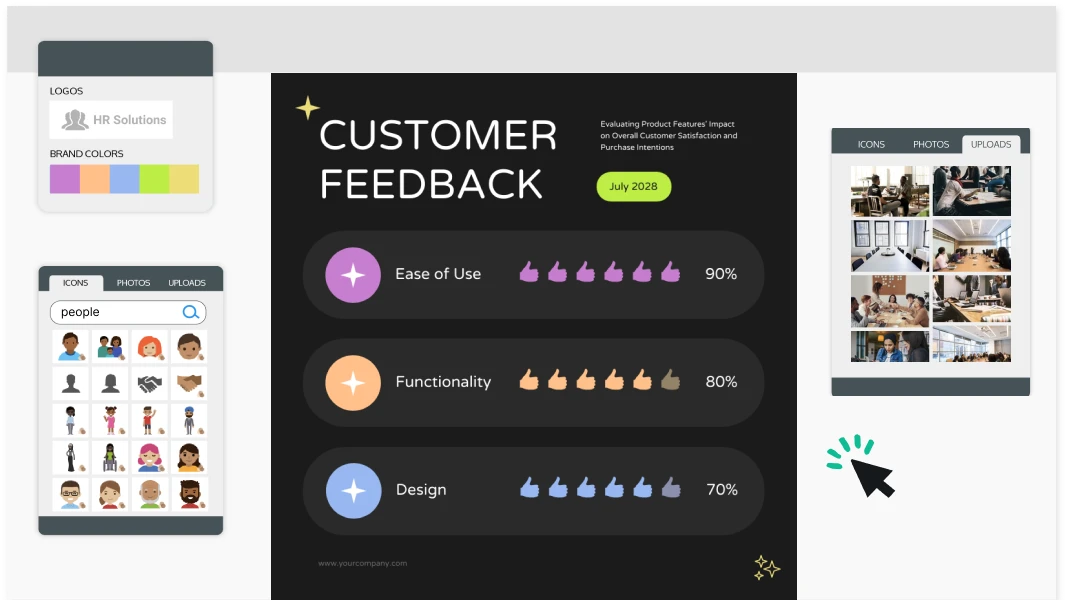 Our online pictogram maker tool will help you create beautiful pictographs, without design or data visualization experience. 40,000+ businesses frequently use Venngage's templates.

Reveal hidden gems with captivating pictograms

Create compelling, easy-to-understand charts with Venngage's online pictogram maker and expertly designed templates.
Discover a vast array of pictogram types and hundreds of templates in Venngage's library. Craft impactful visualizations that effectively portray your data with ease.
Let Venngage do the work for you! Simply input your data labels and values and watch as the graph automatically populates with your data.
Easily share your completed pictograms online using a private link or social media. Upgrade to a business account to download your pictographs in PNG, PDF, or PowerPoint presentation formats.
How to unlock the power of informative pictograms in 5 simple steps:
1
Sign up for Venngage with your email, Gmail, or Facebook account—it's completely free!
2
Choose from our wide selection of professionally designed pictogram templates.
3
Create your pictogram effortlessly by entering data values into the user-friendly table.
4
Elevate your charts with eye-catching visuals: icons, illustrations, stock photos, and shapes to make them stand out.
5
With just a single click, download your pictograms as PNG or PDF, seamlessly add them to presentations, or instantly share them directly from Venngage.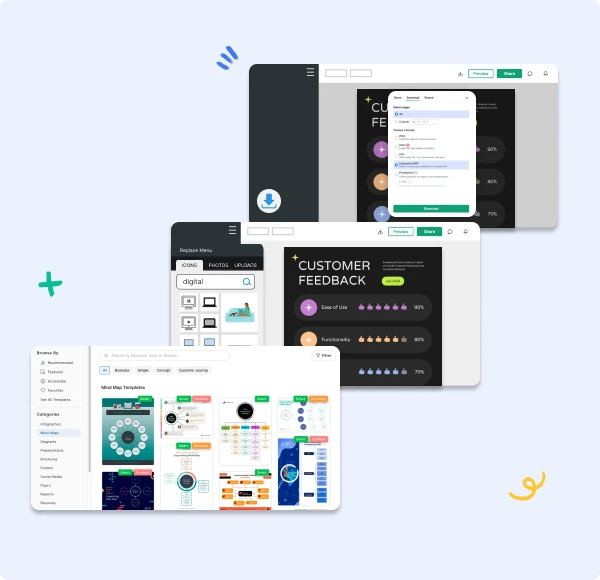 Design pictograms to convey complex ideas with simplicity and visual flair

Pictogram Templates
Venngage's pictogram templates simplify data visualization, allowing you to create impactful graphics effortlessly.
User-Friendly Editor
Effortlessly create pictograms using Venngage's drag-and-drop editor. Customize text, fonts, colors, and icons with just a few clicks.
Share Your Charts
Share your completed pictograms online for free, or opt for a business account upgrade to download your chart in PDF, PNG, or PowerPoint presentation formats.
24-Hour Priority Support
Have a question? We're here to help. Our support team is available around the clock, so your team can keep working like clockwork.
Brand Identity
Use the Venngage My Brand Kit feature to add brand fonts, brand colors, and your logo to your design. Add your website and the editor does the rest.
Real-Time Collaboration
Facilitate seamless collaboration with your team on pictogram creation, sharing instant feedback and comments to enhance the effectiveness of your data visualizations.
FAQs
How do I sign up for Venngage?
Click any button on this page to start creating a pictograph chart. You can sign up using your email address, Gmail, or Facebook account. It's free and there's no credit card required to start designing.
Can I edit my pictogram after it is saved?
Certainly! With the Venngage editor, your work is automatically saved as you progress. Feel free to exit the editor and return whenever you like to make changes with ease.
Can I share or print out my charts?
You can email or share your graph on social media for free. However, there is a small monthly fee if you wish to download the graph as a PDF or PNG.
Unlock the power of visual communication — Easily create stunning pictograms with our intuitive maker on this landing page!
CREATE A PICTOGRAM

Explore diverse template options to begin your pictogram project