Venngage Scrum Board Tool
Unleash team productivity and elevate Agile project management with a dynamic Scrum board tool — your ultimate tool for creating, organizing, and collaborating on visually empowering task boards!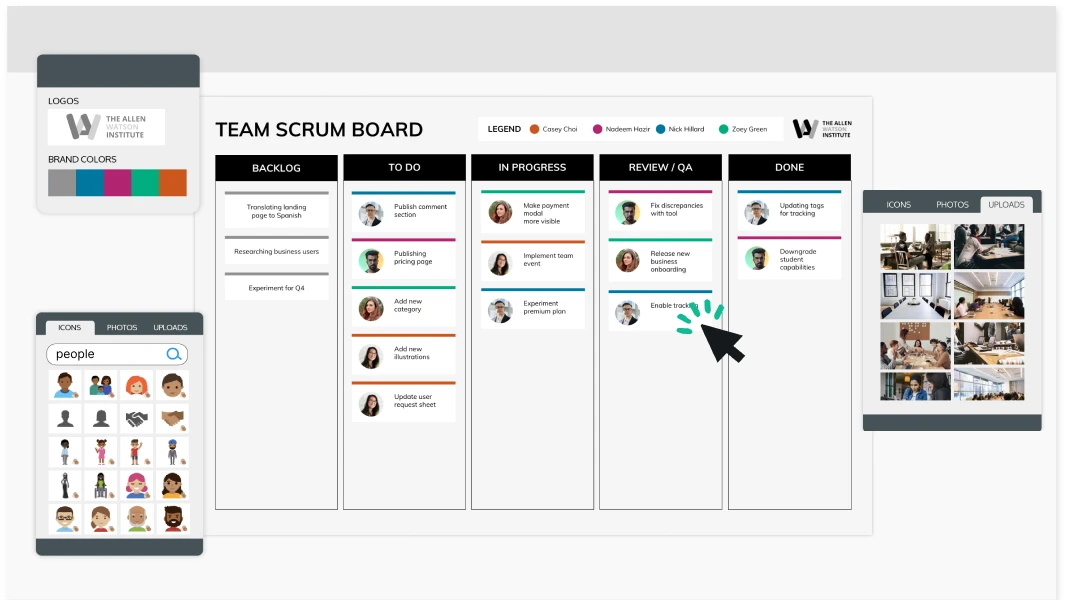 Empower your team's productivity and organization by effortlessly creating dynamic scrum boards for seamless agile project management. Join over 40,000+ businesses that already use Venngage scrum boards.

Maximize team efficiency with expertly designed scrum boards for agile success


Tailor your Scrum board to perfection, customizing every detail for a seamless and agile workflow
Venngage's Scrum Board Maker has all the building blocks for outlining your projects. Add text, colors, shapes, icons, and relevant elements to the board for all your key steps.
Unify your team's efforts effortlessly using Venngage's real-time collaboration tool. Seamlessly work together on business processes, exchange comments, and share feedback simultaneously.
Share your Scrum boards online for free via a private link or upgrade to a Venngage Business Account to download your work in various formats, including PNG, PDF, and PowerPoint.
How to create an actionable scrum board:
1
Sign up for a Venngage account (it's free!) with your email, Facebook, or Gmail address.
2
Pick a scrum board template that best fits the business process you want to visualize.
3
Personalize your scrum board effortlessly. Tailor the text and colors to match your unique process, and enhance clarity by adding icons and images to illustrate detailed steps.
4
Invite team members to design scrum boards with you with the real-time collaboration feature.
5
Import your brand logos, fonts, and colors with Venngage's My Brand Kit. Add your branding to your scrum boards with a single click using the Autobrand function.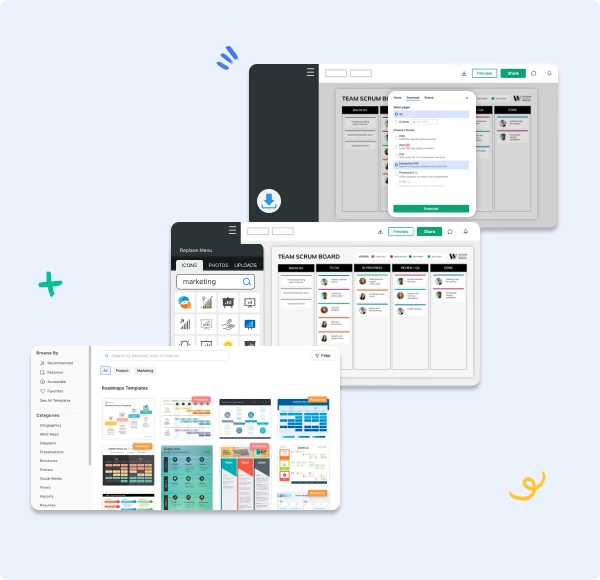 Fuel team success with a Scrum board — your agile command center!

Scrum Board Templates
Accelerate your projects with Venngage's ready-to-use scrum board templates for seamless agile planning
User-Friendly Editor
Design a scrum board in minutes with Venngage's simple editor. Drag and drop design elements into your board, change all the inputs required, and complete your scrum board.
Collaborate with Teams
Consolidate Scrum project data for unified decision-making, fostering collaboration and a single source of truth.
Download in Multiple Formats
Wrap up your Scrum board effortlessly - share it with a click on Venngage or level up with a premium plan to download scrum boards in PNG, PDF, or PowerPoint formats.
Brand Your Scrum Boards
Venngage's My Brand Kit makes it easy for you to have a branded scrum board. You can add your company logos, brand colors, and fonts — import branding for numerous suppliers and customers with just one click.
24/7 Customer Support
Save time when creating your scrum boards by contacting our 24/7 customer support team. We can answer any question or share a scrum board example to help you design better.
FAQs
How do you make a scrum board?
Easily begin using Venngage's Scrum Board Maker for free. Sign up today with your email, Facebook, or Gmail account. Select a template to start your project and make edits as needed. Once done, effortlessly share it with your audience via a private link or download it as a PNG or PDF. Start creating your scrum boards now!
Can I edit my scrum board after it's saved?
Yes! You can go back and edit your scrum board at any time. Simply open the draft in your "My Designs" library and continue editing your design.
What are the benefits of an online scrum board?
An online Scrum board offers accessibility from anywhere, real-time updates, and easy collaboration for seamless coordination among team members, stakeholders, and clients. With centralized information, efficient time and resource management, integration with other tools, and historical tracking capabilities, it streamlines agile project management, improves productivity, and enhances project success. Additionally, customization options allow teams to tailor the board to their specific workflow and needs.
Empower your team's productivity and collaboration by using our intuitive platform to create a scrum board tailored to your project's needs
CREATE A SCRUM BOARD

Get started with a scrum board template: