Venngage Lesson Plan Maker
Craft dynamic lesson plans and teaching aids to effortlessly share with colleagues, students, and stakeholders, fostering engagement and collaboration.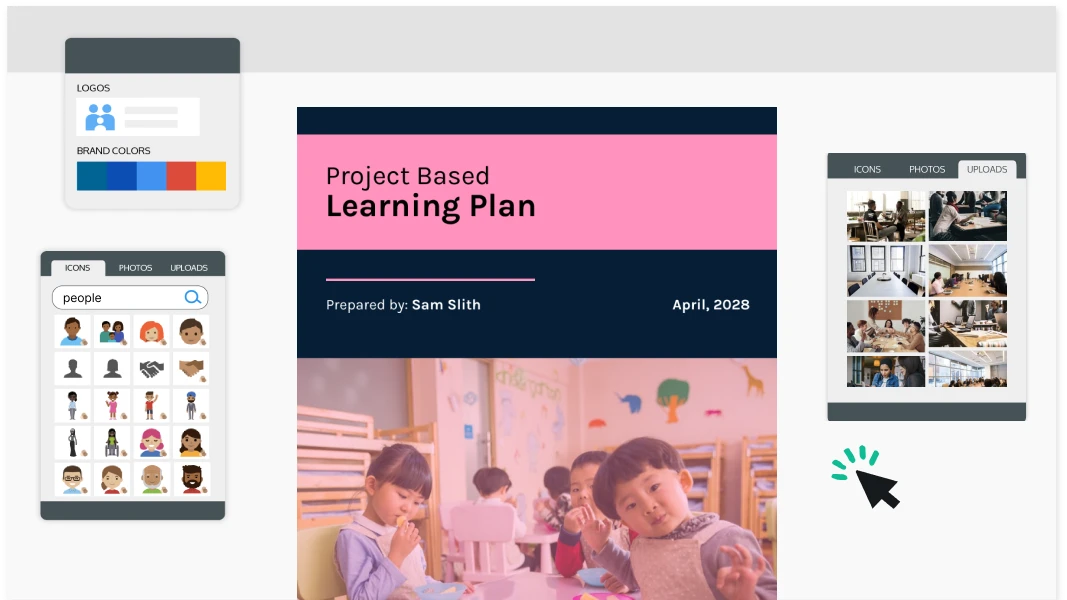 Not a designer? Not a problem. With Venngage's free library of easy-to-edit lesson plan templates, anyone can create stunning education content in minutes. 40,000+ businesses have trusted Venngage's free lesson plan maker to improve their communications!

Unleash the full potential of our lesson plan maker tool with these expert tips:

Enhance the effectiveness of your teaching aids and lesson plans by incorporating captivating visuals, elevating your lesson plan design to grab attention and deliver information in a compelling and impactful manner.
Unlock a vast collection of meticulously-crafted lesson plan templates, alongside an extensive library of high-quality stock photos, icons, charts, illustrations, and data visualization widgets, empowering you with a wealth of resources to enhance your lesson plans.
Promote active participation by enabling multiple individuals to collaboratively edit and provide feedback on your lesson plan template, fostering a platform where everyone can contribute and showcase their design expertise.
Effortlessly customize your creation with our user-friendly interface. Simply add text boxes, graphic elements, adjust layouts, or start from scratch using our intuitive drag-and-drop editor. Enjoy complete control over your design process.
How to make lesson plans in 5 convenient steps:
1
Sign up for free on Venngage using your email, Facebook, or Gmail address.
2
Select the perfect lesson plan template that aligns with your vision from our extensive catalog of professionally crafted designs.
3
Unleash your creativity and tailor your lesson plan design by customizing your message and key information using our free online lesson plan maker tool.
4
Enjoy complete creative control over your project by fully customizing it to your liking. Effortlessly modify or add text, icons, stock photos, and even adjust the color scheme, all through our user-friendly editor.
5
Easily print, download, or share your content with the world!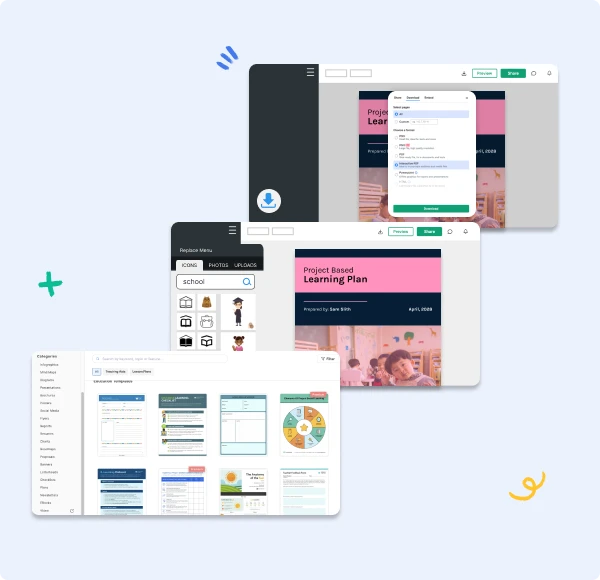 Create unforgettable lesson plan designs using our powerful tool.

Customizable Lesson Plans
Unlock a vast collection of professional and engaging custom lesson plan templates that enable you to effectively showcase your teaching plan or education project to your audience. No prior design experience required!
User-Friendly Editor
Leverage our intuitive drag-and-drop editor to create a truly unique lesson plan design. Seamlessly upload text, icons, data, or your own photos, amplifying the impact of your lesson plan.
Export or share in multiple formats
Upgrade to a premium plan to access the versatility of downloading your lesson plans in multiple formats. Export your lesson plans as image files (PNG), documents (PDF), or HTML files for maximum flexibility.
Fonts and Visuals
Distinguish yourself with striking fonts from our extensive collection. Utilize stock photography, free or premium images, and icons to enhance your design. Alternatively, captivate your audience by creating an attention-grabbing lesson plan infographics.
24-Hour Priority Support
Need assistance? We've got you covered. Our dedicated support team is available 24/7 to ensure your team can work seamlessly without any hiccups.
Royalty-Free Stock Photography
Access stunning, professional photography with a single click through our integrated Pixabay and Pexels features, enhancing your design effortlessly.
FAQs
How can I make a lesson plan template?
Experience the ultimate ease in creating lesson plans with our online lesson plan maker. Venngage offers an extensive collection of pre-designed templates, where you simply need to modify the text and icons—no design experience necessary.
How do I sign up for Venngage?
To access our lesson plan maker, simply create a free account using your email, Gmail, or Facebook login. Our wide range of lesson plan templates and software is available for free. However, please note that some special templates may require a small monthly fee, which can be enjoyed by upgrading to a premium or business user account.
Can I share or print out my lesson plans?
Absolutely! With our free account, you can easily share a link to your lesson plans directly from our editor. If you wish to download and print your lesson plan designs, you can upgrade to one of our paid plans for that added functionality.
Experience the power of Venngage's free lesson plan maker today, with the added advantage of new templates being regularly introduced every other week!
CREATE LESSON PLANS

Get started with one of our top lesson plan templates: