Venngage Instagram Post Maker
Craft compelling Instagram posts with ease using Venngage's user-friendly Instagram post maker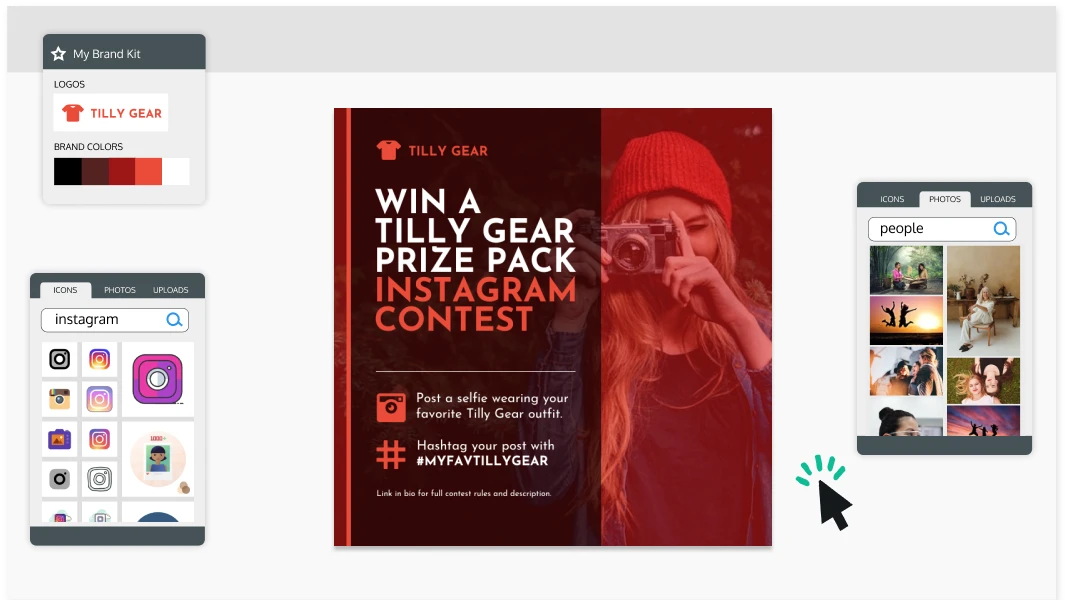 Create compelling Instagram posts that captivate your audience's attention effortlessly using Venngage's intuitive design tools. Showcase powerful insights, events, quotes, products, services and more. Join over 40,000 businesses in using Venngage as a marketing solution.

Create Instagram posts that grab attention and connect with impactful designs

Incorporate personalized icons to convey ideas visually in a concise manner, effectively enhancing the theme of your Instagram visuals.
Embrace vibrant colors – they're your ally in the world of social media. Opt for bold and lively hues to make your Instagram posts stand out in users' feeds.
Choosing the perfect template is easy with Venngage's vast collection of templates covering a wide range of topics and themes.
Enjoy the design process and unleash your creativity! Feel free to explore new ideas with our Instagram templates guiding your way.
How to create an Instagram post in 5 easy steps:
1
Join Venngage for free.
2
Pick from our diverse range of Instagram templates for various occasions, and customize them effortlessly to suit your needs.
3
Incorporate your own text and images.
4
Personalize your Instagram post using icons, illustrations, and pictures.
5
Showcase your Instagram posts to the world!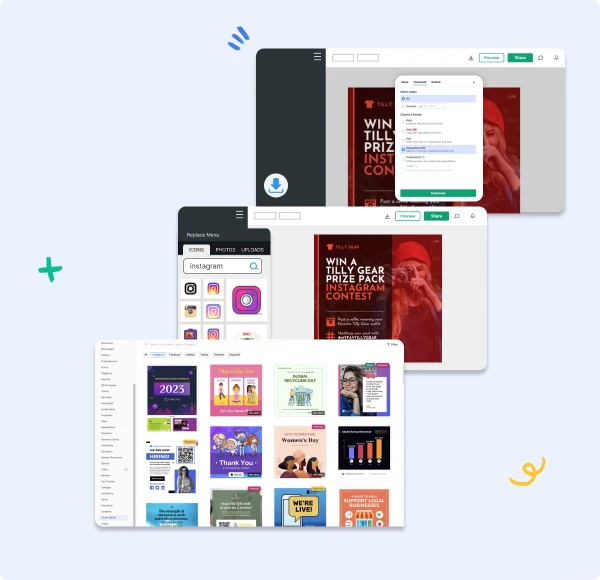 Crafting Instagram posts means creating visually captivating content that resonates with your audience

Customize Instagram Posts
No design experience? No problem! Our professionally crafted and fully customizable Instagram templates are here to help. Just choose a template that resonates with you, and let your creativity shine.
Easy-to-Use Editor
Our user-friendly drag-and-drop editor makes it effortless to swap out text, images, icons, and data with just a click. You can even adjust the size and dimensions of your social media graphics to fit perfectly with each platform.
Download in Various Formats
Easily share your professional Instagram graphics online or print them out in high-quality formats by downloading your creation as a PNG, PPT, or PDF file.
Fonts and Visuals
Stand out from the crowd with a variety of unique fonts from our collection. Use icons and stock photography, or create your own visuals to capture your audience's attention.
24/7 Priority Support
Got a question? We're here to help. Our support team is available around the clock to assist you, so you can focus on creating stunning Instagram designs with ease.
Royalty-Free Stock Photography
Elevate your designs effortlessly using our template creator tool, which seamlessly integrates with a wide array of professional stock photos to help you craft standout Instagram visuals.
FAQs
How do I sign up for Venngage?
You can join Venngage for free with an email, Gmail or Facebook account.
How can Instagram help with my social media engagement?
Instagram can significantly boost your social media engagement by providing visually appealing and interactive content. Venngage's Instagram templates further enhance this by allowing you to easily create captivating posts that resonate with your audience, making it effortless to maintain a consistent and engaging online presence.
Can I download my instagram designs?
Yes! You can download your designs as a PNG or PDF.
With Venngage's user-friendly Instagram post maker, you can effortlessly create an eye-catching design that will stand out on your followers' feeds
CREATE AN INSTAGRAM POST

Start with one of our top free Instagram templates: