Venngage Employee Handbook Creator
Streamline policy communication and enhance your onboarding process seamlessly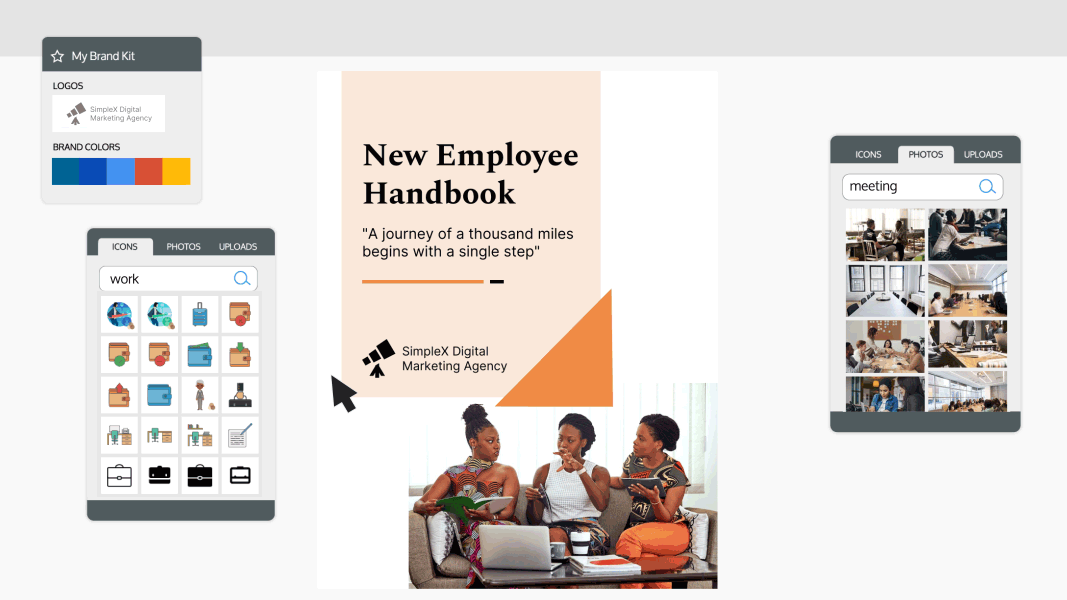 Create a welcoming atmosphere for employees using our employee handbook template. Join over 40,000 businesses today by using Venngage's Employee Handbook Creator.

Designing employee handbooks transforms policy communication into an engaging and informative experience


Equip your employees with comprehensive resources through an engaging employee handbook that fosters excitement and a sense of belonging, designed and shared effortlessly.
Explore Venngage's array of entirely adaptable templates. Our web-based graphic design tool is accessible from anywhere, allowing you to craft employee handbooks while on the move, and the cherry on top – it's free to sign up.

Design and functionality are crucial aspects of an effective handbook, whether it's crafted for orientation, training, or specific assignments for employees.

For businesses, an employee handbook is essential, and with Venngage, you can craft an organized handbook that maintains high content quality.
How to create an employee handbook?
1
Sign up for Venngage - it's free.
2
Pick your favored employee handbook template from a wide selection of diverse designs at your disposal.
3
Tailor the color scheme, fonts, and images to suit your preferences and requirements.
4
Elevate your handbook by incorporating extra sections, tables, charts, or icons.
5
Print, download or share your employee handbook with your employees or colleagues.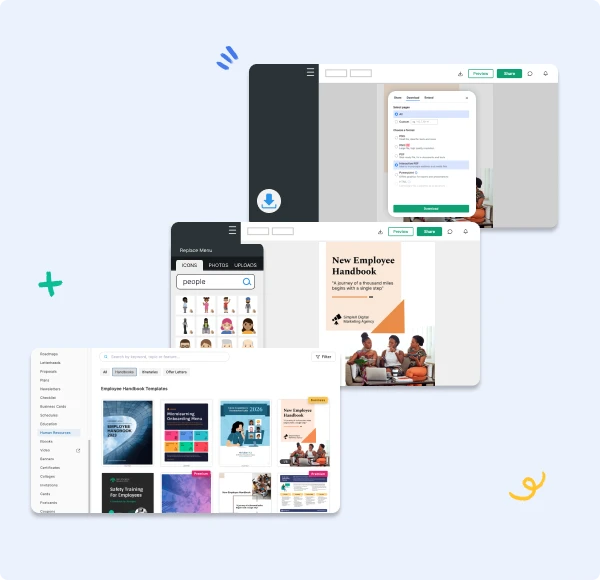 An employee handbook navigates team members through company policies and expectations

Employee Handbook Templates
Define your employee handbook needs. Choose a template that aligns with your task or event, highlighting key priorities effectively.

Intuitive Drag-and-Drop Editor
Craft your employee handbook effortlessly with Venngage's user-friendly editor. Customize design elements, edit text, adjust font sizes, and modify table data seamlessly through intuitive drag-and-drop actions.

Visual Employee Handbooks
Infuse your employee handbooks with excitement and delight by revitalizing them with visuals such as icons, images, and vibrant fonts and colors. Bid farewell to dull handbooks and embrace an engaging and visually captivating employee handbook.

24-Hour Priority Support
Who will you be sharing your employee handbooks with? What tasks demand focus? Need assistance? Rely on our 24/7 support team to lead you in crafting a meaningful and impactful handbook.

Royalty-Free Stock Photography
Elevate your designs with our employee handbook creator, seamlessly integrated with Pixabay and Pexels. Access a vast collection of stunning, professional photography with just one click.

Download Your Handbooks
Venngage provides the versatility to download your employee handbooks in high-quality PDF or PNG formats, and even as interactive PDFs. Tailor your handbooks for digital or print distribution based on your distinct requirements.
FAQs
How do I sign up for Venngage?
To start designing with Venngage, simply create an account using your email, Gmail or Facebook account.
Can I edit my employee handbook after it's saved?
Yes! You can go back and edit your employee handbook at any time. Simply open the draft in your "My Designs" library and continue editing your handbook.
Can I add or remove elements in my employee handbook?
Yes, you can add, remove and rearrange elements using the page menu on the right side of the screen.
Our employee handbook creator streamlines the process of designing informative and engaging company policies
CREATE EMPLOYEE HANDBOOKS

Check out some of our employee handbook templates: