Venngage Youtube Banner Maker
Show off your YouTube channel in the best light and tell your audience what it's all about with our YouTube Banner Maker!


Not a designer? No problem. With our library of simple and easy to edit templates, anyone can start creating a youtube banner in seconds. Over 40,000 businesses use and trust Venngage to make professional banners.

Create a free YouTube banner with Venngage in 5 simple steps:

Starting with a bold color palette: Make your YouTube Banner jump off the screen with a bold color palette.
Including the name & logo of your channel: Immediately let people know what channel they are viewing by including your brand name and logo.
Adding embellishments, icons and shapes: Use a border, icon or shape to help your channel name stand out.
Using a descriptive background image: Show viewers exactly what your channel is about with a descriptive background image.
Make a Youtube banner in 5 steps:
1
Sign up on Venngage for free with an email, Gmail or Facebook account.
2
Select the perfect free YouTube Banner template for your channel.
3
Add a compelling background image, icons or other eye-catching shapes.
4
Include your channel name, logos or any important brand marks to your banner.
5
Download your YouTube Banner with a single click, or share it directly with your team.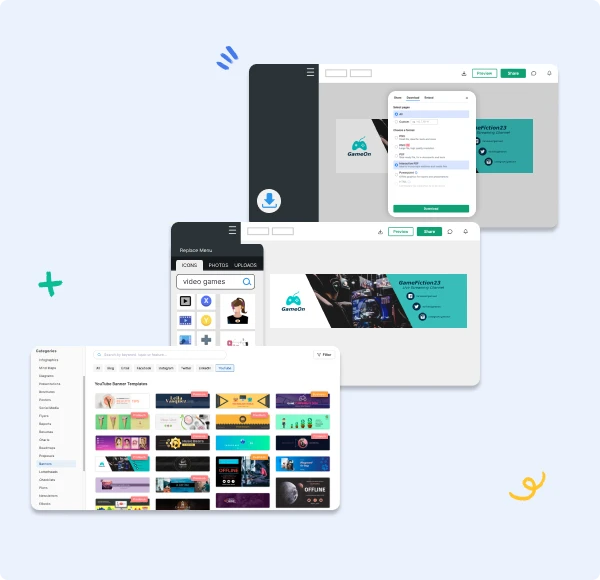 Venngage's Youtube Banner Maker is powerful and easy to use


Customizable Youtube Banners
Not a designer? No problem. Our banner templates are designed so that anyone can quickly and easily customize them for eye-catching designs.
User-Friendly Editor
The simple drag-and-drop Venngage editor is easy to use. You can swap out text, images, icons, and add data to your banner with just a click of a button.
Export to PNG, PDF,or PowerPoint
Easily share your banners as images by downloading them as PNG or PDF. Add them to documents or use them in slides for Youtube.
Fonts and Visuals
Stand out from the crowd with a bold font from our collection. Use icons and stock photography, or create a banner to grab your audience's attention.
24-Hour Priority Support
Got a question? We're here to help. Our support team is available around the clock, so your team can keep working like clockwork.
Royalty-Free Stock Photography
Integrations with Pixabay and Pexels elevate your banners. Access stunning, professional photography with just one click.
FAQ
How do I use the Venngage YouTube Banner Maker?
Sign-up for Venngage by joining with your email, Gmail or Facebook account.
What kind of YouTube Banner templates do you have?
We have banner templates for everything from tech channel to makeup channels, and everything in between. All of these templates have been created by our professional in-house designers as well.
How do I download my YouTube Banner?
Only one click is needed to download your YouTube Banner as a high-quality PDF or PNG.
Try Venngage's Youtube Banner Creator today. Select any of our popular banner templates to start.
CREATE YOUTUBE BANNERS

Top Youtube Banner Templates