Venngage Free Word Cloud Generator
Breathe new life into your business documents with a professionally designed word cloud. Keep your colleagues and clients engaged using Venngage's custom word cloud templates.


Not a designer? Not a problem. With Venngage's free library of easy-to-edit wordcloud templates, anyone can create engaging wordclouds in minutes. 40,000+ businesses have trusted Venngage's free wordcloud generator to improve their communications!

Liven up your business documents with our free word cloud generator

You don't need to be a designer to create a professional-looking word cloud for your business communications. Pick from our library of easy-to-edit free word cloud templates.
Add word clouds to your presentations to impress your audience with just the click of a button. Venngage's DesignAI automates presentation design for you so you can focus on content.
Get your team involved by using our collaborative word cloud maker. Collaborate in real-time with your peers and create the best word cloud design in minutes.
Make your word clouds shine: Choose from our 40,000+ icons and illustrations and 3+ million stock photos. Edit colors and shapes and resize images with a few clicks.
How to make a word cloud with Venngage in 5 simple steps:
1
Create a free Venngage account using your email, Google or Facebook profiles.
2
Select the perfect word cloud template from our templates library, or pick a business document template and add a word cloud as a chart.
3
Add your information, data and more to your word cloud. Change the text, fonts, colors and backgrounds with a few clicks.
4
Level up your word cloud: Add your logo, brand colors or other visuals. We provide 40,000+ professional icons and 3+ million stock photos.
5
You can download your word cloud as a PNG, PDF or PowerPoint file (paid plans only), or share the public link for free.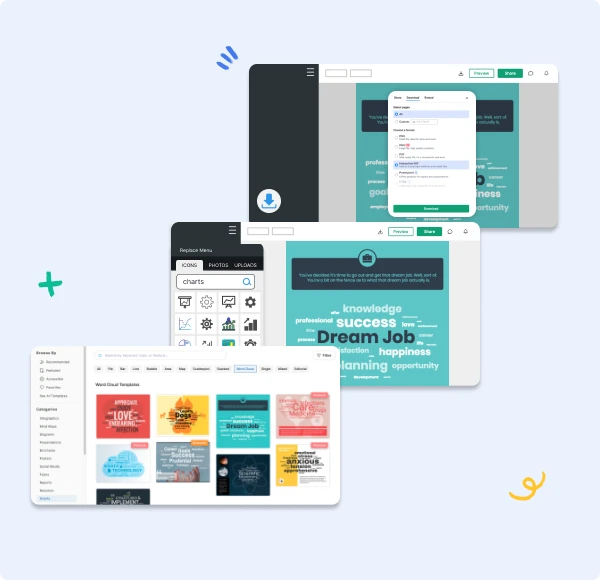 Venngage's custom word cloud generator is simple but powerful

Design AI
Add professional word cloud designs to your slide decks and have DesignAi automates new presentation designs for you, saving you hours.
User-Friendly Editor
Edit and add content with ease. Venngage's editor tool includes a smart drag-and-drop interface that makes it simple to create a word cloud in just a few clicks.
Add Data Easily
No need to rewrite or copy and paste data. With Venngage's Word Cloud Maker, you can import data from Excel or Google Docs to instantly get a brand-new word cloud.
Share and Export Easily
Share your word cloud for free with a share link. Also, you can download it in a PNG, PDF, Interactive PDF, or PowerPoint format.
Brand Your Word Clouds
Keep your word cloud designs on-brand by simply importing branding from your website. With Venngage's My Brand Kit. Apply it to your designs with one click.
Add Icons and Images
A word cloud is more engaging and impressive when you use Venngage's library of 40,000+ icons. Resize and change colors easily to fit your business documents.
Venngage Word Cloud FAQs
What is the best word cloud generator?
Venngage's word infographic generator is the best word cloud maker for anyone that wishes to present their data, liven up their business communications and increase audience engagement with visually engaging designs.
Is Venngage's word cloud generator free?
You can add a word cloud as a chart to any free business communications templates at no extra cost. The majority of our professionally designed word cloud templates are also free.
How does Venngage's word cloud generator work?
Start designing one of our engaging word cloud templates, or you can pick a business report or presentation template and add a word cloud as a chart. Simply input your data directly or import your data from an Excel or Google Sheet file, and let our word cloud maker do its work.
Try Venngage's Free Word Cloud Generator. Insert or import your data to start visualizing text-based content.
CREATE WORD CLOUDS

Get started with one of our top word cloud templates: