Venngage Wireframe Tool
Craft professional wireframe templates to create clear and streamlined design outlines effortlessly!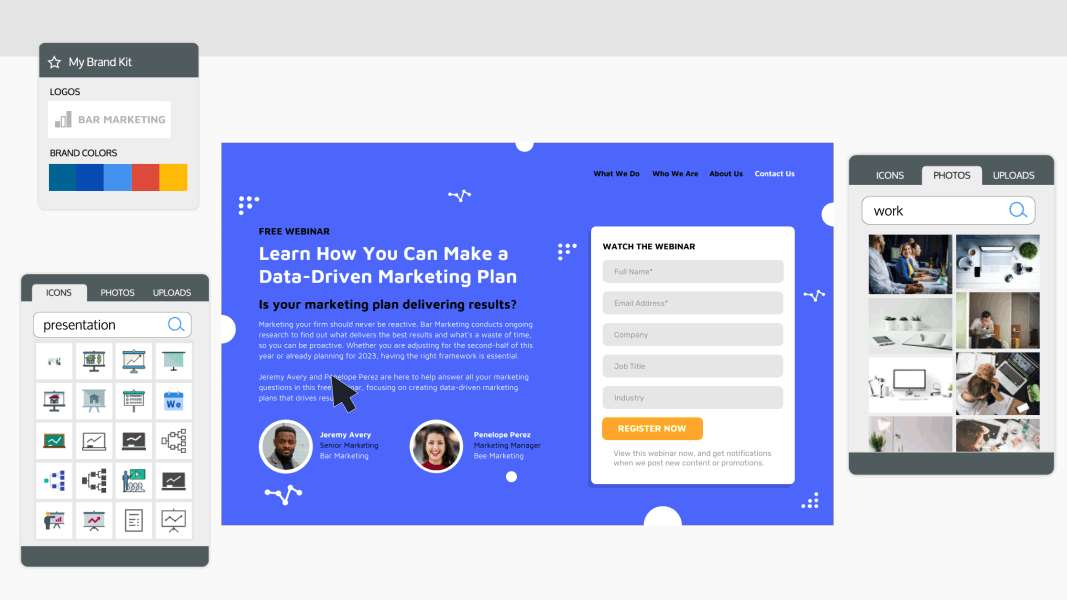 Unleash your creativity with our powerful wireframe tool, enabling you to visualize structures, processes, concepts, and beyond. No design experience needed as you effortlessly create or customize professional wireframes. Join over 40,000 businesses who have placed their trust in Venngage's free wireframe tool, elevating their data visualizations to new heights!

Turn ideas into visually captivating wireframe designs that bring clarity and structure to your projects

Experience the freedom of customization with our intuitive drag-and-drop editor, empowering you to personalize various wireframe types and incorporate captivating visual assets that will enhance your content.
Effortlessly tailor your creation in an instant. Incorporate text boxes, graphic elements, modify layouts, or begin from a fresh canvas - all achievable without any prior wireframing expertise.
Unlock a world of resources at your fingertips. Streamline your wireframe process, save valuable time, and elevate its visual appeal by customizing shapes and line styles, incorporating icons and illustrations, and exploring fresh color palettes and fonts.

Venngage's versatile wireframe templates offer complete customization. Tailor the colors, shapes, and lines to your preference, enhance with new icons, illustrations, and backgrounds, and effortlessly apply your organization's branding across all designs.
How to make a wireframe online in 5 easy steps
1
Sign up for Venngage for free with your email, Gmail or Facebook account.
2
Choose from our impressive collection of wireframe templates.
3
Effortlessly incorporate new shapes, lines, and labels into your wireframe template.
4
Fully customize your professional design with unique illustrations, icons, colors and fonts.
5
Download your wireframes or share it directly from Venngage with a single click.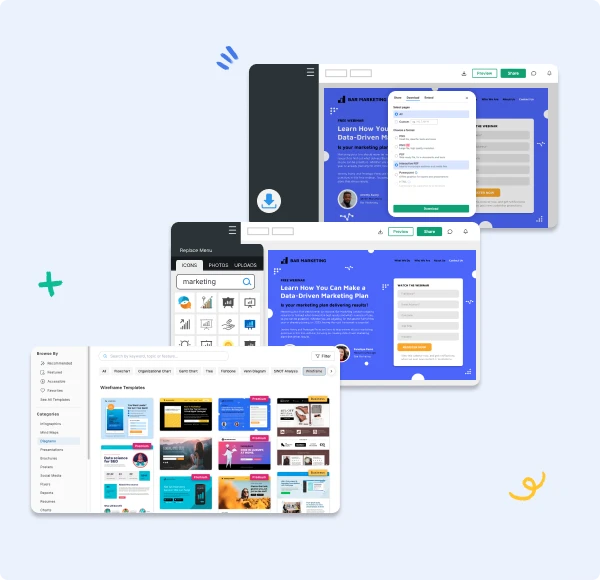 Craft polished wireframes with our robust wireframe design tool


Customizable Wireframes
Explore our extensive library of custom wireframe templates, designed to captivate and inform your audience with precise insights about your business or event.
User-Friendly Editor
Venngage's intuitive editor makes designing a breeze. Simply upload text, icons, data, or photos for maximum impact, all just a click away.
Custom Charts and Graphs
Personalize a range of charts, graphs, and data visualization widgets to enhance your reporting. Say goodbye to spreadsheets and embrace stunning diagrams and captivating data visuals.

DesignAI
Effortlessly generate captivating and memorable wireframe diagrams with a simple click. DesignAI automates the wireframe diagram design process, unlocking new possibilities for innovative solutions.
24-Hour Priority Support
Got a question? Don't worry, we've got you covered. Our reliable support team is here to assist you, ensuring seamless workflow for your team.
Royalty-Free Stock Photography
Take your design to new heights with our integrated wireframe tool, seamlessly connected to Pixabay and Pexels. Unlock a treasure trove of stunning, professional photography with a simple click, adding a touch of visual brilliance to your creations.
FAQs
How to i make my own wireframe diagram?
Start wireframing effortlessly with Venngage's free Wireframe Diagram Maker. Sign up today using your email, Facebook, or Gmail account. Select a template, customize it to your liking, and easily share it with your audience through a private link or download it as a PNG or PDF.
How do I make a diagram in Google Docs?
While Google Docs isn't optimized for diagrams, Venngage Wireframe Tool provides an efficient solution. Create unique wireframe designs in Venngage, download them as PNG or HD PNG files, and easily integrate them into your Google Docs for a seamless workflow.
What makes Venngage Wireframe Tool the best diagramming solution?
Venngage Wireframe Tool stands out as the best diagramming solution due to its user-friendly interface, extensive template library, and powerful customization options. It empowers users to effortlessly create visually appealing wireframes that effectively communicate their ideas and concepts.
Experience the power of Venngage's Online Wireframe Tool. Select from a range of intelligent diagram templates and begin your wireframe design journey!
CREATE A WIREFRAME

Get started with one of our top wireframe diagram templates: