Venngage Work Breakdown Structure Creator
Design a clear and organized Work Breakdown Structure (WBS) for effective project planning and execution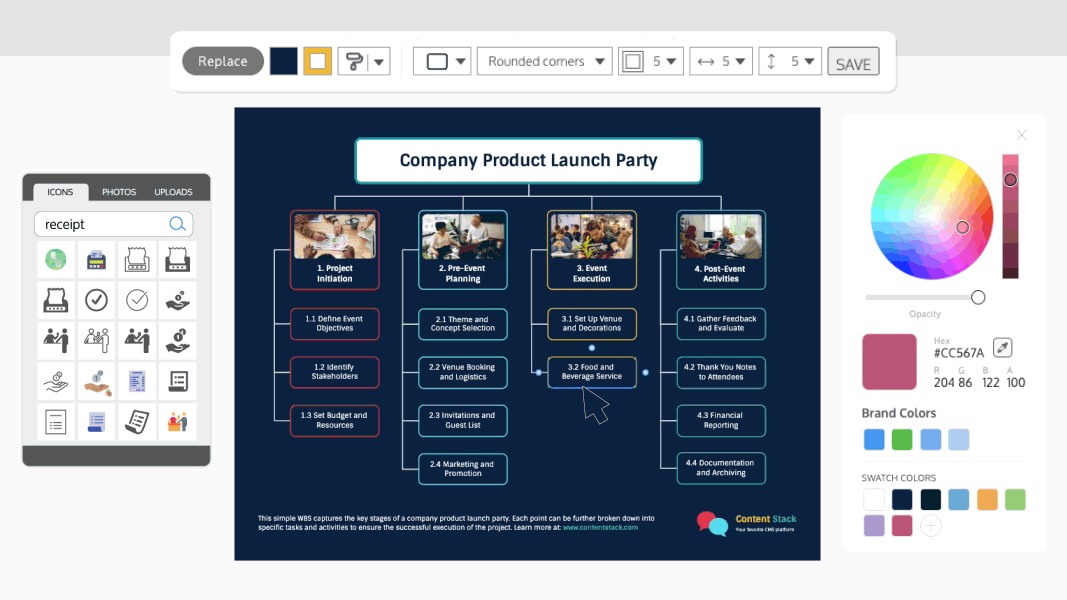 Embark on the journey of designing a comprehensive Work Breakdown Structure (WBS) that impeccably outlines your project's intricate elements Join over 40,000 businesses today by using Venngage's WBS Creator.

Leverage our online WBS creator to effectively dissect your extensive projects into more achievable tasks and subtasks

Craft polished WBS diagrams with a touch of professionalism. Draw inspiration from our collection of WBS templates.
The intelligent WBS editor comes equipped with thousands of top-notch, free stock photos. Employ our intelligent features to enjoy a seamless and effortless diagram design experience.
Brand logos, colors and fonts: Keep all your wbs diagram designs on brand by adding your brand logo, colors and fonts.
Collaborate with your team: Invite your team and create effective wbs diagrams with Venngage Business. Save time and hassle with in-editor collaboration.
How to design a WBS diagram in 5 simple steps:
1
Sign up for Venngage with your email, Gmail or Facebook account—it's free!
2
Select one of our professionally-designed wbs diagram templates
3
Modify text boxes or adjust positions within your WBS template to effectively showcase various structures.
4
Make your wbs diagrams more visually appealing by choosing from thousands of icons, illustrations and stock photos available from our editor.
5
Download your wbs diagram or share it directly from Venngage's dashboard in a single click.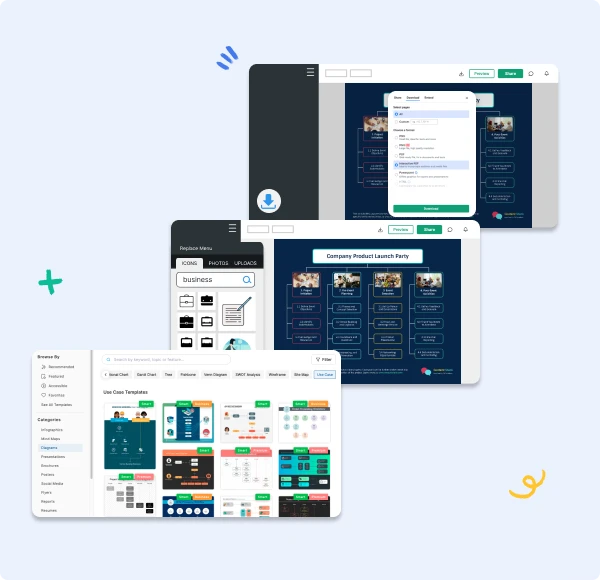 Crafting work breakdown structures entails organizing project elements into manageable sections, establishing clarity and a roadmap for successful execution

Customizable WBS Diagrams
Easily create your professional WBS by selecting from Venngage's array of ready-made templates and customizing them to suit your preferences.
User-Friendly Editor
The simple Venngage editor allows you to swap out text, images, icons, colors, and add original data to your wbs diagram.
Export to PNG, PDF,or PowerPoint
Easily share your diagrams with your team as images by downloading them as PNG or PDF to your powerpoints or documents.
Import Icons
Effortlessly incorporate icons into WBS diagrams, saving you hours of effort with access to over 40,000 icons and illustrations.
24-Hour Priority Support
Got a question? We're here to help. Our support team is available around the clock, so your team can have assistance whenever they need it.
Real-Time Collaboration
Facilitate seamless collaboration with your team on wbs creation, sharing instant feedback and comments to enhance the effectiveness of your diagrams.
FAQs
How do I make a WBS diagram online for free?
Discover the power of Venngage, the online WBS maker and graphic design software trusted by a thriving community of over one million users. Our user-friendly design tool and an array of templates empower non-designers to effortlessly create diagrams, charts, reports, presentations, and beyond.
Can I edit my WBS diagram after it's saved?
Certainly! With Venngage's editor, your work is automatically saved as you progress. Feel free to exit the editor and return whenever you like to make changes to your project.
Can I share or print out my diagrams?
You can email or share your wbs diagram on social media for free. However, there is a small monthly fee if you wish to download the diagram as a PDF or PNG.
Utilize our advanced WBS Creator to map out project tasks & dependencies, making it a breeze to create a work breakdown structure that ensures project success
CREATE WBS DIAGRAMS

Check out our top WBS templates: