Venngage Venn Diagram Maker
Create Venn diagrams in minutes with our free Venn diagram creator and show how multiple data sets connect.


Visualize how data in multiple topics have similarities or differences with a custom Venn diagram template. 40,000+ businesses use the Venngage Venn Diagram Maker online!

Easily show how topics overlap or differ with a Venn Diagram Template

If you want to show the relationships between two or more data sets, there isn't a better visual to use than Venn diagrams. That's why they are still in use hundreds of years after being introduced.
You could make a simple list that compares similarities or differences between multiple points of data, but that's not very visually engaging. Plus, you're going to have to spend some time explaining what the reader is looking at.
But because people have interacted with a lot of Venn diagrams before and know what the two circles mean, they will be able to consume the information and gain value from it almost instantly.
With Venngage's free Venn Diagram Maker, you can start creating Venn diagrams quickly. Either pick a professional Venn diagram template from our library to customize or create the Venn diagram circles from scratch.
How to make your own Venn diagram in a few simple steps:
1
Pick an engaging Venn diagram template from our collection.
2
Sign up for Venngage's Venn Diagram Maker to start creating for free.
3
Add your written information and data to each section of the Venn diagram.
4
Customize it to be informative and eye-catching by adding visuals, illustrations and more.
5
Share your Venn diagram with a private link or download them as a PNG or PDF.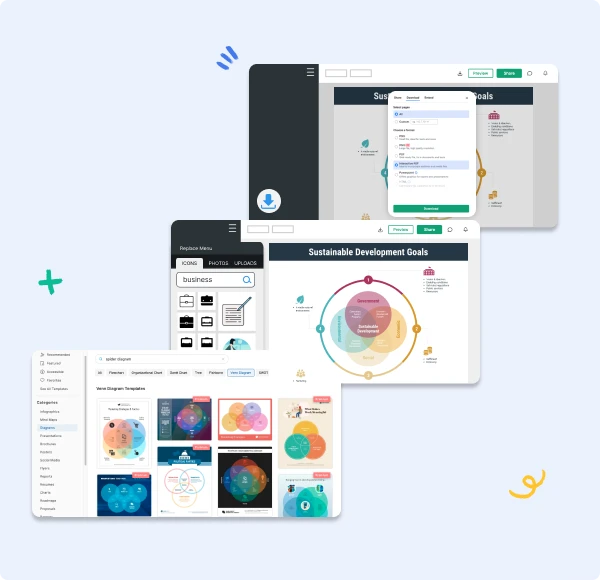 Create an easy-to-read Venn diagram with Venngage

Venn Diagram Templates
Start creating in seconds using one of our many creative Venn diagram templates. Easily adjust the template for each new project and data set.
Edit Your Diagrams
Pick a template and start editing in the online Venn Diagram creator. The editor uses a simple drag-and-drop function so you can save time and energy while still making an impactful data diagram.
Download or Share Instantly
When you finish creating your visuals, share a private link or simply export your Venn diagrams as a PNG, PDF, or Interactive PDF so you can share your graphic in an email, presentation, or on social media.
Easy-to-Read Fonts
Try to stick to professional fonts throughout your custom Venn diagrams so a reader can read the content and understand what your data means.
Contrasting Colors
Make it easy to see the difference between each main data topic by using a few contrasting colors for the two circles or multiple shapes from the free Venn diagram generator.
Icons and Illustrations
Bring attention to important parts of your Venn diagrams with some icons or illustrations. The circles or shapes don't have to do all the work when you can use varied visual elements.
FAQs
How do I download my Venn diagram?
You can easily download Venn diagrams as an image or PDF file from our online Venn Diagram creator. Or share a private link directly.
How much does Venngage cost?
You can start creating in the Venn Diagram generator for free, but there are some higher-level data visualization features that are only included in our Premium and Business plans.
What is the best program to create a Venn diagram?
When it comes to diagramming, the Venngage Venn diagram maker offers a variety of options. Design Venn diagrams with ease in the editor. Add text, data, icons, and graphics, as well as other types of visuals and create a Venn diagram that is professional and powerful.
Anyone can create an amazing Venn Diagram with the Venngage Venn Diagram Maker.
CREATE VENN DIAGRAMS

Get started with one of our top venn diagram templates: