Venngage Table Of Contents Maker
Unleash the power of the Table of Contents Maker! Organize your content with flair, ditch the chaos, and create spiffy tables of contents with a snap! Elevate your document game and enjoy stress-free navigation.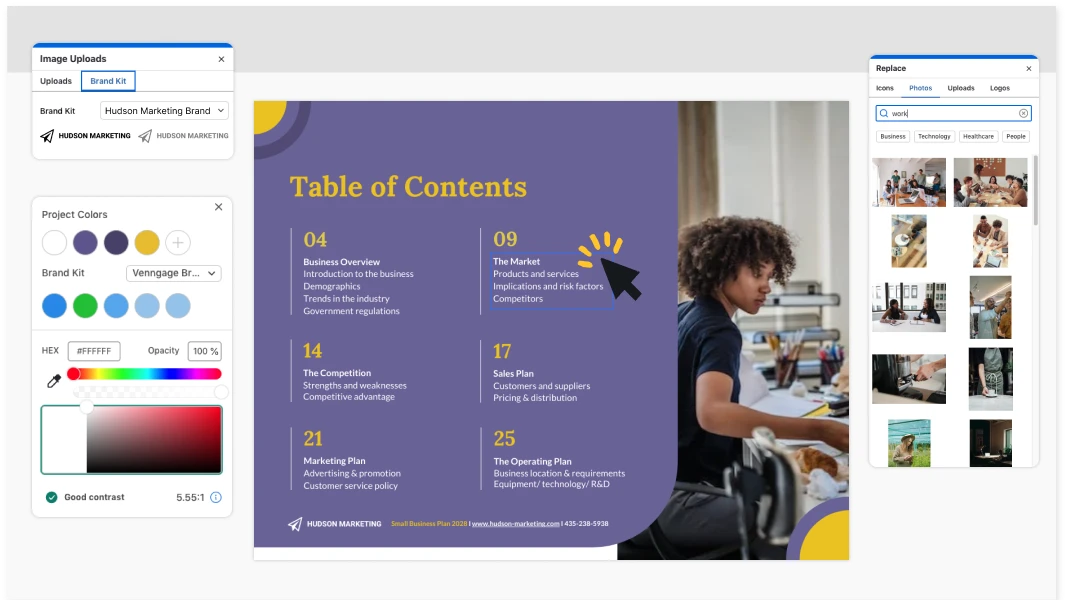 Transform chaos into clarity! Effortlessly create a sleek and organized table of contents with just a few clicks.40,000+ businesses use Venngage's table of contents designs.

Design a captivating table of contents and leave your readers eager to explore what's inside!

The Table of Contents is more than essential – it's a powerful hook to captivate even half-interested readers, especially for self-published authors looking to make a mark in the online world. Embrace its potential and watch your audience grow!
Craft your Table of Contents effortlessly using Venngage, and enjoy the flexibility to revisit and edit your file, making changes or adding new updates hassle-free. Stay in control of your content with ease!
With Venngage's diverse table of contents templates, crafting a stylish and complimentary table of contents for any occasion or document is a breeze. Simply choose a template that aligns with your theme and layout preferences, and let your creativity shine through!
Unleash your creativity by inserting your unique elements and customizing the design to perfectly suit your business needs. Presto! A tailor-made table of contents that looks stunning without any design experience necessary. It's that easy!
How to craft a table of contents to guide your readers through your masterpiece
1
Sign up for Venngage for free.
2
Find the "Table of Contents" design type you need on Venngage! Begin from scratch or pick a pro-designed template to kickstart your creative journey.
3
Discover Venngage's library offering millions of stunning, high-resolution photos, icons, illustrations, shapes, and more! With simple drag-and-drop functionality, resize, rotate, and rearrange elements to achieve your desired effect effortlessly.
4
Add a personal touch to your design by uploading your own photos, images, and illustrations. Get creative by mixing and matching elements from various templates.
5
Once you're delighted with your masterpiece, download and save your table of contents as a PDF, JPG, or PNG file format. Enjoy and share your creation with the world!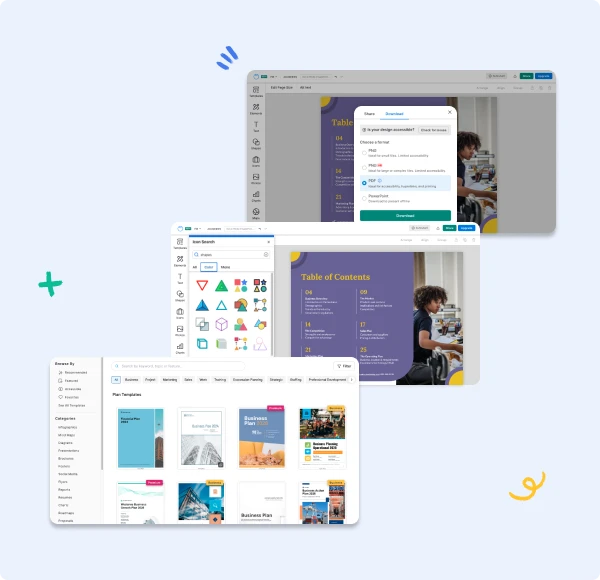 Designing table of contents — the key to organized and captivating content navigation


Table of Contents Templates
Explore Venngage's diverse Table of Contents templates and elevate your documents with professional style and ease.
User-Friendly Editor
Once you choose a table of contents template, you can start editing it in the Venngage editor. The drag-and-drop function is intuitive to use. Your design is complete in minutes!
Download Your Designs
Download your table of contents as a high-quality PNG or PDF, or share your designs on social channels directly from Venngage in just a few clicks.
Diverse Fonts Designs
Choose fonts that resonate with your document's theme or project. Peruse Venngage's font library to find captivating styles that make your table of contents pop off the page and captivate readers.

24-Hour Priority Support
Highlighting specific elements? Get a helping hand from our 24/7 support team, ensuring you craft an impactful and purposeful table of contents. Let's make it stand out together!

Royalty-Free Stock Photography
Experience the ultimate in design with our integrated table of contents maker, featuring Pixabay and Pexels integration for instant access to breathtaking, professional photography with just one click.
FAQs
How do I sign up for Venngage?
You can sign up with your email, Facebook or Gmail account.
Can I edit my table of contents after I've exported it?
Yes, you can access your design at any time and make changes by selecting it in your design library. Any edits you make to the design are autosaved.
Can I print out my table of contents?
Yes! You can download your table of contents as a high quality PNG or multi-page PDF.
With the Table of Contents Maker, effortlessly create a stunning table of contents that enhances readability and simplifies navigation
CREATE TABLE OF CONTENTS

Get started with one of our table of contents templates: