Venngage State Diagram Maker
Effortlessly design and communicate complex systems, workflows, and processes with precision and clarity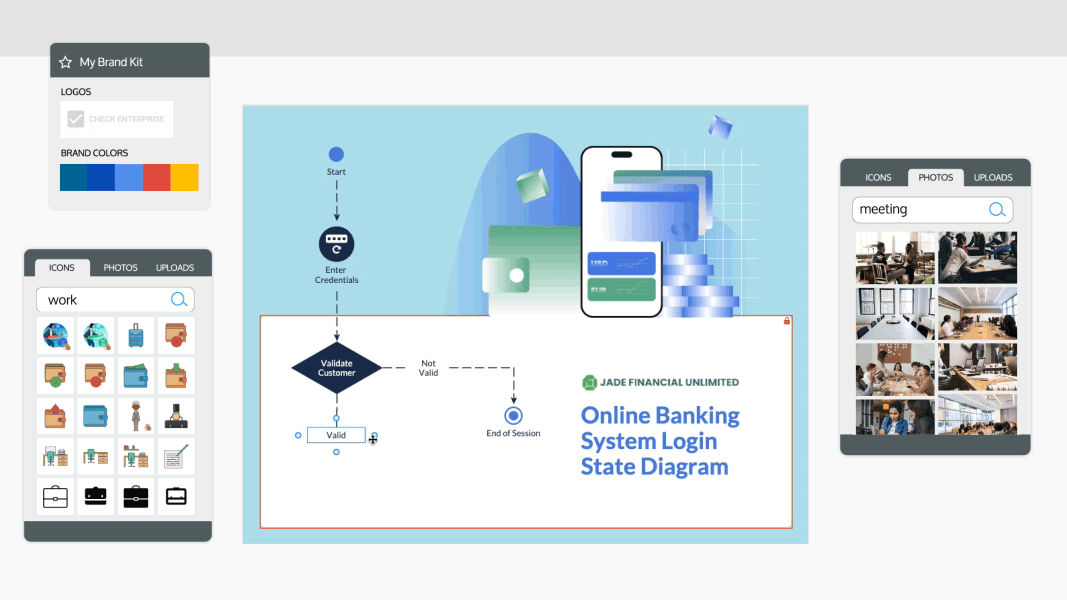 Effortlessly visualize processes with clear state diagrams for improved communication and understanding. 40,000+ businesses already use Venngage to create professional diagrams!

Design state diagrams effortlessly for clear process visualization and improved communication

Say goodbye to the daunting task of starting from scratch. Utilize our easy-to-edit templates to effortlessly create perfect visual representations of your layouts with state diagrams.
Empower your projects with clarity and insight by creating state diagrams for streamlined process visualization and effective communication.
Unify your system's components, visualize object interactions, and grasp state transitions effortlessly. Craft a dynamic state diagram that grows with your development.
Venngage's smart diagramming feature makes it easier to customize shapes to meet your goals and your project's structure.
How to create a state diagram?
1
Sign up for Venngage using your email, Gmail or Facebook account.
2
Select one of our state diagram templates and try it for free. Start editing your state diagram with our smart editor.
3
Use shapes according to their different purposes and the processes you want to present visually.
4
Color-code the main parts in your diagram and customize design assets with a few clicks to make it easy to read.
5
Share a public link or download your state diagram as a high-quality image.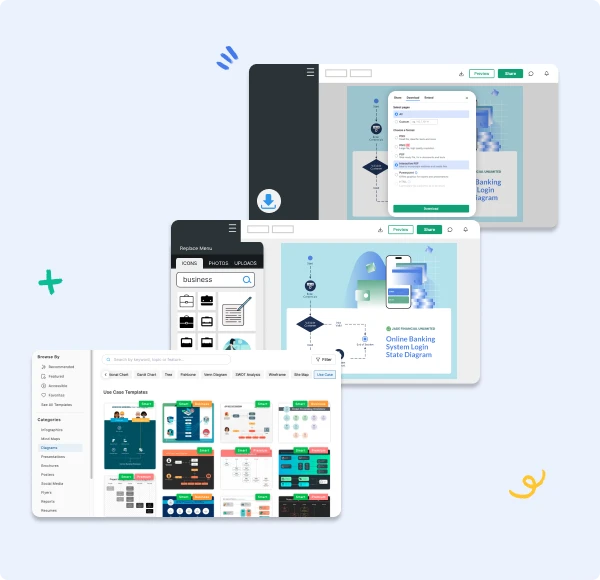 Unravel intricate processes with clarity and precision through our intuitive state diagram design tool

State Diagrams Templates
Effortlessly design state diagrams with Venngage's intuitive editor. Unlock smart features to save time and focus on crafting the perfect user flow.
User-Friendly Editor
Seamlessly customize your designs in the Venngage editor. With a simple click, add new shapes and modify colors, icons, and fonts to create your perfect diagram.

DesignAI
Effortlessly integrate your state diagrams into presentations with a single click. Let DesignAI automate your presentation design, saving you valuable hours of time.
Team Collaboration
Collaborate with your team online using Venngage's editor. Create, share comments and feedback in real-time!
Icons and Shapes
Customize icons, arrows and shapes to highlight critical steps, actions and tasks. Browse our library and add your favorite assets with a click to underline key points.
24-Hour Priority Support
Have any questions? Our support team is available around the clock for you and your team!
FAQs
How do I sign up for Venngage?
Click any button on this page to start creating a state diagram. You can sign up using your email address, Gmail, or Facebook account. It's free and there's no credit card required to start designing.
Can I edit my state diagram after it is saved?
Absolutely! The Venngage editor automatically saves your work as you go along. Exit the editor and come back at any time to make changes.
Can I share or print out my diagrams?
It's free to email or share your diagram on social media. There's a small monthly fee required to download the diagram as a PDF or PNG.
Unleash clarity and insight with our state diagram maker, effortlessly creating powerful diagrams for your projects
CREATE STATE DIAGRAMS

Choose from one of our state diagram templates: