Venngage Sequence Diagram Maker
Create a sequence diagram that is a visual representation of interactions between components in a system or process, providing insights into event flow and system behavior.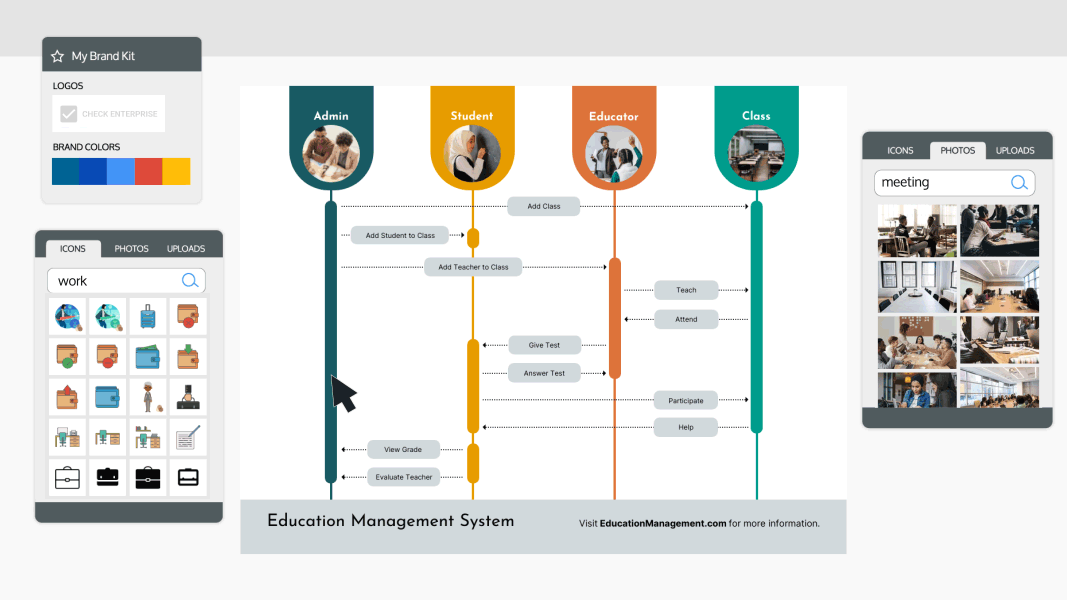 Visualize structures, processes, concepts and more with our sequence diagram creator tool. Customize professional diagrams – no design experience required. 40,000+ businesses have trusted Venngage's free sequence diagram maker to improve their data visualizations!

Design sequence diagrams for clearer system understanding and improved communication

Elevate your presentations, reports, training materials, and marketing content with our drag-and-drop editor, empowering you to customize various diagram types and include captivating visual assets.
Effortlessly customize your creation in seconds – add text boxes, graphic elements, change layouts, or begin with a blank canvas, all without any diagramming experience.
Find all the resources you need to save time and create visually stunning sequence diagrams. Customize shapes, line styles, add icons, illustrations and explore new color palettes and fonts for impressive results.
Whether you need to make a flowchart, a mind map, a fishbone diagram, UML diagrams, network diagrams, org charts, or other examples – we have templates for any occasion!
How to make a sequence diagram online in 5 easy steps
1
Sign up for Venngage for free with your email, Gmail or Facebook account.
2
Select one of our stunning sequence diagram templates.
3
Add new shapes, lines and labels with ease to your sequence diagram template.
4
Fully customize your professional design with unique illustrations, icons, colors and fonts.
5
Download your diagram or share it directly from Venngage with a single click.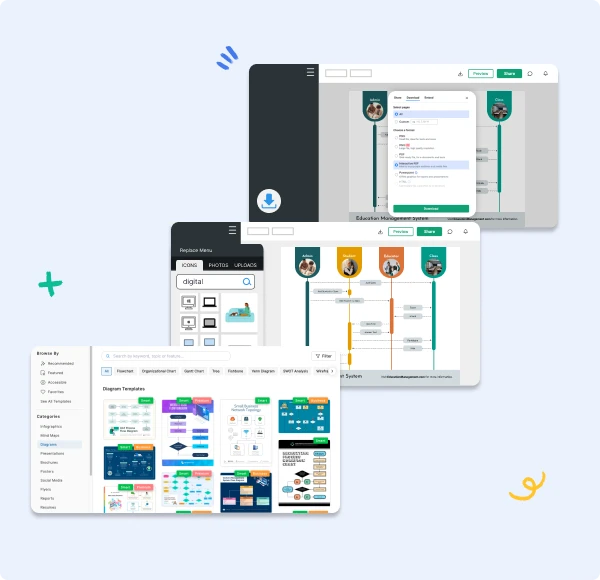 Seamlessly design dynamic sequence diagrams for streamlined systems visualization

Customizable Sequence Diagrams
Unlock a vast array of professional, engaging custom templates for sequence diagrams, effortlessly showcasing vital insights about your business or event.
User-Friendly Editor
Venngage's editor is very intuitive and easy to use. Upload text, icons, data, or your own photos for maximum impact. Everything you need is a click away.
Custom Charts and Graphs
Customize a number of charts, graphs and other data visualization widgets for effective reporting. No more spreadsheets! Only beautiful diagrams and data visuals.

DesignAI
Easily craft engaging and purposeful sequence diagrams with DesignAI's automated diagram design, unlocking new solutions at the click of a button.
24-Hour Priority Support
Got a question? We're here to help. Our support team is available around the clock, so your team can keep working like clockwork.
Royalty-Free Stock Photography
Our sequence diagram maker tool is integrated with Pixabay and Pexels to elevate your design. Access stunning, professional photography with just one click.
FAQs
How do I create my own sequence diagram?
Easily begin using Venngage's Sequence Diagram Maker for free. Sign up today with your email, Facebook, or Gmail account. Select a template to start your project and make edits as needed. Once done, effortlessly share it with your audience via a private link or download it as a PNG or PDF. Start creating your sequence diagrams now!
What makes Venngage Sequence Diagram Maker the best diagramming solution?
Easily build and arrange complex diagrams with our smart tools. Unique features like Tidy and auto-layout keep you organized and productive, while adding illustrations, icons, graphics, and colors makes your designs stand out. Leave outdated solutions behind; create amazing diagrams with Venngage!
How do I make a sequence diagram in Google Docs?
While Google Docs primarily serves as a word processing solution and lacks diagram-making capabilities, you can effortlessly include Venngage's unique diagram designs in your documents. After creating your diagram with Venngage Sequence Diagram Maker, simply download it as a PNG or HD PNG and easily add it to your Google Doc. This approach is much quicker and simpler than attempting to create diagrams directly within Google Docs.
Begin your journey with one of our finest sequence diagram templates: