Venngage Online Price List Maker
Streamline your pricing strategy with our intuitive Price List Maker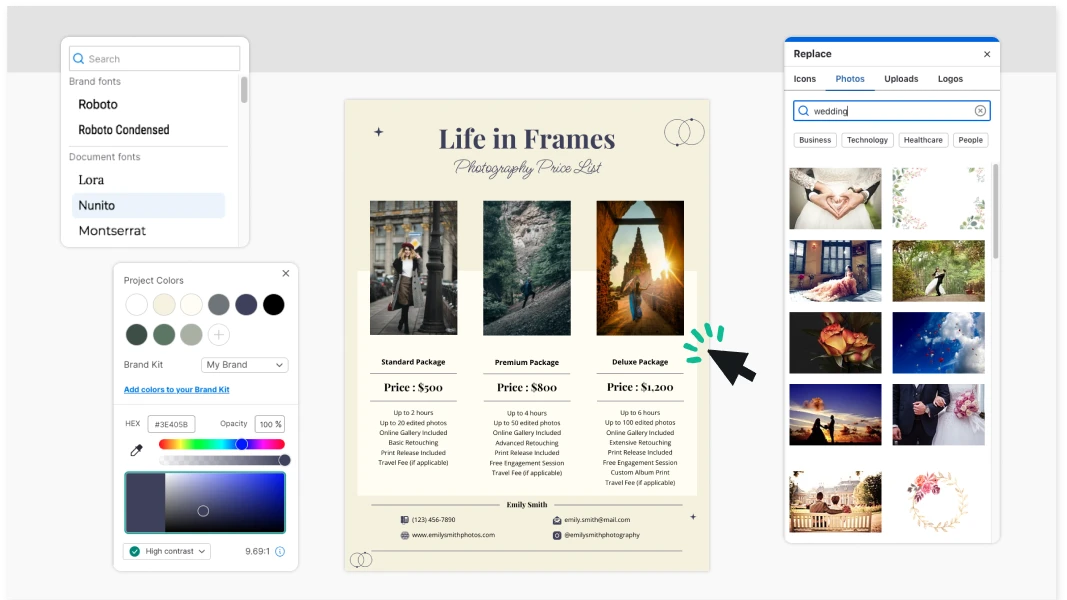 No design experience needed! Begin crafting price lists in seconds with our user-friendly and robust template library.Over 40,000 businesses use Venngage's custom price lists to improve their workflow.

Designing price lists communicates value efficiently

Effortlessly create diverse pricing options with our user-friendly editor and a range of customizable templates.
Access a wide range of design elements, including brand logos, colors, and fonts, and easily incorporate your own assets like logos, images, and preferred fonts.
Explore the perfect graphics from our extensive library of 40,000+ icons to enhance price listings and promotions, transforming your marketing and sales journey into a delightful experience.
After completing your price list template edits, publish your design for free or opt for an upgrade to download it in the format of your choice.
How to create a price list in 5 easy steps:
1
Sign up for a free Venngage account with your email, Gmail or Facebook address.
2
Browse our gallery of pre-made price list templates, choose the design that fits your vision and start creating.
3
Enjoy complete customization freedom with Venngage's price list maker, enabling you to personalize your layout, message, background, icons, images, and beyond!
4
Once your price list template is ready, easily share it online with a single click, inspiring other users to personalize their designs.
5
Upgrade to a Business or Premium account to download in multiple formats or to print your creation.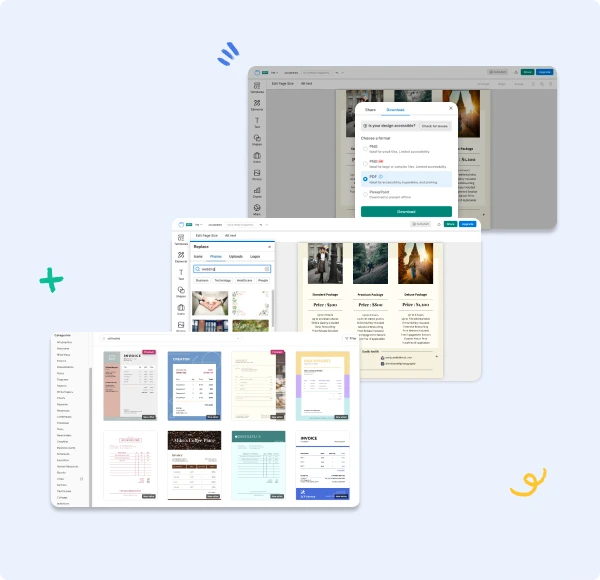 Designing a price list communicates value visually

Customizable Price Lists
Experiment with colors, fonts, text, and images to align your pricing guide with your business's brand and style.
User-Friendly Editor
Easily create and customize your price list with Venngage's user-friendly drag-and-drop app, allowing you to effortlessly swap text, images, icons, and add data with a simple click.
Export to Multiple Formats
Using our price list generator, you can share it for free or upgrade to the Business plan to download it in various high-quality formats, including PNG, interactive PDF, PPT, and more.
Fonts and Visuals
Venngage provides access to a vast library of 3+ million stock images, along with hundreds of icons, graphs, maps, fonts, and a wide array of visual elements to elevate your design.
24-Hour Priority Support
We're here to help. Our support team is available around the clock so your team can perfect your designs and have your questions answered.
Brand Identity
Maintain brand consistency effortlessly using Venngage's My Brand Kit, enabling you to incorporate your images, colors, brand logo, and fonts with just a single click.
FAQs
What program is best for making price lists?
Craft a personalized price list directly on your desktop computer with Venngage's hassle-free online price list generator, no software downloads required. Stay organized with practical price lists using Venngage – consider upgrading to a premium plan for offline access through downloads and prints. Get started for free!
Does Venngage have premade price list templates?
Yes, Venngage's free online Price List Maker offers a wide array of pre-designed price list templates and color palettes, simplifying the process of creating diverse types of price lists.
Can I create multiple price lists?
Certainly! You have the flexibility to design car wash, cleaning, spa price lists, and more. Additionally, you can easily create multiple copies of your price list and customize each version with updated information, images, and more.
Use Venngage's price list maker to effortlessly create a professional price list for your business
CREATE PRICE LISTS

Start with one of our top price list templates: