Venngage Planner Maker
Easily create organized and imaginative online planners with Venngage. Discover templates for all your needs, including weekly, party, wedding, and workout planners. We've got you covered!


Not a designer? No problem. With our easy-to-edit templates and online planner generator, anyone can design a planner for free. Over 40,000 businesses already use and trust Venngage.

Unleash the potential of your day with a customized planner that maximizes productivity


Capture your audience's attention and demonstrate the value of your planner through an intuitive and captivating planner design.

Unleash the creative fusion of design and functionality in your personal, meal, or work planner.

With Venngage, you gain access to a comprehensive library of fully customizable templates. Our web-based graphic design software is accessible from anywhere, enabling you to create planners on the go. The best part? Signing up is completely free.

Having a planner is essential for effectively managing multiple tasks throughout the day. Venngage provides a solution to create a well-structured planner, guaranteeing that you maintain the quality of your time and prioritize tasks efficiently.
Create your planner in 5 quick steps:
1
Sign up for Venngage - it's free.
2
Choose from a wide selection of planner templates suitable for various occasions, whether it's for personal use, meal planning, or even financial planning.
3
Customize the color scheme, fonts, and images to your need and liking.
4
Enhance your planner with additional sections, tables, charts or icons.
5
Print, download or share your planner with your team, friends and family!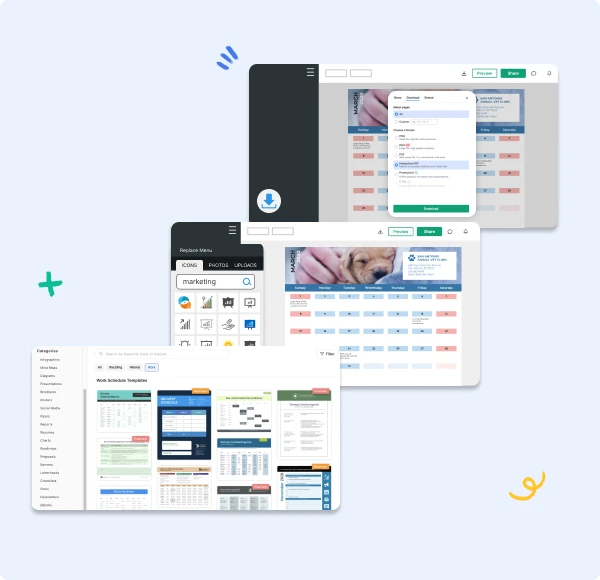 Boost productivity with a well-designed planner that helps you prioritize tasks and manage time effectively


Planner Templates
What are your planner requirements? Select a planner template that best suits your task or event, and highlight your top priorities to maximize their significance.

User-Friendly Drag-&-Drop Editor
Create your own planner in minutes in the simple Venngage editor. Drag and drop design elements, change the text, font size, and table data in just a few clicks.

Visual Planners
Elevate your planners by infusing them with visuals such as icons, images, creative fonts, and vibrant colors. This transformation will turn your mundane task list into an exciting and enjoyable experience!

24-Hour Priority Support
Who will you be sharing your planner with? Which tasks do you want to give special attention to? If you need a helping hand, our 24/7 support team is available to assist you in creating efficient and purposeful planners.

Royalty-Free Stock Photography
Elevate your design with our planner creator tool, seamlessly integrated with Pixabay and Pexels. Access stunning professional photography with a single click.

Download Your Planners
With Venngage, you have the flexibility to download your planners in high-quality PDF or PNG format. Additionally, you can choose an interactive PDF option. This allows you to optimize your planners for digital or print distribution, catering to your specific needs.
FAQ
How do I sign up for Venngage?
To start designing with Venngage, simply create an account using your email, Gmail or Facebook account.
Can I edit my planner after it's saved?
Absolutely! You have the flexibility to edit your planner at any time. Just access the draft from your "My Designs" library and seamlessly continue making edits to your planner.
Can I add or remove elements in my planner?
Certainly! You have the ability to add, remove, and rearrange elements conveniently using the page menu located on the right side of the screen. This grants you full control over the composition of your planner design.
Elevate your efficiency with a tailor-made planner crafted by Venngage's expert planner maker
CREATE A PLANNER

Get started with our customizable planners