Venngage Pitch Deck Creator
Unleash your creativity and captivate investors with pitch-perfect decks that seal the deal


Elevate your pitches and win the room with Venngage's pitch-perfect creator – where striking decks come to life effortlessly Join over 40,000 businesses who trust Venngage for their designs.

Design a winning pitch deck that speaks volumes in style

The way you pitch matters as much as the content itself. Don't let your design hold you back. Venngage makes it easy for non-designers to look professional.
With Venngage's free online pitch deck creator, ace your communication, whether it's a virtual or live pitch!
Experience the ease of creating a pitch with our free pitch creator, offering hundreds of fully customizable templates, layouts, and editing options at your fingertips!
Discover the trusted PowerPoint alternative for businesses worldwide – our easy-to-use pitch creator. Start for free today!
How to create a pitch deck in 5 steps:
1
Sign up for Venngage for free using your email, Gmail or Facebook account.
2
Pick a design from our selection of free pitch deck templates (they're all created by our expert in-house designers).
3
Add important text, dates or information to your custom pitch deck.
4
Spruce things up with icons, images and custom images!
5
Export the pitch deck to PowerPoint or PDF or pitch straight from Venngage's pitch deck software.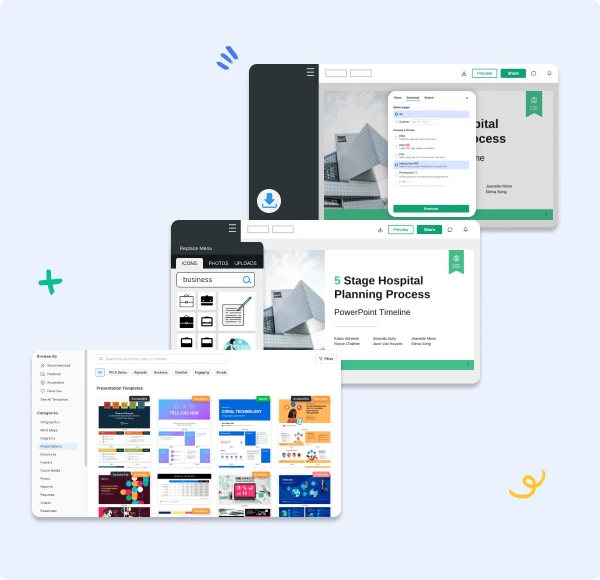 Ignite success and seal the deal with a pitch-perfect deck that wows every time

Pitch Deck Templates
No design skills required! Our expert team crafts customizable templates to ensure your pitch decks captivate every audience.
Brand Personalization
Maintain a professional edge effortlessly! Business users can seamlessly upload their brand kit, including logos, colors, fonts, and images, making it perfect for those critical pitches!
Slides Sharing
Easily share your pitch slides with Venngage's audience view and presenter notes features. And for business users, downloading in PDF, PowerPoint, or PNG formats is a breeze!
Seek feedback
Get feedback and comments from your team, clients, or anyone by sharing in "comment mode." Say goodbye to endless email exchanges!
Add Icons
Elevate your pitch with stunning icons and interactive elements from Venngage's icon library. Our user-friendly drag-and-drop editor makes crafting professional pitches a breeze.
Collaborative Effort
Achieve dreams together! Venngage enables seamless collaboration with multiple people in the same design.
FAQs
How can I use Venngage's Pitch Deck Creator?
Sign up for a free Venngage account using your email, Gmail or Facebook account.
How can I share my pitch deck design?
You can present directly from Venngage! Simply publish your pitch deck presentation and follow the link to show the slides in your browser. Business users can download their pitch decks as a PowerPoint, PDF or PNG as well.
What pitch deck templates do you have?
Discover a plethora of pitch deck templates on Venngage, with fresh additions every week! Whatever your pitch, we've got the perfect template for you.
Empower your presentations with the help of our intuitive pitch deck creator, making it a breeze to craft a captivating pitch deck that leaves a lasting impact
CREATE PITCH DECKS

Get started with one of our top pitch deck templates: